Pokhran-II after 20 years: India's nuclear deterrence has been reasonably successful in stabilising a volatile South Asia
Pokhran assumes a greater significance because it provided India with a roadmap for external security policy in a volatile environment.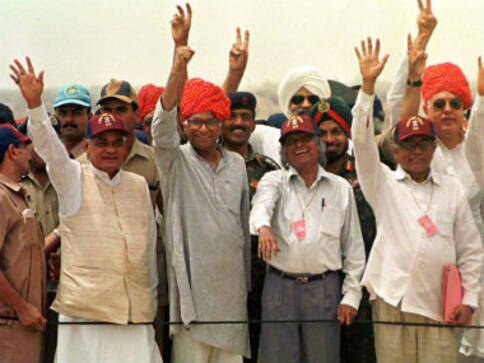 On the 20th anniversary of Pokhran-II, it is worth exploring the motivations that led to India detonating five nuclear devices in the deserts of Rajasthan and whether the larger objectives, as underlined in India's draft and final nuclear doctrines, have been met. On the evidence, it appears that the tests that had invited immediate global infamy (if temporal), tough sanctions and triggered polarised internal debates, have not only delivered long-term positive results but also hold important lessons for the future of global nuclear non-proliferation.
Pokhran-II was less of a choice and more of a necessity for India. The Atal Bihari Vajpayee government (and indeed many governments before it) was fully aware of potential risks associated with the nuclear gamble. However, it is a measure of change in global energy security dynamics, shifts in balance of power in South Asia, India's growing economic clout, savvy diplomacy and credible behavior that New Delhi has emerged as a de facto nuclear power that seeks to wield its power responsibly.
India's journey, from being perceived as an "irresponsible player" guilty of triggering arms race in South Asia (a misleading perception) to a nuclear power with a strong moral and ethical moorings and its credibility in ensuring that the technology never fell into wrongs hands or were bartered to rogue regimes has ensured an enhancement of India's global standing.
As Shekhar Gupta writes in The Print, "In the course of this entire operation, which lasted from 1989 to 1998, not one Indian scientist, diplomat, or spook was ever caught, or even reported for any irregular nuclear trade. These were years when Pakistani nuclear smugglers and thieves were leaving their fingerprints, footprints and calling cards all over the place."
This, in turn, made it possible for New Delhi to earn concessions and enter multilateral export control regimes despite remaining a non-signatory to non-proliferation treaty. In fact, India's credible behavior has served to diminish the importance of non-proliferation doctrine that many countries perceive as inherently discriminatory — aimed more at enabling nuclear nations to lock their advantage and introduce a caste system in nuclear arms race.
Donald Trump's walking out of Iran Nuclear Deal and North Korea's testing of nuclear weapons, for instance, suggest that NPT has been a miserable failure in preventing rogue regimes from accessing nuclear technology anyway.
As Saubhik Chakrabarti writes in The Times of India, "North Korea and Iran today clearly demonstrate India's longstanding argument that US-led nuclear non-proliferation regimes never stopped determined rogues; it only penalised responsible, aspirational democracies."
This journey, of course, hasn't been easy. The US was perhaps taken aback by the absolute secrecy that preceded the testing and reacted with fury. In its 12 May, 1998, report The New York Times wrote that Vajpayee's "decision to conduct the tests so soon after taking office appeared to catch the world's other established nuclear weapons states — the United States, Britain, China, France and Russia — by surprise.
Although the test site lies in flat desert terrain, under cloudless skies at this time of the year, India seems to have succeeded in keeping preparations secret, even from American spy satellites."
Its moral outrage, led by then president Bill Clinton, smacked of hypocrisy because the US intelligence network by the end of 1980s was well aware of the progress Pakistan had made towards getting the bomb, as Andrew Small points out in his book The China-Pakistan Axis.
Nevertheless, the US slapped a rash of sanctions, European nations expressed outrage and an 'indignant' Pakistan appealed to an enraged Bill Clinton to force a pariah status on India. The following years were a test of India's strength as a proud democracy, the resilience of its newly liberalised market and its diplomatic flexibility that sought to lift the sanctions and normalise relations with the Atlantic powers without being forced into a non-proliferation treaty or letting safeguards hamper the development of its assets. India also needed access to global nuclear market for upgrading its capabilities and a mainstreaming of its status as a nuclear power. In all these objectives, it has been largely successful.
As Brookings India fellow Dhruva Jaishankar pointed out on Twitter, during the much-discussed talks between defence minister Jaswant Singh and US deputy secretary of state Strobe Talbott, the Americans proposed five conditions to India as a prerequisite for lifting sanctions — signing the Comprehensive Test Ban Treaty (CTBT), freezing fissile material production, abort development of nuclear warheads, commit to export controls regimes and resume dialogue with Pakistan on Kashmir. India, posted Dhruva, parried all but one.
While the US made five clear demands in 1998, India only really accepted one (export controls). In return, not only were sanctions lifted but India's nuclear arsenal was later mainstreamed (2005-08). Many lessons for negotiating strategies. Hats off to Jaswant Singh & Co. 8/9

— Dhruva Jaishankar (@d_jaishankar) May 11, 2018
The US failed to get India sign the CTBT but did force India to join the Fissile Material Cut-off Treaty negotiations. As TP Sreenivasan writes in The Hindu, India did so "without halting fissile material production; reaffirmed minimum deterrent without giving any number of warheads; and agreed to strengthen export controls. Additionally, India declared no-first-use and commitment to disarmament. Though no deal could be struck, the foundation was laid for what became the nuclear deal in 2008."
However, in its primary aim of conducting nuclear tests — create a credible deterrence mechanism based on its threat perception from two hostile, revisionist nuclear neighbours — India has been only moderately successful. Analysts have pointed out that India's nuclear development programme that started with the testing of a nuclear device in 1974 (Pokhran-I) and reached its logical development in 1998 was driven to a large extent by the threat that India perceived from China and Beijing's role in fast-tracking Pakistan on the road to nuclear capability.
As Small writes in the chapter named 'Nuclear Fusion' in his book The China-Pakistan Axis, "In 1982, a C-130 Hercules transport aircraft belonging to the Pakistani military left Urumqi, capital of the north-western Chinese province of Xinjiang, headed for Islamabad carrying five lead-lined, stainless steel boxes, inside each of which were 10 single-kilogram ingots of highly enriched uranium (HEU), enough for two atomic bombs. It is highly likely that this was the only time a nuclear weapon state transferred HEU to a non-Nuclear country for military use." (Vintage Publication, Page 34).
In fact, as Dhruva writes in The National Interest, "Pakistan's acquisition of nuclear weapons with Chinese assistance proved an impetus for India's nuclear-weapon pursuit, not the other way around. Indian and Western intelligence agencies believed that China conducted a test in 1990 for Pakistan's benefit, effectively granting it a nuclear-weapons capability."
The test was carried out — according to Thomas Reed, former US air force secretary, and Danny Stillman, former director of intelligence of Los Alamos Laboratory — by China for Pakistan's benefit on the Lop Nor test site on 26 May, 1990.
It isn't surprising to find out that in its draft nuclear doctrine, 1999, India sought to impress upon the world that its need for nuclear weapons was not to trigger an arms race but rather contain one, and therefore its programme will be aimed at achieving minimum credible deterrence so that its "primary objective to achieve economic, political, social, scientific and technological development within a peaceful and democratic framework," is met.
"This," according to the doctrine, "requires an environment of durable peace and insurance against potential risks to peace and stability."
The doctrine also promises that "India's nuclear forces will be effective, enduring, diverse, flexible, and responsive to the requirements in accordance with the concept of credible minimum deterrence. These forces will be based on a triad of aircraft, mobile land-based missiles and sea-based assets in keeping with the objectives outlined above. Survivability of the forces will be enhanced by a combination of multiple redundant systems, mobility, dispersion and deception."
It's instructive to see how much of these capabilities and objectives have been met. There have been skirmishes with Pakistan but none of these have breached the nuclear threshold. To the extent that there has not been an outbreak of nuclear war despite grave provocations should signify that nuclear deterrence has held, though the recurrence of low intensity clashes exposes its limitations.
As far as China is concerned, despite ongoing differences over border, connectivity projects and repetitive threat of some flashpoints, there has not been any exchange of bullets. That could be put down as much to the nuclear deterrence after Pokhran as to difference in China's threshold. As Dhruva argues, "today, economic ties are robust, if imbalanced, there are new stakeholders for improved relations on both sides of the border, and the prospects of major conflict are ever more remote. Nuclear weapons cannot be credited with these developments, but they certainly helped create an enabling environment for them."
But in a larger context, Vajpayee's letter to Clinton where he identified China as the "primary threat" and Pakistan as the "secondary threat" behind India's decision to lift the veil on its nuclear weapons programme, has been, as WPS Sidhu writes in Livemint, "a crucial harbinger of the unfolding geopolitics, in terms of the US-India strategic partnership and their contestation with the China-Pakistan axis."
In that respect, Pokhran assumes a greater significance because it provided India with a roadmap for external security policy in a volatile environment. That could be Pokhran's bigger strategic legacy.
India
The BJP president cited development schemes of the Modi government, and said they have benefitted the deprived sections of the society most
World
Foreign Minister Bilawal Bhutto Zardari's two-day visit marks the 71st anniversary of the establishment of diplomatic relations between Pakistan and China
India
Kuljeet Singh Chahal claimed that the average supply of potable water to NDMC is 125 MLD whereas the supply received in the last 10 days was only 60-70 MLD, thus affecting major hospitals as well as schools in the area