PKDL, the skin manifestation of Kala Azar, could be a major roadblock in the elimination of the disease
Kala Azar is a neglected disease and is characterised by bouts of fever, weight loss, anaemia, and an enlargement of the spleen and liver that shows up as a pot belly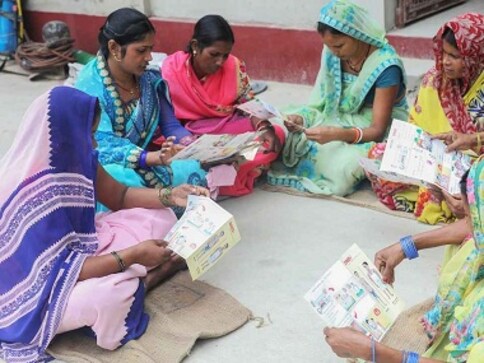 Editor's note: Kala Azar is a neglected disease and is characterised by bouts of fever, weight loss, anaemia, and an enlargement of the spleen and liver that shows up as a pot belly. It is largely a disease of the poor. This is the first in a three-part series on the disease and those it affects.
Azmat Ali, 19, had a bout of Kala Azar, a life-threatening neglected tropical disease, when he was around 10 years old and was treated for it. A few years later, he began getting a skin rash, but did not show it to any doctor. "I did not have time," said Azmat.
Azmat is an orphan and lives with his elder sister's family, running an electric rickshaw in a village near Chhapra city in Bihar's Saran district — one of the highly endemic areas for Kala Azar. He had large boils on his face, but they did not seem to bother him much. He was detected with Post-Kala Azar Dermal Leishmaniasis or (PKDL), a neglected skin manifestation of Kala Azar. While the disease does not cause considerable harm to the patient, it is considered to be a reservoir of the parasite that causes Kala Azar, and could spread in the community.
The rising number of PKDL cases could act as an impediment to plans of eliminating Kala Azar in the country. After missing the goal of eliminating Kala Azar in 2017, the Indian government decided to postpone the deadline for eliminating the disease to 2020. But many scientists and even government officials are not sure if the goal will be achieved.
Kala Azar, also known as visceral leishmaniasis, is a potentially fatal infectious disease caused by the Leishmania parasite and is spread by female sand flies.
Referring to the increasing number of PKDL cases in the community, Dr Pradeep Das, the director of Rajendra Memorial Research Institute or RMRI, Patna said, "I know the goal is to eliminate the disease by 2020. But I still doubt whether we will achieve the goal or not." He made this statement in in a presentation before all stakeholders at an international conference on visceral leishmaniasis in Delhi last month.
Kala Azar is a neglected disease and is characterised by bouts of fever, weight loss, anaemia, and an enlargement of the spleen and liver that shows up as a pot belly. Kala Azar is largely a disease of the poor.
In case of PKDL, more than 80 percent of the patients have a history of Kala Azar which can manifest after six months to even 10 years. But the disease is considered a reservoir of the Leishmania parasite. That is, if a sand fly bites them, they will carry the parasite and spread Kala Azar to others in the community. PKDL is known to play an important role in spreading Kala Azar in the periods before the epidemic spreads in the community.
Since 2015, the number of cases have been rising. Health officials say that it is a result of active surveillance. Here are the figures provided by the National Vector Borne Disease Control Programme on its website:
| | | |
| --- | --- | --- |
| Year | Kala Azar cases | PKDL cases |
| 2015 | 8,500 | 655 |
| 2016 | 6,249 | 1,657 |
| 2017 | 5,758 | 1,982 |
| 2018 (till October) | 3,837 | 1,037 |
Although the cases all over India appear to have reduced, it is because fewer cases are coming from West Bengal and Jharkhand. But the figures in Bihar, which is the pulse of the epidemic in the country, are still steadily increasing from 542 in 2016, to 593 in 2017 to 624 this year (till October). Das said that this indicated different stages of elimination in the states, with West Bengal closer to elimination, and Bihar still a distance away.
Bihar gets more than than 70 percent of all the cases in the country. The other states include Jharkhand, West Bengal and Uttar Pradesh. The target of eliminating the disease target is set as having less than one case per 10,000 population in a block. Although 33 districts are considered endemic to Kala Azar, now only 458 blocks in the state in the 10 districts of Bihar contribute to a majority of the cases. For the past three years, the government has been looking to detect and treat these patients.
Why should PKDL be treated at the earliest?
Scientists have been trying hard to understand the role of PKDL in increasing the transmission of Kala Azar in the community. In 1980, Dr A Nandy and his associate from Calcutta School of Tropical Medicine demonstrated that sand flies that bit PKDL patients with nodules (they look like abscess or boils) from 24 South Parganas had the parasite in their guts. This infectiousness of PKDL patients was thought to be an explanation for the outbreak of Kala Azar in 1980.
More recently, a multi-partner study involving World Health Organisation or WHO, Drugs for Neglected Diseases Initiative or DNDI, International Centre For Diarrhoeal Disease Research, Bangladesh and some others conducted a study wherein sand flies bit 47 PKDL patients. More than 50 percent of the patients infected the sand flies. This experiment raised questions on earlier beliefs that only nodular PKDL can infect, and not the macular kind that is characterised by hyperpigmentation or a papular form (red rashes).
With an eye on elimination, the government has been looking to detect these cases and treat them. The government has organised training of doctors and health workers such as ASHAs to identify PKDL cases and treat them. While earlier in 2016, PKDL had to be treated from RMRI in Patna only, now the treatment has been decentralised to some district hospitals and primary health centres. Besides, treated Kala Azar patients should be ideally told that they should look out for signs of discolouration of skin, or rashes or boils on the body and come to the government hospital for treatment.
Hard to detect
But the disease is hard to detect because it can be confused with other diseases such as leprosy, vitiligo among other skin diseases, said Das. "In my experience, the disease starts with discolouration of skin (macular) and later progresses to nodules. We now see more cases with macular forms of PKDL than earlier. It shows that we are catching the disease early," said Dr Ram Shankar, a senior doctor who handles all the Kala Azar cases in Chhapra District Hospital.
PKDL is expected to affect approximately 10 to 15 percent of treated Kala Azar cases, said Dr MP Sharma, Bihar's vector-borne disease control officer. "It has exceeded that in Bihar because we were finding both old and new cases. We expect that it is on a decline after this year," added Sharma. The trouble with identifying PKDL cases and treating them is that the disease doesn't affect people very much, while the treatment lasts three months and has side effects.
"In PKDL, the patient does not suffer. The problem is more cosmetic or of ornamental value. Many of those who are 40 to 50 years old, whether a man or woman, may not come for treatment. It does not affect their day-to-day lives. It is only with active case-finding, does one find PKDL cases," said Sharma.
Although the morbidity of the disease is low, it has a major epidemiological impact. However, many young women face stigma because of the disease. Das said that some members of his team did some case-finding work in Vaishali district which showed that there were many undetected cases.
"Unless we do house-to-house surveys to look for these cases, there is still a chance that Kala Azar will spread," said Das.
Drugs for Neglected Diseases Initiative supported the reporting of this series
Life
Researchers have discovered an enzyme that can destroy the toxic protein that litters in the brain of Alzheimer's patients.
Life
The brain, the body's most powerful organ, is not a single uniform entity but has parts that can evolve independently of one another, a new study says.