PIL in SC opposing polygamy, nikah halala is good starting point; discriminatory practices in all religions must be questioned
Ashwini Upadhyay has filed a PIL praying that practices of polygamy and nikah halala should be declared unconstitutional. The petition is a good starting point.
In August 2017, the Supreme Court declared the practice of instant triple talaq to be unconstitutional. This judgment was received with both mirth — because the judiciary had taken a stand against the discriminatory practice — and criticism — because of the fundamental logic of the judges. Now, months after this judgment, Ashwini Upadhyay, an advocate and activist, has filed a public interest litigation praying that the provisions within the Muslim Personal Law which validate the practices of polygamy and nikah halala must also be declared unconstitutional.
The PIL seeks to declare Section 2 of the Muslim Personal Law (Shariat) Application Act, 1937 as violative of Articles 14, 15 and 21 of the Constitution of India in so far as it seeks to recognise the practice of polygamy and nikah halala. In addition to this, the PIL also seeks a declaration that the discriminatory practices be declared crimes under the Indian Penal Code – triple talaq be subsumed under cruelty under Section 498A, nikah halala be declared as rape under Section 375 and polygamy be treated as an offence under Section 494 of the IPC. The practice of polygamy allows a man to have more than one wife while nikah halala requires a divorced woman to marry another man, consummate the marriage and then get a divorce in order to marry her first husband.
"A complete ban on polygamy and nikah halala has long been the need of the hour as they render Muslim wives extremely insecure, vulnerable, and infringe their fundamental rights. Equality should be the basis of all personal law since the Constitution envisages equality, justice and dignity for women", the petition puts out. It also states that, "the Constitution has primacy over the Common Law and Common Law has primacy over Personal Laws. So, India doesn't need another personal law on talaq, polygamy and nikah halala."
Ashwini Upadhyay's petition does have some merit; it tries to put under the judicial magnifying glass some Islamic practices that are gender-discriminatory. This move particularly makes sense because the movement around triple talaq seemed rather fragmentary, where the judiciary did not prefer to examine other forms of discrimination that a Muslim woman goes through, and looked at instant triple talaq as an isolated issue. However, the petition looks at gender-discriminatory practices by one religion only, and this is its biggest flaw. It would be important to state that it is not just this petition; throughout the country, the issue of triple talaq has been deconstructed by representatives from the government as well as non-governmental organizations, thereby, providing more visibility to the problem.
In fact, last year in April, Prime Minister Narendra Modi raised the issue of triple talaq at the BJP national executive meet stating that "our Muslim sisters should also get justice. Injustice should not be done with them. Nobody should be exploited." Soon afterwards, the Supreme Court adjudicated the Shayara Bano case, and declared the practice unconstitutional. However, it also opened up a larger debate by asking the legislature to make a law regulating the practice. A bill called Muslim Women (Protection of Rights on Marriage) Bill, 2017 was tabled (and hastily passed) in the Lok Sabha in December 2017. The Bill criminalises instantaneous triple talaq and in the process, attempts to criminalize a civil wrong. But that is all the Bill does — it does not look into other issues such as polygamy or nikah halala, that Ashwini Upadhyay's PIL tries to examine. The Bill is very unidimensional in its concern for Muslim women, and has polarised the debate around it – one group of people believe that criminalisation of triple talaq is a necessary social reform while the another affirms that it is only a political weapon.
But why look at gender discriminatory practices of just one religion? Are only Muslim women disadvantaged and marginalised? Have Hindu women never been subjected to religious discrimination and have completely realised and actualised their human rights? Are Christian and Parsi women free from religious discrimination? Not only the PIL in question, but even general debates around religion and gender, are reluctant to dig deeper and scrutinize religions as primary social institutions that marginalise women.
Flavia Agnes, a human rights activist and lawyer, remains vehemently against the Bill criminalising triple talaq and views it as "deliberate plan to malign and demonize Muslim men" and throw them into jails. She also states that criminalisation is not the best answer to the problem – "Criminalisation never works. Section 498A of the Indian Penal Code [cruelty to wife] came in 1983. The criminal law that dealt with rape was also amended that year. In spite of stringent laws, rape, dowry harassment and cruelty to wife have not stopped."
Another view on triple talaq by an academic, Tabish Khair, is particularly compelling. He says that if triple talaq is viewed as a type of wife abandonment, and the government moves forward with this assumption, there could be a more nuanced solution to the issue than the proposed Bill – "Instead, triple talaq should be considered a type of wife abandonment, along with other versions in all communities. It should not be accepted as an effective divorce, but as abandonment by the husband and grounds for the wife to obtain a divorce in her favour. Its 'use' should be automatically converted into a case of legal divorce through the law courts, which can then implement the conditions of divorce in favour of the wife, with added penalties on the husband." Khair examines abandonment of wives as the issue, and does not oversimplify it as a problem that plagues only Muslim women. This is a more nuanced manner of looking at human rights violations.
As I said earlier, Upadhyay's petition is an important starting point, but we need to look at all religions and carve out discriminatory practices against women and examine these against constitutional principles. Singling out only one religion's practices reeks of political agendas at this juncture. Only if there is a holistic analysis of religion and gender, can there be comprehensive questioning of misogyny at the legislative and judicial levels.
also read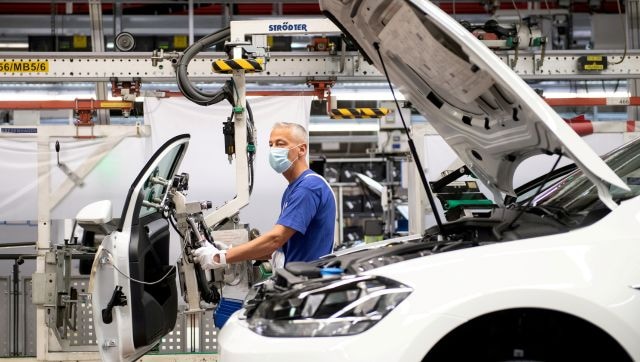 Explainers
Germany's GDP fell .3 per cent in the first quarter of 2023 following a .5 per cent decline in the last quarter of 2022. Though Chancellor Olaf Scholz described the outlook for the economy as 'very good' experts say this is a rude awakening for the country and the entire continent
Explainers
Elon Musk's brain-computer interface company Neuralink has received approval from the FDA to conduct its first in-human clinical study. The firm wants to put coin-sized implants into human beings, which will allow people with paralysis regain motor function, restore vision, and treat brain diseases
Explainers
A new survey published in The Lancet Diabetes & Endocrinology journal estimates that over 11 per cent of people across India suffer from diabetes. Experts say diabetes is no longer a disease of the affluent and those in cities and warned that patients are getting younger and younger