'Perpetual thorn to upper-caste pieties': How Ambedkar shaped modern India
As India celebrates the anniversary of the great social thinker and reformer Dr B R Ambedkar, here are some glimpses of the major milestones in his journey.
"Born into an 'untouchable' caste, educated himself and went on to study law in England and America; became leader of the 'untouchables' during the Raj; opposed Congress, which he saw as representative of the upper caste; pressured by Gandhi into pact with Congress in 1932; instrumental in drafting Indian Constitution; served as Law Minister in Nehru's Cabinet , but finally distanced himself from the government; shortly before his death, converted to Buddhism in anger to Hindu caste practices , and urged his followers to do the same"
-Index: Page 243 'The Idea of India' by Sunil Khilnani
Sunil Khilnani further writes in his book, "Born to parents of 'untouchable' Mahar caste in Maharashtra...who lifted himself out of the near universal illiteracy of his caste to gain doctorates from Columbia and London universities, pass the bar at Gray's Inn, and become the leader of India's most oppressed groups. A thinker of lucid and focused anger, and one of the main drafters of India's Constitution, he was until his death in 1956 a perpetual thorn to the upper-caste pieties of the nationalist elite".
14 April will be celebrated as Dr BR Ambedkar's 125th birth anniversary. United Nations (UN) has also decided to celebrate Dr B R Ambedkar's birth anniversary at the UN headquarters in New York on Wednesday. As India celebrates the anniversary of the great social thinker and reformer, here are some glimpses of the major milestones in the journey extraordinaire of the man who continues to inspire millions to struggle for their rights.
Life and times of BR Ambedkar
Born on 14 April 14, 1891 in Mhow, Madhya Pradesh, to Ramji Sankpal and Bhimabai Murbadkar Sankpal, BR Ambedkar was the fourteenth and last child of his parents.
Born to the family of the 'untouchable' Mahar caste, his struggle began at a very early age. A detailed analysis of Ambedkar's life on the website of Columbia University reads, "When Bhimrao's father retired from his career with the British Army in 1894, he settled for a time in Dapoli (in Ratnagiri District). The young Bhimrao had his earliest education there."
"At Dapoli in Bombay Presidency, however, there was a government-aided school, and the elder Ambedkar insisted his boys be allowed to attend on the ground that he was an army officer. It was finally arranged that they and four other "untouchables" might go to the school on the condition that they stay in a room by themselves and never come in contact with the caste children, and above all that they never take a drink from the school water supply. Those terms were accepted, and the future Doctor of Philosophy of Morning side Heights had his first conscious experience in ostracism and in learning at the same time. He was then 6 years old", reads a report published by New York Times, 30 November, 1932.
The same report says, ""His second experience was at Satara, where he was the only untouchable pupil. He was allowed to sit in the same room with other boys, but always on the floor by himself in a remote corner. None could play with him or speak to him. At the age of 13 he went to the government high school at [sic] Elphinstone, becoming its [one] untouchable student. Here also he was ostracised, but was allowed to sit alone on a back bench. By this time his abilities with his lessons began to attract attention."
Dhananjay Keer in his book "Dr. Ambedkar: Life and Mission" writes, "One day it so happened that the class teacher called upon Bhim to come to the black board to solve an example. Instantaneously, there was an uproar in the class. The caste Hindu children used to keep their tiffin-boxes behind the blackboard. Since they feared that their food would be polluted by Bhim's presence near the board, they dashed to the blackboard and hurled their tiffin-boxes aside before Bhim could reach and touch the blackboard."
In 1907, on passing his matriculation after facing a host of prejudices, Ambedkar went to Elphinstone College. Meanwhile the Gaekwad of Baroda decided to offer scholarships to send students for higher education at Columbia University. Young Ambedkar grabbed this three-year scholarship and joined the department of political science at Columbia University as a post-graduate student.
There he met John Dewey; one of the most influential proponents of the concept democracy and was greatly influenced by him.
In October 1916, Ambedkar was admitted to Gray's Inn for Law and subsequently to the London School of Economics and Political Science.
Politics of Change
His political ideas started taking concrete shape since his early twenties. In 1920, he started a Marathi weekly called "Mooknayak".
According to Dhananjay Keer, in the first issue of the magazine he called India a "home of inequality," and described the Hindu society as "a tower which had several storeys without a ladder or an entrance. One was to die in the storey in which one was born." The Depressed Classes must be saved "from perpetual slavery, poverty, and ignorance"; herculean efforts must be made "to awaken them to their disabilities."
In 1920, Dr Ambedkar's fight against the caste oppression took a major turn and came on national stage when he addressed a 'depressed classes conference' in Mangaon in Kolhapur. He emerged as the national leader for the depressed class of the Indian society.
In 1924, Ambedkar founded the "Bahishkrit Hitakarini Sabha" with the aim of mobilizing the depressed classes.
Even after being nominated in 1926 as member of the Bombay Legislative Council, he carried on his fight for the rights of the depressed classes and in December 1927, while addressing the second depressed classes conference in Mahad, he famously burnt a copy of Manusmriti, a religious text.
The year 1932 marked a major shift in the politics of India when Ambedkar demanded separate electorates for depressed classes.
This was vehemently opposed by Mahatma Gandhi, who was lodged in the Yerawada jail and started a fast onto death against the demand for separate electorates granted to the depressed classes by Ramsay MacDonald's communal award.
Ambedkar, under pressure, accepted the Poona Pact which agreed on joint electorates but with reserved seats for the depressed castes.
He then formed the Independent Labour Party in 1936, giving a concrete shape to his political ideas.
In 1942, Ambedkar founded another party -- the All-India Scheduled Castes Federation.
Struggle for the outcasts
In 1935, Dr Ambedkar was invited by the Jat-Pat-Todak Mandal of Lahore to preside over its annual conference in the spring of 1936. However, after becoming aware of the content of the speech that Ambedkar was to deliver, the invitation was withdrawn. Ambedkar published the speech which is now known as 'The Annihilation of Caste', the most radical criticism of Hinduism and the caste system.
Architect of Modern India
After India gained independence from the British rule in 1947, on the invitation of Jawaharlal Nehru, he joined the government as the law minister and subsequently on 29 August was appointed Chairman of the Drafting Committee for the Constitution.
Disillusionment with the Congress
A major political rupture occurred in 1951. Early that year he had introduced in Parliament the 'Hindu Code Bill', that talked about equal property rights for women among others things and faced stiff opposition from the conservative section of the cabinet.
In September, Dr. Ambedkar resigned from the cabinet, upset over the failure of Nehru's government and the Congress to back the Hindu Code Bill.
Later in Life, two new companions: Buddhism and Sharda Kabir
While in the process of drafting the constitution he suffered serious health issues and in that course met Dr Sharda Kabir,a Saraswat Brahmin whom he married in 1948. Meanwhile he got inclined towards Buddhism.
After resignation from the cabinet, Ambedkar engaged himself with Buddhism and in 1954 "while dedicating a new Buddhist vihara near Poona, Dr. Ambedkar announced that he was writing a book on Buddhism, and that as soon as it was finished, he planned to make a formal conversion to Buddhism". In the last year of his life in 1956, he formally adopted Buddhism along with thousands of his followers.
Famous quotes by Ambedkar
"Constitutional morality is not a natural sentiment. It has to be cultivated. We must realise that our people have yet to learn it. Democracy in India is only a top dressing on an Indian soil which is essentially undemocratic."
"On the 26th of January 1950, we are going to enter into a life of contradictions. In politics we will have equality and in social and economic life we will have inequality. In politics we will be recognising the principle of one man one vote and one vote one value. In our social and economic life, we shall, by reason of our social and economic structure, continue to deny the principle of one man one value. How long shall we continue to live this life of contradictions? How long shall we continue to deny equality in our social and economic life? If we continue to deny it for long, we will do so only by putting our political democracy in peril. We must remove this contradiction at the earliest possible moment or else those who suffer from inequality will blow up the structure of political democracy which is Assembly has to laboriously built up".
"The love of the intellectual Indian for the village community is of course infinite, if not pathetic….What is a village but a sink of localism, a den of ignorance, narrow mindedness and communalism?"
"For a successful revolution it is not enough that there is discontent. What is required is a profound and thorough conviction of the justice, necessity and importance of political and social rights".
"Unlike a drop of water which loses its identity when it joins the ocean, man does not lose his being in the society in which he lives. Man's life is independent. He is born not for the development of the society alone, but for the development of his self too."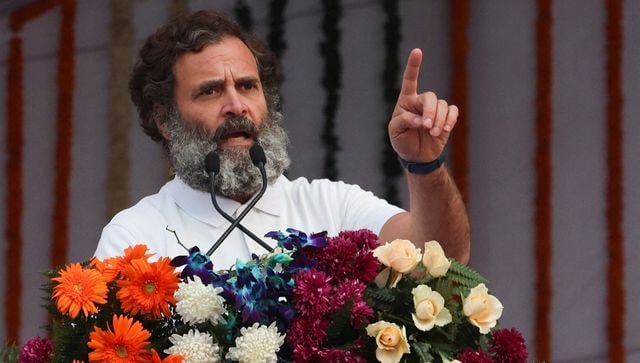 India
Rahul Gandhi was convicted by a Surat court on Thursday in a 2019 criminal defamation case. Later, after the Court's ruling, he was disqualified from the Lok Sabha and lost his position as a Member of Parliament
World
Biden and leading Democrats in Congress have urged McCarthy to unveil Republicans' plans for cutting spending, saying that additional meetings before that happens would be fruitless
Politics
Rahul Gandhi is Congress MP from Wayanad, Kerala. He has been disqualified as a Member of Lok Sabha following his conviction in defamation case over his 'Modi surname' remark