Pathankot probe: Five reasons why Pakistan JIT's visit didn't compromise India's national security
Pakistan JIT's visit to Pathankot did not compromise national security as the team's access was limited to the attack sites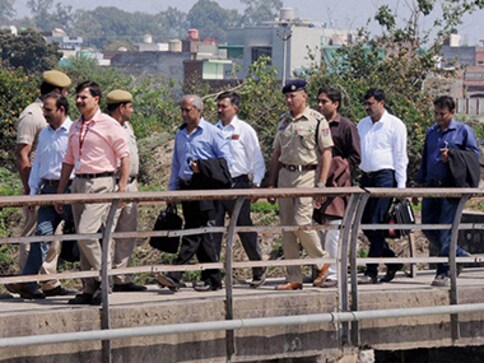 Was India's national security compromised by allowing the five-member Joint Investigation Team (JIT) from Pakistan to inspect the site of terror attack at the Pathankot air base?
By protesting at Pathankot on 29 March, Congress and the Aam Aadmi Party  wanted the nation to believe that the country's internal security was compromised. However, while their protests might have gained them political mileage for the Punjab Assembly elections, national security experts do not think that India compromised its security by inviting Pakistan's JIT.
There are five facts that prove that national security wasn't compromised by the visit of Pakistan's JIT:
1. Only controlled access was given to JIT.
2. Even areas in the airbase that are otherwise not restricted, were barricaded.
3. The JIT members weren't allowed to interact with any security or defence personnel, except designated officials.
4. No access was given to classified assets.
5. No discussion on tactical issues; no sharing of information on the blueprint of any strategy.
"The JIT was taken only to the encounter site—in the open area. Only controlled access was given. No one was allowed to even have a peek into the technical area, the most sensitive zone in an airbase," said defence analyst, Maj Gen (retd) Dhruv Katoch. "For them it was like visiting a real estate site. Barricades were put up even in those areas where they were not present before," he said.
Whatever might be the outcome of this investigation, experts feel that the government wants to reveal Pakistan's intentions to the world, especially since Pakistan arrested Jaish-e-Mohammed operators for the Pathankot attack. They also believe that the information shared in the process does not qualify as classified.
"Another important aspect was that there were no discussions related to classified assets like air strips, hangers, ammunition, fuel, missiles, etc lying inside the airbase," a senior defence personnel with over two decades of experience in counter insurgency and anti-terrorism operations in the region told Firstpost, on condition of anonymity.
"Tactical details were kept under wraps. So, how can one say that national security was compromised?" the expert said.
However, there can be no doubt that the step to allow entry to Pakistan's JIT is unprecedented, one that India did not take even during the investigations of 26/11 Mumbai attack, where Pakistan's involvement was far clearer than at any other time in history.
"During the UPA government, a highly confidential letter of Gen VK Singh got leaked from the PMO. That was the breach of security, and not the visit of Pak JIT to Pathankot. One has to understand the difference. The tragedy of India is that the political parties can't see beyond their nose. The larger plan of India is to force Pakistan to deliver after this investigation, and if they can't, Pakistan will get exposed," Katoch said.
The possible benefit of this unprecedented step is that it will help India in perception building on a global level.
"As the JIT didn't go into the operational area, there's no question of compromise. Until now, Pakistan had been denying any involvement in any terror attack in India. But, after the Pathankot airbase attack, Pakistan has accepted a possible involvement of militants operating out of Pakistan. They arrested a few as well. The government's logic is to give a rope to Pakistan," added Alok Bansal, director, Centre for Security and Strategy, India Foundation.
First Cricket News
Misbah said while some might play down the wins over Zimbabwe but the success in South Africa and Zimbabwe was very satisfying.
First Cricket News
PCB CEO Wasim Khan said after consultations with Cricket West Indies, Pakistan would now be playing two Tests and five T20 internationals between 21 July and 24 August in the Caribbean.
First Cricket News
Pakistan are due to play three Tests and three Twenty20 internationals in the Caribbean after their successful tours of South Africa and Zimbabwe.