Monsoon Session of Parliament Day 17 highlights: Rajya Sabha adjourned after disruptions over credibility of Indian currency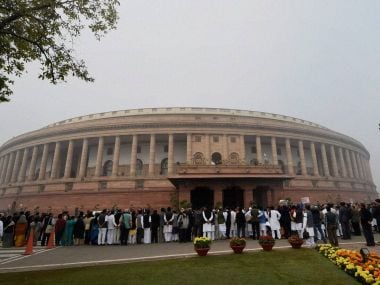 15:43 (IST)

Rajya Sabha adjourned till Thursday

15:42 (IST)

Jairam Ramesh requests PJ Kurien not to pass Banking Regulation Bill amid din

15:34 (IST)

Kumari Selja raises the Chandigarh stalking incident

The accused is the son of a ruling party leader and therefore, they are covering it up, Selja alleged. Mukhtar Abbas Naqvi replied by saying that investigation is on and there is no cover-up.

15:14 (IST)

Rajya Sabha adjourned till 3.21 pm

15:06 (IST)

PJ Kurien refuses to adjourn the Lok Sabha despite Opposition protests

14:58 (IST)

The issue is not about the credibility of currency but the credibility of Congress: Mukhtar Abbas Naqvi

14:45 (IST)

Rajya Sabha adjourned after Congress raises issue of credibility of Indian currency

Delhi: Rajya Sabha adjourned after uproar in House over issue of credibility of Indian currency raised by Congress pic.twitter.com/ZF7n8niORx

— ANI (@ANI) August 9, 2017

14:39 (IST)

Rajya Sabha adjourned for 15 minutes

14:35 (IST)

Opposition threatens to stall proceedings until issue of 'fake' Rs 500 notes is resolved

14:27 (IST)

Ruckus in Rajya Sabha as Opposition protests over different dimensions of notes

Opposition leaders in Rajya Sabha have stalled proceedings to protest against the different dimensions of new Rs 500 notes. Opposition in the Upper House started shouted "Farzi notes ki sarkar nahi chalegi".

14:22 (IST)

Kapil Sibal raises the issue of different dimensions of new Rs 500 notes in Rajya Sabha

Kapil Sibal of Congress said that a country is known by its currency and despite the RBI setting out the proper dimensions of the new Rs 500 and Rs 2,000 notes on its website, there are several notes in the public domain with different dimension. He further asked which printing press is printing such notes.


13:32 (IST)

Lok Sabha adjourned till Friday

13:31 (IST)

Lok Sabha pays tribute to BJP MP Sanwar Lal Jat who passed away on Thursday

13:24 (IST)

Rajya Sabha adjourned till 2 pm

13:07 (IST)

'What is the point of passing Bills without adequate representation of women in both Houses?': Kanimozhi asks

13:01 (IST)

BSP's Veer Singh laments LoP, LoH skipped mention of BR Ambedkar, says Dalit contribution to freedom movement is always undermined

12:55 (IST)

After years of Independence, India still a prisoner of poverty: NCP 's Majeed Memon

12:47 (IST)

Those who do not speak Hindi, are not Hindus and eat what the majority doesn't like also contributed to Indian independance: Kanimozhi in Rajya Sabha

12:45 (IST)

TMC's Prof Sugata Bose kicks up controversy, says many parties had betrayed independence movement

Referring to the Rashtriya Swayamsevak Sangh, Bose said that "some parties had betrayed the August Kranti movement." This lead to noisy objections from the Treasury Benches and Union minister Ravishankar Prasad said that the records must be expuged of his remrks and urged members to not indulge into criticism and rake up controversy.

12:14 (IST)

No matter how strong you are, we will fight for the India we believe in: Sonia tells Lok Sabha

​

In a statement ripe with innuendoes, Sonia Gandhi took steady digs at the ruling BJP without naming anyone. Conceding that the saffron party has become a force to reckon with Sonia said, "No matter how strong you get, we will always fight for the India we love, the India we believe in... India can't be allowed to be taken over communal and dark forces. India cannot be your prisoner."

12:05 (IST)

Sonia Gandhi takes subtle digs on "communal forces" says India can't be their prisoner

"It looks like dark forces are one again threatening to overtake our present. It looks like that once again the public space is no longer free and a constricted mentality has taken over our collective conscience," Sonia said in a veiled dig at the ruling dispensation.

11:58 (IST)

Congress president Sonia Gandhi invokes contribution of scores of Congress workers in Quit India Movement

11:55 (IST)

GST is an example of the success of India's Parliament and will of our leaders

"GST is not about the success of one political party or leader," Modi said. "It is the success of the collective strength of the Parliament," the prime minister said.

11:52 (IST)

"Samuhik icchashakti se kuch muddo pe sehmati bana ke hum kya nahi kar sakte (We can achieve a lot with the determination of collective coscience)," PM modi said.

11:46 (IST)

Poverty, lack of education & malnutrition - these are big challenges our nation faces. We need to bring a positive change in this regard: PM Modi

11:45 (IST)

Weed out Corruption from India, just like colonialism: PM Modi in Lok Sabha

"Today, a similar call and determination is needed to root out corruption from our country," PM modi said invoking the Quit India Movement that is believed to be one of the largest people's movement for a single organised cause in India.

11:40 (IST)

Indian independence movement set stage for end of colonialism: PM Modi

"Our freedom was not only about our country. It was a defining moment in bringing an end to colonialism in other parts of the world too. Similarly, today too, time is ripe for India to take the lead and show others the way," Modi said.

11:39 (IST)

Together we can build the India of our dreams: PM Modi

"We don't have Mahatma Gandhi today, we do lack the extraordinary leadership that we had then. But if the 1.25 billion Indians together take a pledge to fulfill Gandhi's dreams, then the goal is acheivable," PM modi said

11:37 (IST)

Quit India Movement is an exemplary example of the robust will power of India as a nation: PM Modi

11:35 (IST)

Leader of Opposition, Ghulam Nabi Azad addressing Rajya Sabha marking anniversary of Quit India Movement

11:32 (IST)

Mahatma Gandhi's call to do or die changed the independence movement completely: Modi

"When Mahatma Gandhi, a leader who always propagated non-violence, raised call to 'do or die', it was a surprise for the nation. He told each and all of us to conisder ourselves an independent national," Modi said.

"This triggered a sentiment like never before, and it was a result of this cry that the country finally attained independence," Modi said.

11:28 (IST)

It is important for the younger generation to know about historical events like the Quit India movement: Modi

11:27 (IST)

Quit India Movement was the last people's movement that triggered a massive movement for independence : PM Modi in Lok Sabha

11:26 (IST)

PM Modi speaks in Lok Sabha on the 75th anniversary of Quit India Movement

11:26 (IST)

We can't allow to regional aspirations to overtake national interests: Arun Jaitley on anniversary of Quit India Movement

11:21 (IST)

Today we need a Bharat Jodo Andolan: Sumitra Mahajan on 75th anniversary of Quit India Movement

"During the independence movement, our people had worked very hard to mobilise the Quit India Movement, but today, after so many years of independence, I think we need a Bharat jodo andolan (Unite India Movement)," Lok Sabha speaker Sumitra Mahajan said.

11:17 (IST)

Mainstreaming of different voices and opinions important: Jaitley

"India has strengthened eith each passing day, despite being one of the poorest nation," Jaitley said, adding that this process is dependent on our ability to mainstream those who bear political and ideological differences.

11:14 (IST)

Country should unite against terrorism: Jaitley on Quit India Movement anniversary

"It is crucial that the country stands united against those who don't believe in our Constitution and resort to violence," Jaitley said while lauding the security forces and security agencies. This he said, is important to strengthen our democracy.

11:10 (IST)

Terror has become the biggest challenge today: Jaitley on Quit India Movement anniversary

11:09 (IST)

Many have tried to challanged our sovereignity but our Army can defend our borders: Arun Jaitley

11:08 (IST)

Lok Sabha Speaker Sumitra Mahajan speaks to mark the 75th anniversary of Quit India Movement

11:05 (IST)

Arun Jaitley, Leader of the House in Rajya Sabha rises to speak on 75th anniversary of Quit India Movement

11:03 (IST)

Two minutes silence observed in Rajya Sabha to honour those who sacrificed lives for Indian independance

11:02 (IST)

Rajya Sabha Chairman Hamid Ansari pays homage to martyrs of the Independance movement

11:01 (IST)

Proceedings of Rajya Sabha begins

10:59 (IST)

PM Modi asks people to pledge to rid India of poverty, casteism, communalism

On the 75th anniversary of Quit India Movement, Prime Minister Narendra Modi tweeted to take a pledge to build "New India of our dreams"

In 1942, the need of the hour was to free India from colonialism. Today, 75 years later the issues are different.

— Narendra Modi (@narendramodi) August 9, 2017

Let us pledge to free India from poverty, dirt, corruption, terrorism, casteism, communalism & create a 'New India' of our dreams by 2022. pic.twitter.com/x4zbaxGKkN

— Narendra Modi (@narendramodi) August 9, 2017
Both the Houses of the Parliament will on Wednesday hold a special session to mark the 75th anniversary of the Quit India Movement. The Treasury Benches of the Lok Sabha will be led by External Affairs Minister Sushma Swaraj , while Finance Minister Arun Jaitley will lead the Treasury Bench of the Upper House. A resolution to this effect was passed on Tuesday.
The regular proceedings of both the Houses, like the Question Hour, Zero Hour etc will be suspended and leaders of both parties will address the House. Prime Minister Narendra Modi is also expected to speak today. As part of the anniversary celebration, the Lower House will adopt a resolution which will be passed reaffirming the member's commitment to the nation, ANI reported.
On Tuesday, Congress president Sonia Gandhi addressed a special Congress Working Committee meeting in Delhi to mark the occasion, where she highlighted the Congress party's role in the freedom struggle and took a swipe at the BJP on the issue of nationalism.
"Today many sections live in fear, none more than the minorities, the Dalits, the tribals and women. Not a day passes without an incident where the liberty of the individual has not been trampled upon by anti-social elements or self-appointed vigilantes," she had said.
Sonia had accused the government of encouraging vigilantes and said there was threat to the country's pluralism.
She had said the Quit India movement was a reminder for the party that "brute force" can and must be resisted in the name of freedom and called upon party workers to persevere at time when the party is facing multi-faceted challenges.
Attacking the BJP, Sonia had said political descendants of those who had collaborated with the colonial government were holding high office.
"While we salute the patriots, we must not forget that there were organizations and individuals who opposed the 1942 movement and actually collaborated with the colonial government. Their political descendants are the very people who today hold high office and have arrogated to themselves the role of torch bearers of our freedom," she had said.
With inputs from agencies
Updated Date: Aug 09, 2017 15:48 PM