Parent-toddler relationship made easy
You should know that your toddler is naturally inclined to do things on his own, never mind the mess and the time it takes.
By Arundhati Swamy, Head – Parent Engagement Programmes, ParentCircle
Infant to Toddler —Are you ready for the big-time changes, not just in your toddler's development, but also in your parent-child relationship? Armed with skilful mobility and an ever-growing vocabulary, your ever-so-manageable little one is now graduating from being a keen little observer to an adventurous explorer.
Here are three key hacks to help you sail through the turbulence:
Exploration and curiosity
Well, this is the stage when you should allow your toddler to explore within safe limits and take delight in his new experiences. Of course, when things go wrong for him, welcome him back to you. After all, you are his safe haven. Make sure you are there to comfort and help him with his 'big' emotions. As the 'chief architect' of his earliest feelings of self-worth, you must help him feel good about himself through all your efforts to raise him.
You should know that your toddler is naturally inclined to do things on his own, never mind the mess and the time it takes. He needs your patience and encouragement through this critical learning process. "I can" is what he must experience as he grows, so be very sure not to use discouraging words and negative labels. Your task is to boost your toddler's love for learning new things. And yes, you will make a few mistakes, so be ready to repair the relationship.
Disciplining your toddler
Your toddler is discreetly learning how to negotiate her way around people and situations. You will help regulate her impulses and social behaviours with firmness, not punishment. While your ideas of how to discipline your child are largely influenced by your own experiences with your parents, the way forward (and this is backed by solid research) is to turn disciplining moments into teachable moments. Yes, discipline is a powerful tool to teach, not to punish. Here's how you can do it.  Behind behavioural issues are strong emotions. Begin by taking a moment to calm yourself, then connect with your child by naming the emotions she could be feeling. This empathetic approach helps her feel understood. She is now willing to tell you her story. Listen well, then reason out with her and show her a better way to behave. Why is this positive approach strongly recommended? Because positive experiences will alter your child's brain structures towards developing positive neural pathways. That's how you can influence her to grow into a well-adjusted, emotionally stable child.
Stay connected
Hugs and cuddles with your toddler keep you both connected. Your toddler will feel comforted, safe and accepted, more so when you are also upset with his misbehaviour. Distancing him from you only adds to his distress.  Instead, draw him into your emotional circle. Notice how this approach makes your child more receptive and cooperative. Become attuned to his subtle emotions. Be playful, dance and sing together to enjoy your changing relationship.
As stand-up comedian Jerry Seinfeld said, "Having a two-year-old is like having a blender without a lid". Here's a super tip to help you find that lid. Nurture yourself!
When you take time each day to have your own needs met, you are better able to understand and meet your child's needs. Take good care of yourself to be able to take great care of your child.
Happy Parenting!
This is a partnered post.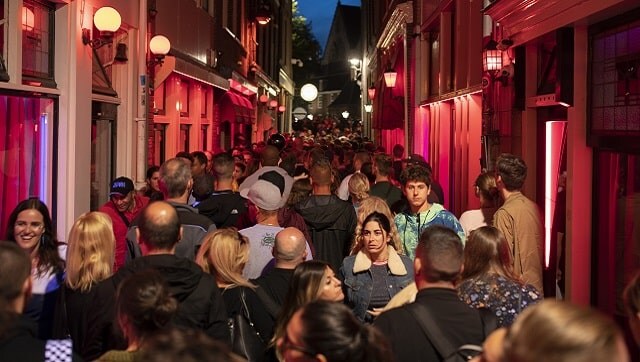 World
Amsterdam has been trying to navigate a conundrum for years: how to embrace its status as a vibrant, international hub without making the city unlivable for its residents — and without letting go of its famous, free-spirited roots.
First Cricket News
Under the policy, women cricketers will get up to a year of paid leave and will also have the option to transfer to a non-playing role until commencement of their maternity leave leading up to the birth of their child.