Pan-India farmers body to hold agitations demanding loan waivers, justice for Mandsaur violence
A farmers' conglomeration said it will launch another round of protests for over two months from 31 August to voice its demands for a loan waiver and remunerative price for agricultural produce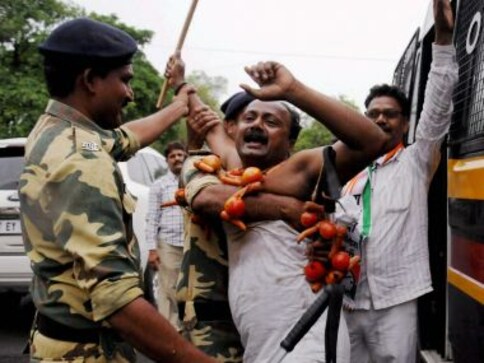 New Delhi: A farmers' conglomeration on Friday said it will launch another round of protests for over two months from 31 August to voice its demands for a loan waiver and remunerative price for agricultural produce.
The objective of the protest marches — which would go on till 10 November — was to unite farmers across the country before their main protest was organised in Delhi during the Winter Session of Parliament, leaders of the All India Kisan Sangharsh Coordination Committee (AIKSCC), which held farmers' protest march from Mandsaur to Delhi in July, told the media in New Delhi.
"After we held a 'yatra' (march) in the wake of killing of six farmers in Mandsaur in Madhya Pradesh, the government took notice of the farmers' problems. However, the farmers still are awaiting fulfilment of their demands," said Lok Sabha member and farmer leader Raju Shetty.
"Our plan is to bring the farmers from all over the country to Delhi for the big protest when Parliament's Winter Session starts," said Shetty, whose political outfit Swabhimani Shetkari Sanghatana is part of the AIKSCC.
AIKSCC Convener VM Singh said the protest marches will be held in three phases.
It will be flagged off on 31 August and pass through Haryana, Punjab, Himachal Pradesh and Jammu and Kashmir. On 16 September, the second phase of protests will starts from southern parts of the country.
"There will be a farmers' rally in Champaran in Bihar on 2 October. Later, the marches will be held in eastern and north-eastern states from 10 October to 10 November. Consequently, farmers from all over the country will be called to Delhi for a mega protest, likely on 20 November," he said.
The AIKSCC leaders said they had passed two resolutions — one to condemn the Madhya Pradesh government for what it said was "using undemocratic ways to suppress the protest by those living in Narmada Valley" and another to support the demands of Tamil Nadu farmers.
"We condemn the undemocratic ways of the Madhya Pradesh government for lathi charging the people living in the Narmada Valley and the arrest of social activist Medha Patkar. Also, we have decided to intensify our protest if the demands of Tamil Nadu farmers are not met," said Yogendra Yadav of Swaraj Abhiyan, which is part of the AIKSCC.
Patkar-led Narmada Bachao Andolan has been protesting against the forcible eviction of people affected by the Sardar Sarovar Dam on the Narmada river and in support of the demand for their proper rehabilitation.
India
The arrested duo told police that they were taking the explosive material to dig a well
India
Farmers have been camping out at the Chandigarh-Mohali border since Tuesday night, demanding that the Bhagwant Mann government acquiesce to their demands on paddy sowing period, MSP for maize, moong and basmati, among others
India
Farmers in Punjab sat on a protest after being stopped from heading to Chandigarh to press the government for a bonus on wheat crop and allow paddy sowing from 10 June