Pampore attack: Has Kashmir's EDI actually promoted any entrepreneurship?
Since militant encounters have destroyed Kashmir's lavish Entrepreneurship Development Institute (EDI) in Pampore twice during this year
Since militant encounters have destroyed Kashmir's lavish Entrepreneurship Development Institute (EDI) in Pampore twice during this year, one might have expected a lot of public dismay over the sudden collapse of what was presumably a vital support system for enterprise, economic stimulus and potential employment.
Fact is, there has been no public disappointment, leave alone dismay or outrage. Rather, people snicker at the mention of EDI.
So, perhaps one should ask questions about what this humungous institution had achieved. Since it ran training modules lasting a few weeks each, it ought to have significantly stimulated the state's economy since the beginning of this decade.
It hasn't.
So now, there should be a public probe into the extent to which the lavishly endowed Institute has promoted entrepreneurship, economic growth and employment - or whether, conversely, it was a massively visible metaphor for misdirected initiatives, sloth, unresponsiveness and mis-governance.
And please, we don't need a committee to inquire. That could go on for years and yield nothing worthwhile. All we need are quick answers that the EDI staff can compile in a couple of days, if sufficiently pressed.
Let's seek answers
Three categories of questions need to be asked. One category should pertain to the institute's actual success in promoting enterprise. Second category should deal with its conceptualization. The third category could deal with its infrastructure.
Questions about its effectiveness in promoting enterprise could include: How many entrepreneurial ventures has the institute promoted? How many on paper? How many functioning? How much has each unit earned on average? What is their combined turnover? How many to they together employ?
A basic question in the second category could deal with how enterprising it was for the government to set up such huge infrastructure for this purpose in the first place. Could enterprise not be promoted, and far more widely, through an internet-based programme, a self-help kit, and a helpline?
The third category of questions should focus on infrastructure: How much public money has been spent on the institute? Why did the 60 rooms of the building each have a bathroom attached? What proportion of that investment for capital and running costs? How much on projects promoted? How much is the land on which it stands worth? What is the market value of the river-facing apartments? How much money was spent in painting those buildings white? How much does the taxpayer shell out for EDI staff salaries? How much do EDI-trained entrepreneurs together pay their employees?
These questions are vital. For, at a much deeper strategic level, one could ask whether common people might have converged to protect the institution rather than to assist those battling the state from within it, if they had perceived it as a centre of economic hope rather than as a den of bureaucratic obstruction.
Ill-advised schemes
Several young Kashmiris who have sought to set up enterprises in recent years — some of them after returning home after a few years abroad — relate harrowing tales of bureaucratic obstruction, physical destruction and extortion.
The Centre promoted a slew of ill-advised high-spend initiatives to stimulate employment and so try and wean over Kashmiri youth after the 'summer of stone-pelting' in 2010. These included the 'Udaan' scheme to train Kashmiri youth so that they could get jobs elsewhere in India. Like the EDI, it has been a dead loss.
Meanwhile, the uprising over the past three months has clearly demonstrated the inefficacy of setting up more easy-to-squeeze institutions like EDI, and doling out more money — as if more than enough had not already been invested since the `50s. The teenagers and the boys in their pre-teens who have dominated the streets and byways of Kashmir these past three months are not focused in jobs or livelihoods.
Turning a sharp, critical spotlight on EDI now would be a good starting point for sorting out our priorities.
Politics
Security was beefed up across Kashmir ahead of the home minister's visit that comes in the wake of the spate of civilians, particularly non-locals and minorities, being killed.
India
The killings have spread panic among non-local labourers, at the time when most of them would work in apple orchards and as construction workers in the Valley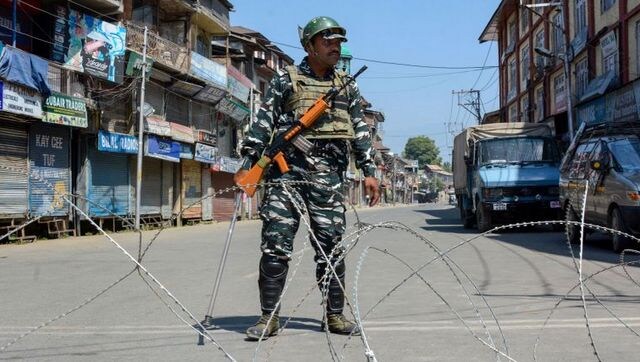 India
The de jure Islamic state created on the soil of India through Article 370 got dismantled, but the de facto Islamic state continues to hold fort.