Pakistani shelling kills 5 of family in Poonch: Kashmir sees spate of border killings as ties with Islamabad hit all-time low
Poonch incident is the latest in a series of tragedies that have killed over two dozen civilians, displaced thousands and terrorised many more in Kashmir.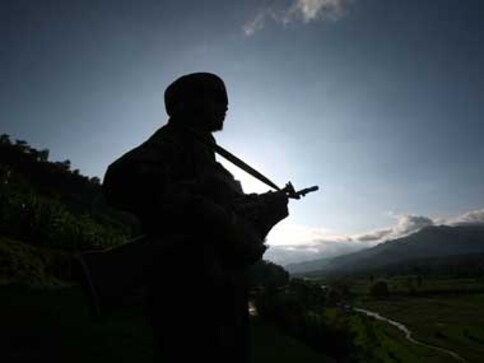 Slouched on a bed at a Jammu hospital, Nooren is looking at visitors with expectant eyes, but no one has mustered the courage to explain to a 14-year-old girl the tragedy that devastated her family on Sunday after Pakistani forces allegedly targeted their home located in Lower Devta village along the Line of Control (LoC) in Kashmir's Poonch district. Of the seven members, only her seven-year-old sister, Mehreen, survives but she is critical.
"We were sipping morning tea when the bomb (mortar shell) exploded in the room. My leg was in excruciating pain and I was crying. Then neighbours came and pulled us out from the rubble," Nooren said, recalling the last moments of her family at their home. According to officials, a mortar shell fired from the other side of the divide tore the roof of the residential house, killing Nooren's father and mother, and her three brothers.
The killing of Chaudhary Mohammed Ramzan, his wife Malika Bi, 32, and their three sons – Abdul Rehman, 14, Mohammad Rizwan, 12, and seven-year-old Razaq Ramzan – is the latest in a series of tragedies that have killed over two dozen civilians, including children, displaced thousands and terrorised many more in the border areas of Jammu and Kashmir. Officials say ceasefire violations are at an all-time high this year, which comes at a time when diplomatic relations between India and Pakistan are at an all-time low.
Diplomatic face-off
The tensions along the de-facto border in Jammu and Kashmir are replicated in the diplomatic face-off between India and Pakistan. Since the last months, the two countries have levelled allegations of harassment of diplomats in the two countries, prompting Islamabad to recall Sohail Mahmood, its high commissioner in New Delhi, after repeated incidents of "harassment". There are reports suggesting that Pakistan will not send the envoy back till the situation improves.
"There is nothing new or unusual about it. If you look at the history of the cold war, Americans and Soviets would often resort to such practices of intimidation. But it is a poor start to the year which has recorded 434 ceasefire violations in the first two months. With diplomacy in tatters, not only will the people in border areas suffer but it will also impact the situation on the ground in Kashmir," Noor A Baba, dean of social sciences at the Central University of Kashmir, said.
With insurgency-linked violence at an all-time high in the Jammu and Kashmir and more and more young boys from the Valley joining militant groups, the prospects of peace and normalcy in the conflict-ravaged state are getting bleaker. Today, due to the reluctance of the two countries in resolving their outstanding issues, young men in Kashmir are looking at radical ideologies such as of Islamic State, to set them free from the pangs of the three-decade-old violence and political turmoil. This is a dangerous precedent that will push the entire South Asian region into chaos.
The absent Kashmir dialogue
Before the BJP entered into a wedlock with the Peoples Democratic Party, the coalition drafted a governance framework which, among other issues, promised dialogue with "internal and external" (Hurriyat and Islamabad) stakeholders. The coalition, however, remained mired in controversies in the first three years. Emboldened by its Hindutva agenda that won the party election after election in different states across the country, the BJP-led Centre reneged on its promises as the PDP's popularity tanked in the Valley.
After the turmoil in 2016 following the killing of Hizbul Mujahideen commander Burhan Wani and an unprecedented wave of student protests that shook the Valley in the next year, the Centre appointed Dineshwar Sharma as a special representative for the state. In his more than two dozen visits to different parts of the state, Sharma interacted with a wide range of people, including former Hurriyat chief Abdul Ghani Bhat, but there has been little improvement in the ground situation.
"Interlocution may work at some level in Kashmir but it will not solve the problem entirely. You catch the bull by horns if it doesn't behave. New Delhi has refused to talk with Islamabad unless the latter stops 'exporting terror' but such an approach is detrimental to the situation in Jammu and Kashmir where border violence is at all time high and dangerous ideologies are gaining currency," Jehangir Ali, a senior journalist based in Kashmir told Firstpost.
Geelani's IB rendezvous
It is not as if New Delhi has not tried but the methods have been wrong. Last week, veteran Hurriyat leader Syed Ali Geelani disclosed that an officer of Intelligence Bureau visited him at his home in Srinagar and proposed that the ailing separatist hold talks with New Delhi for resolution of the Kashmir problem. Geelani turned down the offer, telling the officer that unless Kashmir issue is not seen in "historical perspective", talks will not be productive.
"More than 150 rounds of talks over the last seven decades have been held on Kashmir between India and Pakistan but they have not produced any results. Unless New Delhi doesn't acknowledge Kashmir as a dispute, gets Pakistan on board and puts an end to the violence unleashed by security forces on our people, any effort at dialogue will be counter-insurgency and bound to fail," Yasin Malik, chairman of Jammu Kashmir Liberation Front, said.
For political observers and strategic experts, the road to peace in Kashmir starts in Islamabad. The strategic realignment of alliances in South Asia with the United States drifting away from Pakistan and the latter coming closer to China is a sign of hard times ahead in Jammu and Kashmir, where children like Nooren and her sister will continue to suffer for no fault of theirs. We can't afford to let it happen endlessly.
also read
Explainers
While Siddaramaiah and Shivakumar remain the favourites, Congress leader G Parameshwara and Lingayat faces MB Patil, Shamanuru Shivashankarappa and Eshwar Khandre could also be options for the top job in Karnataka
Explainers
The appointment of Linda Yaccarino, who will take over from Elon Musk as Twitter CEO, has revived a debate around the 'glass cliff' – a phenomenon where women and minority groups are more likely to be appointed leaders in situations of crisis
Explainers
The Twitter-like app has been given the codename PN92, Project 92, or Barcelona. It will be at least partially integrated with Instagram with users retaining their verification and handle and their followers will be alerted when they get on the new platform