Pakistan Foreign Minister Khawaja Asif says New Delhi, Islamabad officials in talks over harassment of diplomats
Pakistan and India are in talks over the issue of alleged harassment of Pakistani diplomats stationed in New Delhi, Foreign Minister Khawaja Asif has said
Islamabad: Pakistan and India are in talks over the issue of alleged harassment of Pakistani diplomats stationed in New Delhi, Foreign Minister Khawaja Asif has said.
Pakistan has claimed that there had been as many as 26 instances of harassment and intimidation of its diplomats since 7 March, following which Islamabad called back its high commissioner Sohail Mahmood for discussions on the issue. He returned to New Delhi on 22 March.
"Higher authorities in both India and Pakistan are in talks to handle harassment incidents of Pakistan High Commission,"
Asif told Associated Press of Pakistan on Sunday.
He hoped that efforts in this regard would bear fruit and relationship between the two neighbouring countries would improve, the report said.
The foreign minister also said that Pakistan is keen on establishing cordial relations with its neighbouring countries on the basis of equality for maintaining regional harmony.
"Our top priority is establishing peace in the country as well as in the region in the larger interest of the people," he said.
Asif also said that Pakistan was making all-out efforts to develop healthy and durable relations with Afghanistan, Iran, India, Russia, and other countries of the region.
He said Pakistan wants peace in Afghanistan.
"We want to see Afghanistan as a peaceful and stable country because Pakistan would benefit the most from a peaceful Afghanistan," Asif added.
The minister also said that the government has been making serious efforts for purging the country of the menace of terrorism and make it a safe place for its people.
In August, US president Donald Trump had unveiled his Afghanistan and South Asia policy in which he had hit out at Pakistan for providing safe havens to "agents of chaos" that kill Americans in Afghanistan and warned Islamabad that it has "much to lose" by harbouring terrorists.
Pakistan regularly denies that it hosts terror groups fighting the US and Afghan forces in Afghanistan.
Asif also stated that China-Pakistan Economic Corridor (CPEC) would play an instrumental role in bringing revolutionary changes across the country.
He said that the resulting economic stability and prosperity would not only benefit the people of Pakistan but of the region at large.
Find latest and upcoming tech gadgets online on Tech2 Gadgets. Get technology news, gadgets reviews & ratings. Popular gadgets including laptop, tablet and mobile specifications, features, prices, comparison.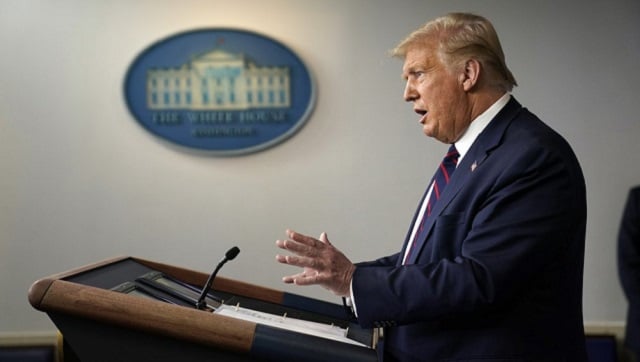 World
The top Republicans in the House and Senate, who have spent the past four years championing Trump in Congress, also distanced themselves from the notion of a delayed election
World
US president Donald Trump on Thursday signed an executive order barring transactions with the Chinese parent company of social media platform TikTok after 45 days.
News & Analysis
Facebook and Twitter said that Donald Trump's claim amounted to "misinformation."