Padmaavat Row: Manohar Lal Khattar visits Gurugram school, meets students and teachers whose bus was attacked
Over a week after their school bus was attacked by miscreants in the name of protest against the film Padmaavat, Haryana Chief Minister Manohar Lal Khattar made an unscheduled visit to the GD Goenka School in Gurugram and interacted with the students and teachers
Gurugram/Chandigarh: Over a week after their school bus was attacked by miscreants in the name of protest against the film Padmaavat, Haryana Chief Minister Manohar Lal Khattar on Friday made an unscheduled visit to the GD Goenka School, Sohna, in Gurugram and interacted with the students and teachers.
Khattar praised the children, teachers and bus staff for showing courage in the face of an adverse situation.
The school bus was pelted with stones by some miscreants, allegedly belonging to the Shree Rajput Karni Sena, on January 24 during a protest against the release of the movie Padmaavat.
While sympathizing with the school children, the chief minister said: "Since I saw this incident on the television, what kept boggling my mind was why it should have happened to the little children. Though I am not feeling well, yet I decided to meet you all."
"When the stones were being thrown at their bus, the children not only showed courage but also braved the situation with poise and calm. Expressing concern over their security, the chief minister assured them that adequate arrangements would be made by the state government to prevent re-occurrence of such incidents," a state government spokesman said in Chandigarh.
Khattar said that in a democratic system, every citizen had the right to express his views but if a protest is to be registered, it should be done peacefully. He inquired from the children about how things happened that day and also interacted with the teachers who were present on the bus. He appreciated the teachers for acting sensibly during the incident and saving the students from being hurt. A teacher told the chief minister that the brave students, on getting instructions, sat down on the bus floor between the seats and covered themselves. Five women teachers were accompanying the students on the bus. After giving the students and teachers a patient hearing, the chief minister asked the students to try and forget the incident.
Khattar also interacted with bus driver Ramesh. The driver told the chief minister that three buses of GD Goenka School were in the queue.
"Of these, two buses were provided safe passage by the Gurugram Police by pacifying the people but someone from the crowd threw a stone on the front glass of his bus, followed by another stone which hit the driver's side glass window. Until then, the bus of Haryana Roadways had not been set ablaze and the police were trying to pacify the mob," Ramesh said, narrating the incident.
Find latest and upcoming tech gadgets online on Tech2 Gadgets. Get technology news, gadgets reviews & ratings. Popular gadgets including laptop, tablet and mobile specifications, features, prices, comparison.
India
According to the Punjab Pollution Control Board, the state has recorded 4,585 farm fires this season so far, compared to 1,631 during the corresponding period last year
India
The Class 12, or senior secondary, compartment exam will start from 28 October, while the exam for Class 10, or secondary, students will commence from 29 October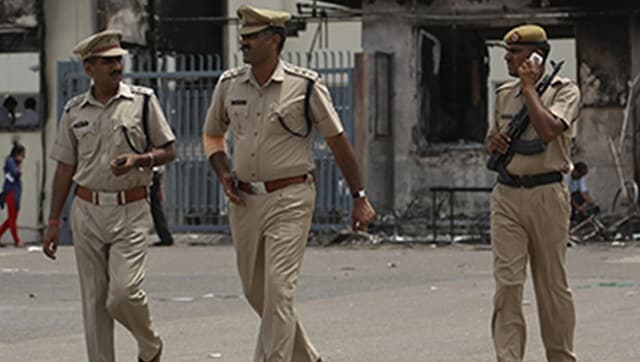 India
According to the police, her husband Naresh Kumar, who was arrested for the offence, claimed she was having "mental health issues" for nearly three years