#PachauriHatao: TERI's new exec VC sexually harassed me in 2003, says second complainant
A second complainant has alleged that Pachauri harassed her sexually while she worked at TERI in 2003.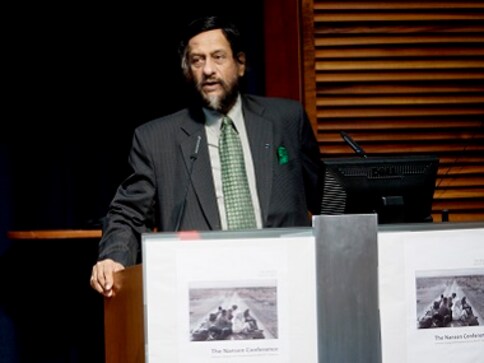 Days after RK Pachauri was appointed the executive vice chairman of The Energy and Resources Institute, a former TERI worker has come forward with the allegation that the former TERI director general sexually harassed her while she was working at the institute. The complainant, the second to make this allegation, joined TERI in 2003 and worked for a year, reports CNN-IBN.
  Complaint against R.K. Pachauri
The complainant's lawyer told CNN-IBN that she had raised the assault case with TERI but was discouraged. She had even filed an FIR and tried to raise the issue but the police refused to record her statement.
"I learnt about the FIR against Mr RK Pachauri through news reports in the media. This of
course did not surprise me since I had been sexually harassed by him and had seen him
behave extremely indecently with other women at TERI too," the complaint reads. "Mr RK Pachauri would use the excuse of work assignments to repeatedly call me to his office room, even though there was no real work that he needed to discuss. This made me feel very uncomfortable and I used to try to dodge some meetings or ask my colleagues to go for the meetings."
According to her, Pachauri "renamed" her "xxxx", and began to refer to her by that appellation. "On one occasion, when he had called me to his sixth floor office room to discuss work, he told me that he could lift hefty and heavy women, and so lifting me would not be a problem for him," she has alleged.
The complainant is the second woman to allege Pachauri sexually harassed her. In 2015, a young research analyst had accused him of sexual harassment and registered a case against him on 13 February.
The charges compelled Pachauri, who received the Nobel Peace Prize on behalf of the United Nations' Intergovernmental Panel on Climate Change (IPCC), to step down as chair of the IPCC and Prime Minister's Council on Climate Change.
A three-member panel found Pachauri guilty, but in September 2015, Ranjana Saikia, the head of TERI's Internal Complaints Committee who headed the panel, resigned from her post without any explanation. In November 2015, the first complainant quit her post at Teri, saying that the treatment meted out to her by the organisation has harmed her "mentally, professionally and economically".
Against this backdrop, Pachauri's recent appointment brought him a lot of backlash with the first complainant even writing an open letter about it. In an interview, she said that now she believes the courts are her only hope for justice.
Meanwhile, the second complainant told NDTV that she is not going to give up hope. "Cynicism is easy to come by but one has to keep trying and one will," she said.
Explainers
Countries around the world are trying to limit the average global temperature increase to 1.5 degree Celsius above pre-industrial times to limit the impact of climate change. Scientists say crossing that threshold poses risks to people, wildlife and ecosystems
World
In Qatar, any sex outside marriage is considered as a crime and now the FIFA security committee has ordered the police of the Gulf nation not to arrest female rape victims
India
The matter however, came to light after a group of students protested against the accused teacher inside the school premise. The incident allegedly prompted the counsellor teacher who had talked to the victim previously, to report the matter to police