Outrage over Tarun Sagar's nudity silly, cocktail of dharma and politics real poison
Much of the outrage around Digambar Jain monk Tarun Sagar's sermon to legislators has been confined to his nudity. But, that's a silly point to belabour.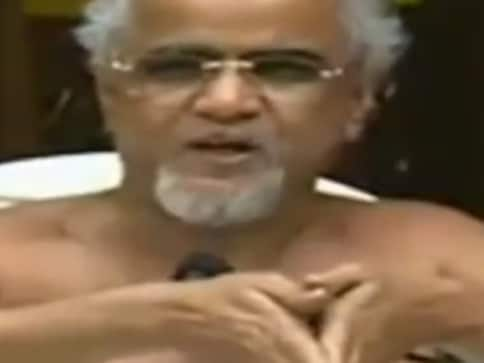 A man sleeping on a pavement once started screaming as if hit by a catastrophe. When someone asked what was the fuss all about, the man replied a rat had just passed over his stomach.
"You are scared of a rat?" laughed an onlooker.
"You don't understand," replied the man. "Now that a rat has turned my stomach into a thoroughfare, tomorrow an elephant may be tempted to use it. Once the route is opened how do I stop others from using it?"
That's a question somebody should ask Haryana Chief Minister Manohar Lal Khattar for allowing a Jain monk to preach in the state Assembly.
Much of the outrage around Digambar Jain monk Tarun Sagar's sermon to legislators has been confined to his nudity. But, that's a silly point to belabour.
For ages, saints from the Digambar (literally for whom sky and nature's elements are the only garments) school of Jainism have shunned clothing in public and private. Monks of this sect walk around with just a bunch of peacock feathers, a kamandal and religious scriptures, and eat just once a day. Like the 5 K's of Sikhs, beard and skullcap of Muslims, jenau and shikha (sacred thread and plait) of Brahmins, the Digambar Jains too have symbols of their faith.
To laugh at the Sagar's renunciation of clothes is to mock a faith, insult India's rich cultural heritage. It also distracts from the real issue that needs to be discussed: How could the Haryana government invite a religious leader to address the Assembly? How did Khattar open the gates of the Assembly to a sermon? Having set a precedent, will he next invite a Muslim maulana, a Hindu pandit, a Sikh granthi, a Christian padre, a Jewish rabbi and make him sit on a pedestal in the Assembly? Were does this satsang stop?
Khattar's religious ideology was shaped in a shakha. In the past, he has shown utmost loyalty to his alma mater. A few months ago, he wanted the Chandigarh airport named after a Sangh leader, instead of Bhagat Singh. Throughout his tenure, he has been more keen to 'protect' the cow instead of focusing on problems faced by his voters, as evidenced during the recent flooding of Gurgaon because of overnight showers. But, throwing the floor of the Assembly open to religious discourses is a much bigger deviation from duty, it is an affront to India's founding principles.
Indian Constitution clearly states that ours is a secular country. This implies the state keeps religion out of governance, it remains neutral in its stance towards prevailing faiths. As Prime Minister Narendra Modi once said the Constitution is our holy book. So, why is Khattar busy flouting established norms and Modi's avowed principles?
There is of course a lot to be said about Sagar's arguments in the Assembly. His comparison of rajneeti and dharma with his version of the rules of matrimony is simply misogynistic. Saying that it is the wife's duty to follow the discipline imposed by the husband is symptomatic of the patriarchal mindset that controls most religions.
One of the biggest criticisms of Islam is that it treats women as second-rate citizens. Unfortunately, Jainism too has been accused of discrimination against women.
It is believed that the Digambar school of Jainism was inspired by Mahavira himself, who embarked on a life on total renunciation as the path to moksha. But, women were not allowed the liberty of seeking moksha through this path.
As the BBC points out in this primer on religious beliefs, since Jain women are not allowed to be naked in public they cannot achieve liberation directly, and so are seen as second-class citizens.
"This ban on female nakedness is partly intended to protect both men and women: If women went around naked, it would cause men to experience sexual desire and the desire produced would hinder the man's progress to liberation. Naked women would feel ashamed of being naked and the feeling of shame would hinder their progress to liberation."
Mind you, this distinction is not about the means, but the ultimate goal of moksha. Jain monks like Sagar obviously need to worry about female foeticide within their faith. According to the 2011 Census, Sikhs and Jains have the worst sex ratio in the country while Christians have the best with 958 girls against 1,000 boys, as per additional census data.
According to the 2011 census, there were 828 girls in the age of 0 to 6 years in the Sikh community in comparison to 1,000 boys. Among the Jains, there were 889 girls against 1,000 boys in the age group of 0 to 6 years.
But, the solution he prescribed to the legislators is fallacious. "Do not allow people who do not have daughters to contest elections," Sagar said. With due respects to Sagar, how does one ensure that nature blesses everyone with a daughter in the age of 'hum do humare do?' Will this not be sex selection in reverse, a crime under the existing Indian laws?
Jainism is believed to be a religion based on the principles of Ahimsa and restraint. Its founder Mahavira would have been amused to hear Sagar resort to Pakistan bashing in his sermon and admonish singer Vishal Dadlani as a 'barking dog' for critiquing his presence in the Assembly.
But then, practicing a religion is much more difficult than preaching it.
Entertainment
Responding calmly to music director and AAP supporter Vishal Dadlani's 'monkery' tweet, Jain religious leader Tarun Sagar said, "I don't think he (Vishal Dadlani) knows anything about Jainism or our beliefs."
India
Delhi PWD Minister Satyendar Jain met Jain monk Tarun Sagar at Chandigarh on Monday in the wake of a controversy over music composer and AAP supporter Vishal Dadlani's Twitter remark criticising the monk's address to Haryana Assembly.
Entertainment
Vishal Dadlani and Sarah Jane Diaz will explore uncharterted terrains of Himachal Pradesh in travel show The Great Escape that is going to air from 27 June