Outrage over breastfeeding on magazine cover misplaced, the message is in gaze of model not bared breast
The embarrassment and taboos around breastfeeding are very much a problem to the Savarna Hindu community that all those seemingly 'problematic' markers on the cover signify.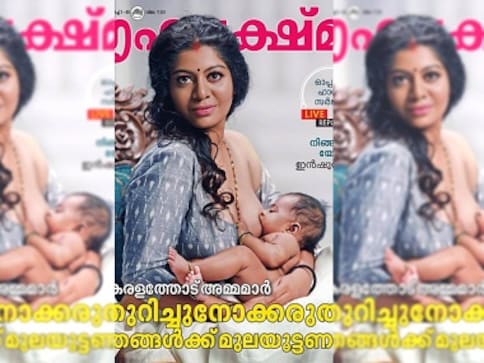 By Sharanya Gopinathan
Grihalakshmi and Vanitha were monthly staples at my house growing up, until one year they mysteriously weren't. I think it was the year I moved away from home. Anyway. Vanitha's covers always feature a celebrity and their spouse (plus kids if it's an Onam special double issue), while Grihalakshmi would usually feature a gaily decorated woman clasping a hand to her collarbone. So, imagine my and the public's collective shock when this month, Grihalakshmi actually made history by depicting a breastfeeding woman and child, both on the cover and inside its new March issue. On the cover is Gilu Joseph, a 27 year old model, poet, writer and air hostess, while featured inside the issue is an unnamed woman with her child.
The backlash, mostly directed at Joseph, has been swift and severe. Let's skip the usual boring people on social media who said they respected breastfeeding but expected women to keep private matters private, grossly compared feeding an infant to other bodily functions that mandate privacy, or who attacked Joseph for engaging in "nudity" to score place on a magazine cover. No, the opposition to this magazine cover has been far more complex. So let's ignore the chaff and dive right into the good stuff.
There are lots of interesting bits to pick through. Of all the women in the world, why choose a woman who isn't really breastfeeding? Well, Grihalakshmi says it's because while it was easy to find women who would share stories of breastfeeding, it proved impossible for them to find women who wanted to pose on the cover. While there are a few defiant (but resolutely completely saree-covered) tweets showing up on social media from people tearing into Grihalakshmi's claim that they couldn't find a breastfeeding model, I'm inclined to be a bit more sympathetic towards the claim.
More virulent was the opposition to the vermillion on her head. Joseph, a Christian (whose sister is a nun and whose family disapproves of her decision to do this shoot), is depicted wearing a thali (er mangalsutra) and a thick smear of vermillion. Meaning, that she was styled to look like a married Hindu woman.
This, of course, stirred up people on both sides of the political spectrum. Some people angrily asked whether Grihalakshmi would dare to depict a woman in a burqa breastfeeding, and bemoaned the fact that such "negative" depictions were reserved for Hindu women alone. Others (mostly Hindu men) wanted to know why a Christian woman was wearing sindoor at all. Hopefully, someone will explain the concept of modelling to them soon.
There were some people who took a different kind of objection to how Joseph was styled, asking why she needed to be depicted so visibly as married in order to convey the message that breastfeeding should be normalised. Is breastfeeding only commendable and worthy of putting on magazine covers when married women do it? It's not like Grihalakshmi's covers all feature vermilion painted women. This one went out if its way though, which inspired many people online to wonder why breastfeeding outside of marriage couldn't be celebrated too. Others discussed how it felt like Joseph had been sexualised as much as a breastfeeding mother on a women's magazine cover possibly could, with blouse rolled expansively off one shoulder. Mums who have breastfed promptly chimed in, discussing the need for mothers to actually feed as openly and comfortably as possible to them, which may in fact involve being in such a stage of undress.
Then there was the more corporate-social-outreach type of concern over the mixed messaging from the cover.
Many people pointed out that if this magazine cover was meant to break stereotypes, it also perpetuated quite a few of them itself. The question seemed to be, if this was meant to change people's thinking and attitudes around women, why use a fair-skinned (ergo savarna) model, bearing the conventional markers of Hindu caste and patriarchy?
This was an interesting kind of criticism, because it seemed to be accompanied by a partial acceptance and appreciation of what the cover was trying to do. Yes, it's great to bust taboos around breastfeeding, but what message will other people receive from seeing this fair-skinned Hindu married woman becoming the face of the campaign for fearless breastfeeding?
It reminds me a lot of a few comments that prompted Sony entertainment channel to take down and revamp their weird child-marriage show, Pehredaar Piya Ki. The criticism on social media never seemed to be that it was inspiring them to commit child marriage. The worry was that it would mysteriously influence some 'Other' viewer. You know, not yourself, because you see through the show and understand child marriage is bad, but someone far less intelligent and underprivileged than you.
Except this doesn't work in the public breastfeeding scenario (or in any other, but this one especially). The embarrassment and taboos around breastfeeding are very much a problem to the Savarna Hindu community that all those seemingly "problematic" markers on the cover signify. Public breastfeeding is an issue with loaded class significance — it isn't nearly as much of a taboo in rural India, or in poor urban India, and the caste and class significance of all the decorations on Joseph are actually somewhat pertinent here.
I mean, sure, a magazine with a name as loaded with religious and casteist significance as Grihalakshmi needs to do more to represent women from demographics that aren't upper caste and Hindu. But once you acknowledge that Grihalakshmi is probably aimed at middle class Hindu women, and accept without complaint most of their previous issue-neutral covers, you also need to remember that this specific target audience the magazine depicts could do with as much education on public breastfeeding and desexualising young women's bodies as any other. Probably more.
Is some of the outrage directed at the fact that the cover of Grihalakshmi didn't represent other kinds of women, or does it come from a belief that fair skinned mangalsutra touting women and their ilk don't need to be educated about public breastfeeding, and that folks should direct these awareness campaigns to those we automatically assume "really" need it?
Amazingly, on the other hand, there were still more people who felt that Joseph was unexpectedly and refreshingly dark for a model on a major magazine's cover, and commented fondly on the commendable inclusivity of the cover! From a casual standpoint, it feels like a hilarious observation that's deeply revelatory of the difference in depictions of women in south and north India, but the point here, besides wicked Malayali glee, is that it all comes down to the nature of your gaze, to what you're used to seeing, what you expect to see, and who you expect to see it.
This brings us to the most important and striking comment around the Grihalakshmi cover, which was the attention to Joseph's expression and gaze on the cover. While everyone with eyes and internet access has been happy to spout their own analysis of the cover based on their own position and viewpoint, the one most striking feature of the cover is Joseph's direct look, smiling confidently, at you, instead of staring oddly into space or fondly at her own sleeping baby. Maybe the only thing we can all agree on is that that's the gaze breastfeeding women need to adopt. Direct, unapologetic and confident, straight in your face, make of it whatever you will because this isn't going to stop.
The Ladies Finger (TLF) is a leading online women's magazine delivering fresh and witty perspectives on politics, culture, health, sex, work and everything in between.
News & Analysis
The maiden lift-off of the SSLV ended in failure after the two satellites — EOS-02 and AzaadiSAT — were placed in an elliptical orbit instead of a circular one, rendering them 'no longer usable'. ISRO, has attributed the problem to a sensor issue and vowed to come back 'soon with SSLV-D2'
India
The Bench of Justices Indira Banerjee and V Ramasubramanian held that juvenile cannot be detained in custody beyond three years as per the provisions of the Juvenile Justice (Care and Protection of Children) Act, 2000, in force at the time when the incident took place
World
In an open letter, which appeared in New York Times, dated 19 October 1998, he wrote, 'I deeply resent my book being used as a political football; what should matter to you... is that you come out of this looking not only Philistine and anti-democratic but opportunistic'