Opposition in Jammu Kashmir terms Mohan Bhagwat's call for constitutional amendments unfortunate, unacceptable
Opposition parties in Jammu and Kashmir reacted sharply to RSS chief Mohan Bhagwat's remarks that constitutional amendments on Kashmir were needed, saying any move to tamper with Article 370
Srinagar: Opposition parties in Jammu and Kashmir reacted sharply to RSS chief Mohan Bhagwat's remarks that constitutional amendments on Kashmir were needed, saying any move to tamper with Article 370 would be fraught with "dangerous consequences".
Bhagwat, in his more than an hour-long address on Vijayadashmi in Nagpur on Saturday, had said "necessary" constitutional amendments will have to be made for the people of Jammu and Kashmir to be "completely assimilated" with the rest of the country.
The Rashtriya Swayamsevak Sangh (RSS) has long demanded abrogation of the Article 370, which grants special status to Jammu and Kashmir, but Bhagwat did not make any reference to it in his speech. Opposition parties in the state slammed the RSS chief's remarks with the Congress and the National Conference asserting that any tampering with the special status of the state would be dangerous. Reacting to the Sangh leader's demand, Jammu and Kashmir Pradesh Congress Committee (JKPCC), in a statement, said.
"Bhagwat's remarks about the need for constitutional amendments are unfortunate and unacceptable." "Any kind of tinkering with the special status of Jammu and Kashmir  is fraught with dangerous consequences," it said. The Congress blamed the ruling People's Democratic Party (PDP) for a "complete sell-out to the BJP-RSS for the sake of remaining in power".
The statement alleged that both the coalition partners, from the day they assumed power, were bent upon repealing the special status, which works as a bridge between the Centre and the state.
Criticising the RSS chief's comments, National Conference (NC) state spokesperson Junaid Azim Mattu said Jammu and Kashmir's  special status was the only constitutional bridge that connected the state to the rest of the country. The RSS chief "should stop misleading the people to stoke passions in the face of growing criticism over the drastic economic slowdown in the country", Mattu said.
"While the RSS and the BJP have repeatedly made their intentions absolutely clear with regard to Article 35A and Article 370, it is the PDP's apologetic silence that is a matter of grave concern and is indicative of a complete sell-out that could have dangerous and far-reaching implications for the state and its people," he alleged.
Article 35A allows the state legislature to define "permanent residents". Senior CPM leader and MLA Kulgam, M Y Tarigami, said the RSS chief's statement was an eye opener for those "who still have illusions about the intentions of the RSS and its affiliates". "It is not surprising because RSS and its political affiliates Bhartiya Jan Sangh and BJP have a consistent position about the Article 370. The special status of Jammu and Kashmir was always an eyesore for them," he said.
Find latest and upcoming tech gadgets online on Tech2 Gadgets. Get technology news, gadgets reviews & ratings. Popular gadgets including laptop, tablet and mobile specifications, features, prices, comparison.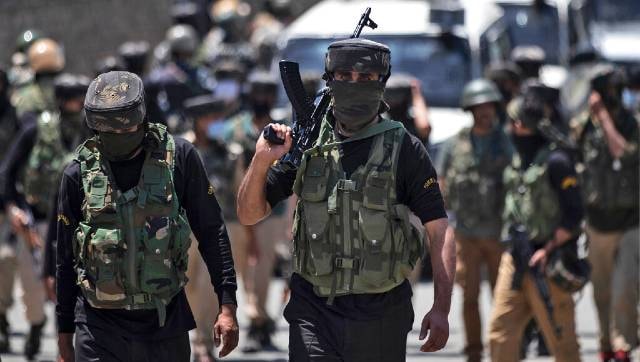 India
The Ministry of External Affairs in a statement asked China to draw proper conclusions from such 'infructuous attempts'
India
Murmu had on 29 October last year taken over as the first L-G of the Union Territory after the state of Jammu and Kashmir was sliced into two UTs
India
The Ram Temple, the National Education Policy and the CAA are all individual parts of a well-planned and visionary exercise to restore a wounded civilisation