Opponents of triple talaq bill are peddling false narratives; both judiciary and legislature can initiate reform
Any bill which brings criminal sanction must be satisfactorily deliberated in the legislature but the bill's opponents have squandered this opportunity.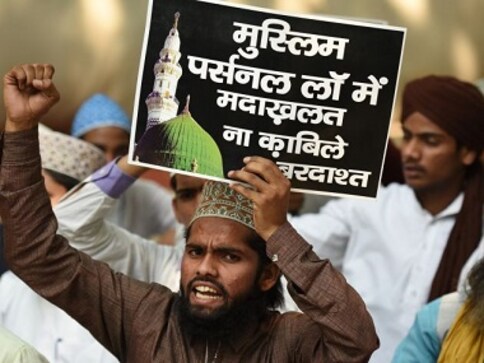 Uproar is expected in the Rajya Sabha as the triple talaq bill is scheduled to be tabled in the Upper House on Wednesday. The Narendra Modi government hopes to pass the controversial bill which gives a legal right to Muslim women against talaq-e-biddat or instant triple talaq and makes the practice a "cognisable and non-bailable offence". The bill has been the subject of protests by the Opposition which has asked for it to be sent to a parliamentary panel for further deliberation.
Similar apprehensions were heard when Muslim women in a batch of petitions challenged the validity of instant triple talaq on the ground that it violated their fundamental right to equality. The jurisdiction of the Supreme Court was questioned on two grounds. Firstly, that the Muslim Personal Law (MPL) is not "law" as defined in Article 13 of the Indian Constitution. Therefore it cannot be challenged on the grounds that it violates the right to equality. Secondly, that reforms in personal laws are "policy matters" and it is for the legislature to decide on them and not the court.
The Supreme Court did not agree with these arguments, and a five-judge bench by a majority of 3:2, held that instant triple talaq is unconstitutional, arbitrary and unreasonable. Now, as the Parliament has initiated the legislative process in continuance of the verdict, Islamic scholars and organisations are questioning the authority and intent of the Parliament arguing that there is no need for legislative intervention after the court's decision. This dubious attitude only raises doubts about the intentions of these avowed liberal scholars and organisations.
Judiciary and Legislature are both authorised to initiate reform
MPL, which derives its sanctity from Article 25, has two significant limitations which are integral to Article 25 itself. The first limitation is discernible from Article 25(1), which authorises the courts to review personal laws if they contradict public order, health, morality or any of the fundamental rights. Therefore, even if the practice of talaq-e-biddat has to be considered integral to the religious denomination in question, it is still open to judicial scrutiny by virtue of Article 25(1). In other words, personal law is protected only to the extent that it is not against public order, morality, health, and the other fundamental rights. However, the two judges in the minority were inclined to believe that talaq-e-biddat has been gender discriminatory but proposed that the remedy lies with the legislature and not the judiciary.
The second restraint on personal law is found in Article 25(2) (read with Article 246 and Entry 5 of the Concurrent List) which empowers the Parliament and state legislatures to make laws for social welfare and reform. And if the State does that, it would not be correct to argue that social welfare and reform impinges upon the religious freedom of any section of citizens of India. Hence, questioning the authority and intention of the legislature to enact the triple talaq law is entirely incorrect.
Necessity of law after judicial declaration
The question arises whether a legislative intervention is needed after a judicial declaration has been made declaring talaq-e-biddat unconstitutional. But what if a Muslim husband, in spite of this judicial injunction still practices instant triple talaq? Recent data supports this hypothesis. Will it be viable for every Muslim wife to approach the Supreme Court for civil contempt? A mere declaration by the Supreme Court will not be of much help unless it is accompanied by a legislative mechanism.
For example, the Constitution declares that untouchability in any form is not permitted. However, there is also a legal provision punishing the same under the Protection of Civil Rights Act. The right to information too had been declared as a Fundamental Right by the Supreme Court but had little impact till the Right to Information Act, 2005 was passed by the Parliament. Similarly, the Supreme Court declared the right to education as an integral part of Article 21 but the situation improved only after the Parliament enacted the Right to Education Act. Therefore, it has been seen that it is necessary to provide a legislative and executive framework to bring actual change on the ground. Otherwise, judicial declarations will remain a futile exercise. The legislature and the judiciary complement each other in bringing social change.
Criminalisation of instant triple talaq and quantum of punishment
Another argument raised by some scholars is that personal law is branch of civil law and therefore the state cannot criminalise instant triple talaq. This argument is simply ludicrous. Domestic violence, Sati, bigamy amongst Hindus and Christians, dowry etc. have been criminalised in spite of being civil matters. Bigamy, for instance, is an offence both against marriage (in the Hindu Marriage Act) as well as a penal offence (under sections 494 and 495 of the IPC).
The primary justification for the inclusion of maintenance — a purely civil matter — in section 125 of the Criminal Procedure Code is to provide a remedy speedier and more economical than is available in civil courts, failing which vagrancy and destitution could arise. Therefore, criminalisation of an act relating to or arising from marital relationships is not an unusual phenomenon and is well-supported with multiple precedents. However, the proposed bill does not restrict a wife from approaching the civil court for the enforcement or termination of marriage contract i.e. nikahnama. There have been many acts which constitute both civil and criminal wrongs.
Quantum of punishment is another contentious issue, though not unfamiliar for an act arising from marital relationships. Bigamy amongst Hindus and Christian is punishable with seven years of imprisonment which may extend to ten years in special circumstances. The maximum punishment for instant triple talaq is prescribed to be three years, which will normally be awarded in exceptional cases. It must be noted here that sentencing and quantum finally depends on the judge's discretion.
Making Offence cognisable is uncommon but not beyond imagination
As a matter of public policy, offences relating to marriage as long as they do not result in any physical harm to the wife, are made non-cognisable. It is not because they are less serious but to ensure that third parties do not seek redressal for wrongs committed between two private parties. Making instant triple talaq a cognisable offence is indeed a departure from general policy but it is not completely beyond imagination. In August 2009, the Law Commission of India in its 227th report recommended that even bigamy should be made a cognisable offence because making an offence actionable contingent on the wife's consent may not be effective. In fact Andhra Pradesh, by a local amendment in 1992 made the offence under Section 494 a cognisable, non-bailable and non-compoundable. If cases of instant triple talaq are very rare and already on verge of extinction, as it is claimed by Islamic scholars, then their uproar around this bill is unwarranted.
Opportunity squandered
Any bill, especially one which brings criminal sanction must be satisfactorily deliberated in the legislature but the bill's opponents have squandered this opportunity. Instead of creating an uproar in the name of intrusion in Islamic law and challenging the authority of the Parliament to criminalise instant triple talaq, they could have used this occasion to suggest constructive changes to the bill. For instance, in ensuring that the fear of prosecution does not result in the wife's abandonment or mechanisms to ensure speedy disposal of cases so that women do not become victims of our traditional criminal justice complexities. An ambiguity seems apparent while reading section 5 and section 6 of the bill which provide that a woman is entitled to maintenance and custody of her minor children. If the talaq itself is void, there can hardly be a question of maintenance or custody, which are post-divorce institutions. It is hoped that the Rajya Sabha will ensure that the necessary changes are made to the bill.
A wife will not take recourse to criminal law unless viciously threatened by circumstances where not only her own life and dignity is compromised but also the life and future of her children may be at stake. In such a situation, the law must come to her rescue. Let the AIMPLB and other such organisations take initiatives to create a nation-wide legal awareness campaign to save the community from the allegedly arbitrary State power. Let not even a single case reach the police stations, because the government in power will definitely continue to take a look — and rightly so — at other uncivilised practices of nikah-halala and polygamy that are allowed under the guise of gender equality and secularism.
The author is Associate Professor of Law, NLU Odisha and Deputy Registrar (Research), Supreme Court of India.
World
Irish unity did not play a big role in this year's Northern Ireland election campaign, which was dominated by more immediate worries, especially a cost-of-living crisis driven by the soaring costs of food and fuel
World
The protocol approved for use in the United States includes two medications. The first one, mifepristone, blocks a hormone called progesterone that is necessary for a pregnancy to continue. The second, misoprostol, brings on uterine contractions
Politics
The biggest share of seats for the Upper House of Parliament comes from Uttar Pradesh where 11 seats will go for election