Only Much Louder responds to #MeToo allegations against the company, founder Vijay Nair
The insinuation that the company was complicit in some sort of predatory behaviour while Vijay Nair was the CEO is entirely false, said Only Much Louder in its statement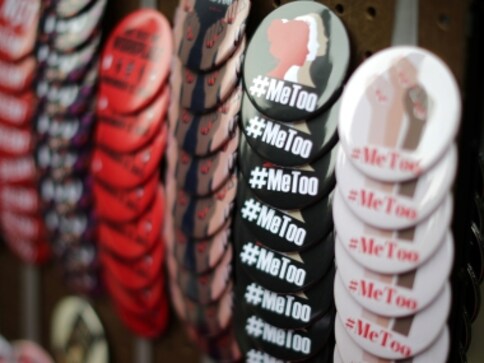 Entertainment company Only Much Louder, which is known for conducting events like NH7 Weekender and having major names from the culture and comedy world on its roster, has been at the centre of sexual harassment allegations. Caravan, in its November issue, carried an article (subscription required) featuring accounts of women who had accused founder and ex-CEO Vijay Nair of harassing them. The article also presented details about the allegedly problematic work culture at the company. It reports that Nair's position allowed him to act "brazenly and with impunity".
Only Much Louder has responded to the details presented in the article in a statement posted on Facebook. Read the full statement here:
"This statement is to address the article that appeared in a magazine regarding certain ex-employees and processes at OML. Since the inception of OML in 2010, we have constantly listened and learned and adapted to make OML an inclusive, safe environment for all its employees. This article selectively picks certain incidents from the last 8 years to paint a biased, one-sided picture.
The article highlights two cases that the OML Internal Complaints Committee (ICC) has investigated over the last five years as exemplary of systemic disregard for women and their safety.
In the first case where the complainant, Ms Singh, believes her case was mishandled, we are free to share the following details where we have documented proof and don't break any confidentiality –
The alleged incident involved two people from the company. When Ms Singh came to OML with the complaint in mid-2013, we did not have an ICC in place. We immediately and instinctively offered to, and did change her city of work (as per her choice despite what the article states), we changed her salary to accommodate living in Mumbai, and we ensured that the two people involved did not work together. Senior management at the time suggested to her to make a police complaint, and since dealing with the cops can be intimidating, OML offered to help her with the process.
Subsequently when we formed an ICC in December 2013, her complaint was revisited. The accounts given on record by the complainant and the accused were different and since the incident occurred in a private setting, there was no way to verify the same. Despite the fact that we were under no legal obligation to step in on this complaint since the incident did not take place at the workplace or the extended workplace, the ICC ruled in favour of Ms Singh. The ICC also insisted the accused pay for any counseling Ms Singh might need; however, this too was declined. We gave the accused an official reprimand on file and levied financial penalties.
Ms Singh has said in the article that she disagrees with the decisions taken by the committee and management. She had expressed her disagreement at the time as well. However, several of the statements she has attributed to senior employees at OML during the course of these events are categorically not true. We believe the ICC's recommendations were fair, and went over and above what was legally demanded.
There is another complaint from January 2016 mentioned in the article that was immediately and thoroughly investigated by the ICC. The complainant has gone on record with her version of events but has omitted several key details. While we cannot share these because of confidentiality what we can share is the outcome.
The committee found in favour of the complainant and issued recommendations, which the management accepted. We penalised the accused. At the end of the process, the complainant sent the following communication to the ICC, which we are reproducing with names redacted:
Hi [...],
Firstly thank you for this closure report.
Secondly, thank you for taking this matter seriously. It was not easy coming forward & reporting this however the Sexual Harassment Workshop gave me the courage to voice my concerns. OML as a company has been supportive and I am grateful to [...], especially for being there and hearing me out.
I sincerely hope an incident such as this never occurs again. I'm hopeful for the same.
Thank you,
[...]
The e-mail is self-explanatory. Based on the report, the recommendations which we carried out, and this email, we closed the complaint.
The article speaks of Utsav Chakravarty, who we have never managed, but has worked for artists we manage and acted in their productions. OML has randomly been named complicit in his behavior, despite the fact that we did not have any knowledge of his misbehavior. The article refers to an anonymous complaint from a past OML intern who was at a festival which OML produced, and where Utsav Chakravarty performed. We had reached out to the anonymous survivor via the Twitter account that helped share her story a few weeks ago. We have requested for details of the alleged negligent boss that has been mentioned in the allegation. We are still awaiting the same so we can investigate it and take appropriate action.
An External Committee with a senior lawyer and senior diversity consultant, both with several years of relevant experience, was set up in the wake of the initial #MeToo allegations last month against certain artists that we have worked with. This committee is investigating any artist accusations much like an ICC. This committee is independent of OML members to ensure that our business and personal ties do not affect their judgement. Their recommendations to the OML management serve as binding directives as to whether to continue representing or working with named artist. We believe this is yet another step in ensuring that we continue to implement and follow processes that are unbiased, well-documented and forward-looking for our industry as a whole.
Six months ago, we had also commissioned an independent audit of the ICC processes and cases as well as policies at OML to determine whether they conformed to best practices. The audit concluded that the ICC cases were investigated and concluded as per the guidelines. This audit was carried out by the senior diversity and inclusion consultant with experience in these matters with input from the senior lawyer, who are now members of the aforementioned external committee. Several code of conduct policies were also recommended that have been implemented at OML. We have followed this up with mandatory gender sensitisation workshops, which is over and above the purview of the act.
The article also talks about Vijay Nair's behaviour. While Vijay Nair co-founded this company, he left OML almost six months ago (he had given his notice in November 2017 to the board and was serving out his notice period). He has not been an employee, and he is also not on the board of the company. The managing partner team of three people lead the day-to-day business and strategy.
However, some of these allegations are from when he was part of OML. None of these have or were brought to the attention of our ICC, which has been in place since December 2013. We know it is difficult to bring allegations against a person in management, but we have always had our policies that encourage speaking up and speaking out. However, to insinuate that the company was complicit in some sort of predatory behaviour while he was the CEO, is entirely false.
The broader narrative of the article is that we have encouraged inappropriate behaviour and protected senior persons who were employed with the company. We reject these allegations categorically. All complaints that were brought to the ICC have always been investigated impartially irrespective of the seniority of the alleged accused.
All investigations carried out by our ICC have been as per the Vishakha guidelines and the outcomes as per the principles of natural and proportionate justice on a case-to-case basis and have ranged from warnings to terminations. Again, this has been done without any bias or favour with respect to the seniority of persons involved. We can confirm that for all the cases that were brought to the ICC's notice in the last five years, 62.5 percent resulted in termination of the accused without any regard to their seniority or position in the company. While the article states this fact, none of the journalists thought it was necessary to investigate the same to verify it – instead a cursory mention is made since it would damage the whole narrative of the article if it is proven that the two incidents cherry picked are unrepresentative of the processes at OML. If this same standard is to be applied to any company with ICC processes, unless every complaint results in termination of the accused, then that company is automatically to be accused of encouraging sexism and inappropriate behavior. In fact if the writers had investigated these other cases, their pre-determined conclusion that senior people are protected in cases of misbehavior would have been categorically disproved.
OML has done much to make it a safe workspace for all genders and continues to add to policies to strengthen this. We have policies that urge people to come forward, so that we can investigate their complaints. At least 50 percent of our internal complaints committee are accessible, approachable and are not part of the core leadership team. We actively communicate our Prevention Of Sexual Harassment (POSH) policies to freelancers that work on our shows and productions. We run POSH workshops twice a year for employees and artists. These workshops have taken place every year since the past five years and are mandatory for all employees. To say that some former employees did not know about it while others did as the article mentions is false. Why would a company go out of its way to exclude communication from some employees?
It has been insinuated that we are a boy's club. Since 2013, at least 33 percent of the workforce at OML has been women. We have moved more and more women into leadership positions over the past few years. One of our two nominees to the OML board is a woman. She is also one of our three managing partners and has led branded solutions for three years. Our biggest music festival is led by a woman who has worked here for close to seven years and has grown through the ranks. Our newest dance festival is led by a woman. A woman leads our creative team for the shows we produce. Content Production and Marketing have been lead by women since our inception. HR, Post Production, and the Content Artist Management teams are led by women. On average, women are paid more than men at OML.
Do we represent more male talent? Yes. The reason has been that there has been substantially more male talent in the industry - it has also been our excuse. Over the past few months we have actively sought to correct that. 25 percent of the comics we represent are now women. This is up from 8 percent a year ago. Some time ago, we decided that any OML produced live comedy show will have at least 50 percent women, and this has been implemented. This year 40 percent of the talent performing at NH7 Weekender comprises women. This is up from the representation that was 10-15 percent in previous years (this was announced and implemented at the beginning of the year).
We have been accused of tokenism in how we represent female talent and in our employee base. We know this has been deeply insulting to both the women artists we represent and the women who work at OML. This allegation undermines their skills and their contribution to their profession. Whenever the 'women in comedy' debate is engaged in, no one seems to mention that every single comedy special we have produced have been executive produced solely by women, all of them have been post produced by a woman and every contract for those specials has been negotiated by a woman. Because the women at OML are not always on stage it does not mean that there aren't women in the comedy business. If employing more women, appointing women to leadership positions and taking affirmative action on behalf of our women artists is considered tokenism – we are happy to continue to engage in more tokenism.
It is obvious that the conclusions the article draws were pre-determined before investigations began. Several women ex-employees as well as partners of OML have been contacted by the writers in the last few months. They have been blatantly lied to as well as humiliated whenever they have declined to provide views supporting the writers' viewpoint. We have evidence of these conversations and chats that were used to solicit statements.
Some of the conversations included virulent statements such as "...want to drag OML through the mud" and "...if you don't provide us statements, you are against feminism" said to a woman who said she didn't have anything negative to contribute, only positive facts.
While claiming to these ex-employees that the article's intent is to make OML a safer workplace for women, there has been minimal attempt made to actually reach out to the many women who currently work at OML to check their views and understand their experiences. Only one current employee has been quoted in the article constantly. We brought these facts to the attention of the magazine but they have chosen to ignore it because it again detracts from their pre-determined conclusions.
The people behind this story have also chosen to disclose their personal conflicts of interest very dismissively. One of the writers was once evicted (and not asked to leave) from a festival we organised because he was consuming alcohol illegally in an unauthorised place despite clear instructions (and this was not just a violation of festival rules, it is a violation of law). Interestingly, this same writer has as recently as last week been part of correspondence with a team member at OML regarding a booking opportunity for an artist and has continued to solicit work from us over the last year. These conflicts of interest have conveniently not been revealed (or checked by the magazine). People who contacted ex-employees of OML on behalf of either the contributors or the women who have come forth in the article, have their own personal vendettas including being asked to leave the company for poor performance. One of them in fact started harassing a woman while trying to solicit anti-OML views. This has not been disclosed even though we communicated this to the magazine (the editor of the magazine did not even ask us for the screenshots).
All of these are facts, and all of these facts are auditable. While we sent these facts to the magazine editor, they did not choose to either investigate and verify them or to publish it because this would go against the narrative. Instead, for an article which the main writer himself claims has been in the works for several months, the time given to us to respond was 24 hours.
As several other organisations and individuals have acknowledged in the past few weeks, we believe the #MeToo movement is one of the most key movements being played out for women's safety at workplaces and otherwise. Many of the women who work at OML or are represented by us are part of amplifying this movement and are active in it. We support them. We support the movement."
Entertainment
Season 3 of the Netflix show is reportedly titled Master of None Presents: Moments in Love and will focus on Lena Waithe's character Denise.
Arts & Culture
The publisher says it will make a donation in the amount of the book advance to organisations that fight against sexual assault or harassment and work to protect survivors.
India
Akbar's appeal against Ramani's acquittal has been listed for hearing on 11 August.