Kerala temple fire: Banned chemicals in crackers caused Kollam blaze
Officials investigating Sunday's temple fire in Kerala are almost certain that potassium chlorate, a banned and deadly chemical, was used in making the firecrackers that caused the mishap, killing 112 people
Officials investigating Sunday's temple fire in Kerala are almost certain that potassium chlorate, a banned and deadly chemical, was used in making the firecrackers that caused the mishap, killing 112 people.
Only two months ago, investigators in Bengaluru revealed that potassium chlorate was one of the chemicals that Simi operative Mohammed Rafiq used in making a crude bomb that killed a woman outside a restaurant in that city.
One of the reasons for mishaps during fireworks displays in Kerala has always been the use of potassium chlorate, an official of the Petroleum and Explosives Safety Organisation (PESO) told Firstpost.
Known earlier as the Department of Explosives, PESO has its headquarters in Nagpur and comes under the Ministry of Commerce and Industry. A team PESO experts, led by Chief Controller of Explosives Sudharshan Kamal, reached the mishap site on Monday to conduct its own investigation.
The reason potassium chlorate is used illegally in making firecrackers is that it makes them more noisy, besides making them more colourful and more likely to fly higher. More importantly, it costs one-third as much as the mixture of potassium nitrate or sodium nitrate that most Indian firecracker-makers use as a substitute.
But scientists describe chlorates as unstable and friction-sensitive and hence, highly dangerous. The chemical is also toxic and can harm the skin. This was the reason it was banned by the government through a notification on 27 January, 1992 which said:
"...the Central government is pleased to prohibit the manufacture, possession and importation of any explosive consisting of or containing sulphur or sulphurate in admixture with chlorate of potassium or any other chlorate:
Provided that this prohibition shall not extend to the manufacture or possession of such
explosives:
a) in small quantities for scientific purposes;
b) for the purpose of manufacturing heads of matches;
c) for use in toy amorces (paper caps for toy pistols)
d) in percussion caps for use in Railway Fog Signals."
It was the sheer intensity of the explosion on Sunday that is making officials suspect that potassium chlorate was used. The explosion was so strong that the crackers, apparently ignited by a spark, blew up the building in which they were stored. The concrete pieces that flew all around killed more people than actual burns, according to eyewitnesses and doctors.
Officials claim that none of the manufacturing units at Sivakasi in Tamil Nadu, India's cracker capital, use potassium chlorate but it is used a great deal in Kerala — most often by people who have no expertise in using it.
"We warned the Kerala government, fireworks manufacturers and district authorities several times about the lapses," PESO's former Chief Controller of Explosives Prakash Chandra Srivastava told Firstpost. Srivastava worked for the department of explosives and its later avatar of PESO for 35 years before he retired last year.
He said while PESO dealt with bigger manufacturers like the ones at Sivakasi directly, the district authorities concerned were expected to monitor the smaller ones across India.
"We have warned authorities in Kerala time and again that manufacturers were not only exceeding the permitted size of firecrackers but were also using prohibited chemicals like potassium chlorate," Srivastava said. He said it was "101 percent" the responsibility of district officials even if it meant a sub-inspector of police to see that norms were adhered to. It was, he said, mandatory for district officials to inspect the premises of firecracker manufacturers once in six months to ensure that everything was above board.
Srivastava said dealers of chemicals sold potassium chlorate for its permitted uses but it was for the officials to see that this was not used in the making of firecrackers. PESO, he said, could only play an advisory role and had no power to take action against those who violated laws.
But a senior police official expressed helplessness in enforcing rules, since fireworks makers and the manufacturers and dealers of chemicals had formed a network to smuggle huge quantities of banned ingredients into Kerala.
The Explosives Rules 2008 lay down 27 conditions for allowing a fireworks public display. These include:
- A minimum distance of 100 meters shall be maintained between the spectators and the area where the display is carried out.
- The fireworks shall be assembled at site for the purpose of display.
-  No fireworks shall contain chlorate or prohibited explosives mixture.
- No display of fireworks shall be carried out when the wind velocity exceeds 50 kilometres per hour or the control over spectators has been lost.
- Only minimum persons shall be employed for making and display of fireworks. The site should be constantly supervised and the persons employed shall wear protective clothings, ear defenders, safety glasses and other protective devices.
- Once fireworks have been taken to the site, the site must not be left unattended or unprotected.
- No fireworks shall be ignited inside of or closer than 15 metres of any tent, trailer, canvas shelter of vehicle.
- No fireworks shall be ignited within 250 metres of a hospital, nursing home, schools unless consent from local authorities and the owner or its agent is obtained.
In 2013, the government also banned the import and sale of Chinese crackers, which gave a better bang and were cheaper, because they use potassium chlorate. But officials fear that Chinese crackers continue to find their way into India through Nepal.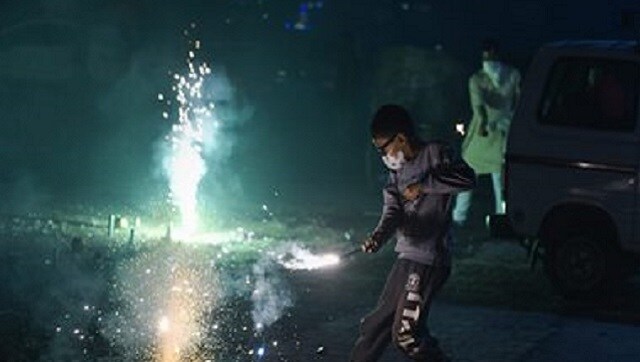 India
Arvind Kejriwal said the ban is in place seeing the severe pollution levels during Diwali for the last three years and appealed traders to not store crackers, unlike the previous year.
India
The firecracker industry is estimated to be around Rs 6,000 crore out of which Delhi National Capital Region's share is around 15 percent, that works out to Rs 900 crore