Odisha to implement 'One Nation, One Ration Card' scheme on pilot basis in Bhubaneshwar from 1 September
Food Supplies and Consumer Welfare Minister RP Swain said the 'One Nation, One ration Card' scheme will be extended to other parts of Odisha in a phased manner
The Odisha government on Tuesday said it will implement Centre's 'One Nation, One Ration Card' scheme on a pilot basis in Bhubaneswar from 1 September

Beneficiaries collecting ration under the PDS and covered under the NFSA and the State Food Security Scheme can avail the facility of portability of ration cards

However, beneficiaries will have to link their ration cards with Aadhaar numbers to avail the facility
Bhubaneswar: The Odisha government on Tuesday said it will implement Centre's 'One Nation, One Ration Card' scheme on a pilot basis in Bhubaneswar Municipal Corporation (BMC) jurisdiction from 1 September.
Food Supplies and Consumer Welfare Minister RP Swain informed reporters about the decision in Bhubaneshwar.
"We have decided to implement the central government's 'One Nation, One Ration Card' scheme on a pilot basis in Bhubaneswar," he said.
Swain said the scheme will be extended to other parts of the state in a phased manner.
"Beneficiaries can collect their rations from anywhere like using ATM cards to draw money," the minister said.
The Food Supplies and Consumer Welfare Department has directed the Khurda district administration to implement the scheme in 127 fair price shops in 67 wards of the BMC from 1 September, officials said.
Beneficiaries collecting ration under the Public Distribution System (PDS) and covered under the National Food Security Act (NFSA) and the State Food Security Scheme can avail the facility of portability of ration cards offered by the 'One Nation, One Ration Card' scheme, they said.
However, beneficiaries will have to link their ration cards with Aadhaar numbers to avail the facility.
The beneficiaries will have to give their finger prints on a machine to avail rations, the officials said. Those who do not link their Aadhaar numbers with the ration cards will not get their rations, they said.
The state government has set the deadline for linking Aadhaar number with the ration cards till 31 August.
At present, beneficiaries covered under the NFSA and State Food Security Scheme get five kilograms of subsidised foodgrains per head every month.
The state government has also rolled out a pilot project in Malkangiri district to supply fortified rice grains containing iron, folic acid, Vitamin A and Vitamin B12 to reduce malnutrition among PDS beneficiaries.
Though 'One Nation, One Ration Card' scheme will be implemented across the country from June 2020, several states have already started testing intra-state portability of ration cards on a pilot basis.
Inter-state portability of ration cards between Telangana-Andhra Pradesh and Maharashtra-Gujarat was launched by Union Minister for Consumer Affairs, Food and Public Distribution, Ram Vilas Paswan earlier this month.
Find latest and upcoming tech gadgets online on Tech2 Gadgets. Get technology news, gadgets reviews & ratings. Popular gadgets including laptop, tablet and mobile specifications, features, prices, comparison.
India
Once a candidate's name appears on the merit list, they will be able to seek admissions in various three-year courses offered by degree colleges in Odisha
India
Of the total 21,487 students who have appeared for Odisha board Class 10 supplementary exam 2020, as many as 15,244 have qualified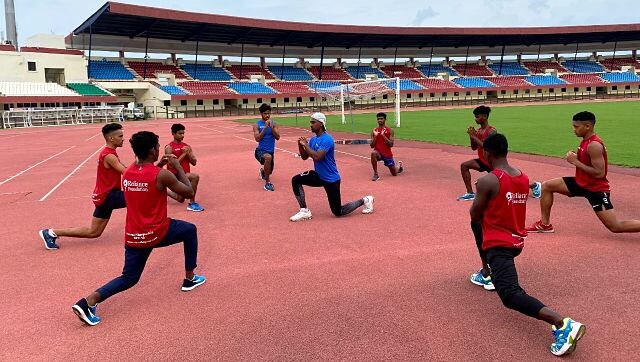 Sports
The intention is to build what Hillier describes is a forward-thinking "Athlete-centric model" that can revolutionise the entire competition process in India.