NTPC boiler blast: Workers' families say some of their loved ones are missing, NTPC insists they're not
Many others are still searching for their loved ones who worked at Unit VI of the NTPC plant, where the blast took place.
Lucknow: Leelavati Saroj, 25, the three-month pregnant wife of Deshraj Saroj, has been camping at a Lucknow hospital for the last two days. She firmly believes her husband, employed with NTPC's Unchahar plant, is receiving treatment at the burn unit. Neither has she seen him nor do the hospital records have his name.
A deadly explosion in a boiler in the plant on Wednesday afternoon left many dead and many more injured. Twenty-seven victims of the accident were admitted to Dr Shyama Prasad Mukherjee Civil Hospital in Lucknow with varying degrees of burn injures. It's here that Leelavati is staying for the moment, eagerly awaiting some good news about her husband.
Many others are still searching for their loved ones who worked at Unit VI, where the blast took place.
Sharda Devi, 19, whose brother is among the labourers admitted at Civil Hospital, said seven youths from her village sustained injuries in the blast while two got killed and three are still missing.
Nobody's missing: NTPC
Ruchi Ratna, public relations officer and AGM (North zone), NTPC, said not a single person is missing and even the deceased have been identified. She said 87 persons were working in Unit VI. Of them, she said 32 succumbed to injuries while 48 are undergoing treatment at different hospitals in Lucknow, Rae Bareli and Allahabad. The remaining seven have been discharged.
The Chief Managing Director of the NTPC, Gurmeet Singh, while addressing a press conference in Lucknow on Thursday evening, had said about 100 people were working at the unit at the time of the accident. On the discrepancy in figures, Ratna insisted that the NTPC has checked the records and "we are sure that only 87 people were present at the unit."
Lucknow hospital struggling
The atmosphere at the hospitals treating accident victims remained tense on Friday. RP Singh, a senior doctor in the burn and plastic surgery unit of Civil Hospital, told Firstpost they do not have enough resources to handle this situation. He has requested the NTPC to take all burn victims to Safdarjung Hospital in New Delhi. He said they plan to shift all of them.
"It is now in the hands of God. All patients here have more than 50 percent burn injuries," the doctor said.
According to the medical superintendent of Civil Hospital, Ashutosh Kumar Dubey, Safdarjung Hospital turned down their request to provide a senior burn specialist. In total, 15 people have been airlifted from Lucknow, five on Friday.
Sharda's brother Bheem Singh, 24, was one of them. Unaware of his condition, she was busy updating her family about the development. "Bhaiya ki tabiyat sahi ho rahi hai. Unko helicopter se Dilli le jaa rahe hain ilaaj khaatir (Brother's health is improving. He is being taken to Delhi by helicopter for treatment)," she told her uncle and requested him to convey the message to her parents.
"I offered a dozen bananas to Lord Hanuman after getting to know that bhaiya was being taken to Delhi," she said.
Sharda, whose family hails from Purvara village in Unchahar, is one of Bheem's seven sisters. Her brother is the only breadwinner in the family. He, doctors at Civil Hospital informed, had sustained more than 60 percent burn injuries. Sharda said Bheem has been working at the Unchahar unit's furnace department for three years. He came in through a local contractor and was earning Rs 5,000 a month plus bonus, she said.
Eyewitness account
According to an officer who happened to be at the plant when the mishap occurred, the explosion must have killed more than 70 people. "I know that more than 70 people have been killed in this tragedy. I was one of the persons to visit the unit with the NDRF team and I know that many labourers were reduced to ashes in this accident," the officer, requesting anonymity, told this reporter at the NTPC North zone office in Lucknow.
Meanwhile, postmortems were done on three bodies at the Rae Bareli mortuary. Even as the NTPC management insisted that all the bodies have been identified, Rae Bareli Chief Medical Officer DK Singh said postmortem of four bodies was kept on hold as they could not be identified.
Mantu Barua, 40, one of the survivors of the industrial disaster, said he saw many labourers getting burnt alive. Barua, who hails from Odisha, has packed his bags and is ready to leave.
"Babuji, wahaan aag ka baarish hua tha. Hamara kai saathi toh jinda jal gaya aur ham log kuch nahi kar paaya. Yahaan ka saheb log aur thekedaar sab jhooth bolta hai kyunki unit me kam se kam do guna aadmi tha. Hamko apna jaan jyada pyara hai. Ham apne ghar ja raha hai biwi-bachcha ke paas (It rained fire there. Many of my friends got burnt alive and I could do nothing. The officers here and the contractors are lying as this unit had at least twice as many people. My life is precious to me. I am going back to my family)," he said.
(Saurabh Sharma is a Lucknow-based freelance writer and a member of 101Reporters.com, a pan-India network of grassroots reporters. He tweets @saurabhsherry)
Find latest and upcoming tech gadgets online on Tech2 Gadgets. Get technology news, gadgets reviews & ratings. Popular gadgets including laptop, tablet and mobile specifications, features, prices, comparison.
Entertainment
In order to be eligible for the Begum Akhtar Award, candidates must either be a native of Uttar Pradesh or working in the state and must not exceed 40 years of age.
India
Police had earlier suspended Vinay Tiwari, station officer at Chaubeypur station on the suspicion that he might have tipped off Dubey about the raid, after which eight cops were killed.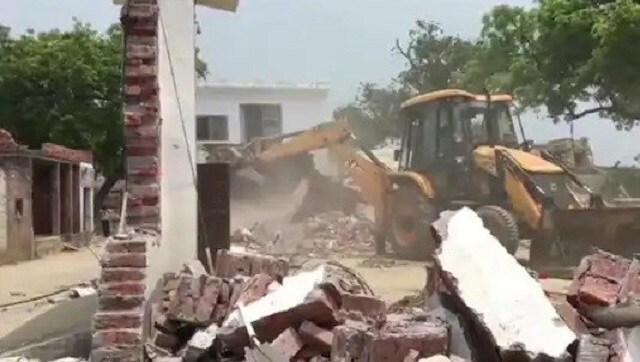 India
An official indicated that Vikash Dubey, who who is wanted in 60 criminal cases, may have fled to Nepal or taken shelter in a neighbouring state