NRC in Assam: Exercise to identify illegal migrants must not morph into anti-Muslim madness and affect other states
It's hardly surprising that any discussion on Assam's so-called citizen verification process quickly degenerates into an argument about Bangladeshi Muslims in particular.
Meet Prasen Raptan, 42, who lives in Sindhanur in Karnataka's Raichur district. His father Abinash Raptan had fled to India from Muslim persecutors in Bangladesh during the 1971 war.  He was among the thousands India accepted as refugees and housed in camps in several states including Karnataka. The son went on to get a doctorate and win an Outstanding Young Indian award. Not all refugees from former East Pakistan or their children—there are some 20,000 in Karnataka—are as lucky as Prasen, but they at least have a country they call their own.
And now meet Nurul Islam.
The 55-year-old schoolteacher in Assam doesn't find his name on the National Register of Citizens (NRC), though his father had been on the voters' list in 1966 and 1970. "How can I be a Bangladeshi when I was born and raised in Barpeta?" Islam asks. He has been paying taxes and has all possible documents to support his citizenship. Islam's wife and two teenage children are also off the NRC.
What do the two examples show, on the face of it? India wants Hindus but not Muslims from Bangladesh. If a Hindu came here to escape Muslim tormentors in Bangladesh he is welcome. If a Muslim came here to find a job, he is a foreigner, even if he stayed long enough to produce children and grandchildren here.
National Register of Chaos
And, of course, it's not Muslims like Islam alone who find themselves excluded from NRC, which has turned out to be a National Register of Chaos. Reports suggest that at least a quarter of the 40 lakh people whose names don't figure on the register and who face some action or the other are Hindus because they haven't been able to prove that they rightfully lived in India before the cut-off date of 25 March 1971.
But that's no problem—for the Hindus, that is. The government has in the pipeline the Citizenship (Amendment) Bill, that will take care of such Hindus. Before a joint House Committee now, the Bill seeks to grant citizenship to non-Muslim migrants from Afghanistan, Bangladesh and Pakistan after six years of staying in India instead of the statutory 12 years without the necessary documents.
Without a doubt, the Bill is a blatantly partisan move, a brazen violation of the fundamental principles of a modern civilisation and the tenets of a fair democracy that India claims to be or must strive to be. No amount of analysis of the NRC is meaningful unless it's seen together with this disgraceful piece of proposed law. Together, the NRC and the bill point to the only thing: the headcount in Assam is the beginning of a process that is aimed at weeding out Muslims while keeping Hindus back.
It's hardly surprising that any discussion on Assam's so-called citizen verification process quickly degenerates into an argument about Bangladeshi Muslims in particular, but not about all migrants. And the social media is filled with poisonous gibberish about Muslim migrants jeopardising national security. It takes the most depraved kind of creative imagination to even suspect that lakhs of Muslims crossed the border into Assam with the sole intention of exploding bombs and killing Indians. If that's the case, India's border with Bangladesh must be as porous as a spaghetti sieve that allows people to walk in as they please, and that only reflects a complete collapse of the machinery that is expected to guard the nation's boundaries.
Madness in other states
In the aftermath of the shambolic NRC farce, repugnant voices against Bangladeshi immigrants are being heard in many states with renewed viciousness. Meghalaya and Nagaland are taking precautions against the entry of non-NRC migrants from Assam. Bigoted theories about an entire lot of Bangladeshi Muslim infiltrators being part of nefarious crimes including terrorism floated even earlier, are now being circulated with an even more perverted sense of righteousness.
The most startling example is that of a BJP leader in Kerala who has demanded the deportation of Bangladeshis from Kerala which has some 30 lakh migrant workers who arrived from Assam and other northeastern states.
There have been indeed a handful of cases of migrants being involved in crimes in Kerala but banding all of them, especially the Bangladeshis, as born criminals is a ridiculous proposition that threatens peace, the livelihood of millions of workers and a substantial part of the state's economy that depends on them.
What the BJP in Kerala and elsewhere must know is that criminals or terrorists have the resources to lay their hands on all the documents they need, usually fake, to legalise their stay in India, but it's the poor man eking out a hand-to-mouth living who suffers, because he either never thought of proving his bona fides or has no means to do it.
It's nobody's case that a country must roll a red carpet to invite illegal immigrants with open arms. Indeed, the number of people who moved into Assam from Bangladesh was large enough to spark what some consider to be the largest mass movement in India after Mahatma Gandhi's Quit India agitation against the British. The Assam Agitation lasted from 1979 to 1985 after the influx of foreigners turned upside down the state's economic, ethnic and political equilibrium. But the agitators never distinguished between Hindus and Muslims among the migrants.
 Indira's vote-bank politics
Congress under Indira Gandhi was unwilling to act because she saw migrants as potential vote-banks. And the Left, with its own fake communist ideology and a depraved sense of justice, was noncommittal. The Assam Accord of 1985 that then prime minister Rajiv Gandhi reached with the agitators meant that the foreigners who moved in on or after 25 March, 1971 would be expelled. But he lacked the courage to implement it. And forced by the Supreme Court, the BJP, with governments at the Centre and in Assam, is going through the NRC process but is not covering itself with any glory, guided by its own visions of vote-bank politics.
The tragedy now centres around two things: the timing of the NRC process and the unmistakable bias in it. Deciding in 1985 to deport Bangladeshis who entered India after 1971 was probably practical at that time. But after allowing them—be they Hindus or Muslims—to stay on for so long, and now branding them as foreigners by sticking to the same cut-off date is a travesty of natural justice that has few parallels in the world.
And what makes this inhumane exercise even more unacceptable is the targeting of Muslim migrants with the help of a Bill that seems to be a cheap tit-for-tat against Bangladesh kicking Hindus out in the past.
 Your Muslims, our Hindus?
The proportion of Hindus in Bangladesh dwindled from 28 percent in 1941 to 13 percent in 1974 and then to about nine now. Clearly, most, if not all, of them found homes in Assam and West Bengal. It's not surprising that barring Lakshadweep and Jammu and Kashmir, Assam has India's highest proportion of Muslims at 34.22 percent followed by West Bengal with 27.01 against the national average of 14.3, according to 2011 census. Muslim-majority districts in Assam went up from six in 2001 to nine in 2011.
All this can in no way legitimise a retaliatory action to throw out Muslim migrants from India—not after so long in any case. Modern democracies aren't driven by eye-for-eye policies. Throwing out large numbers of people out of their homes, jobs and the country they have come to regard as their own isn't the same thing as kicking out a few diplomats for whatever reason.
There may be some merit to the argument that a migrant persecuted for religious reasons—like the Bangladeshi Hindu forced into India—deserves more sympathy than a Muslim who illegally crossed the border for a job. But 47 years after he found that job? That would be a silly joke if it wasn't so tragic.
The author tweets @sprasadindia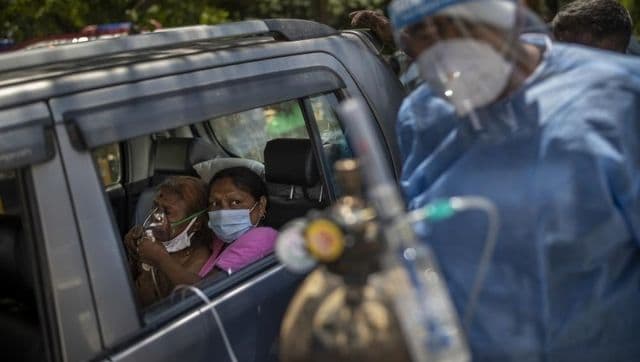 India
The systemic lapses that exacerbated the scale of the second COVID-19 wave would arguably not have happened in a country with a freer media that was doing the job it is meant to do.
India
Official data indicate around 368 deaths per day in Delhi due to Covid, based on a seven-day average. In contrast to the clean air of last year's lockdown, the city is now shrouded in smoke from the pyres.
Politics
In 2018, Sarma with the BJP's Tripura in-charge, managed to break the entire top leadership of the state Trinamool Congress and the Congress to bring them into the BJP fold