NPF asks ally BJP to set timeline for resolving political crisis in Nagaland, after Ram Madhav said Assembly polls would fetch solutions
A day after the ruling Naga People's Front (NPF) in Nagaland decided to reinstate its ties with the BJP, a senior state minister on Wednesday asked the saffron party to come out with the 'exact timeline' of bringing to rest the vexed Naga political issue
Kohima: A day after the ruling Naga People's Front (NPF) in Nagaland decided to reinstate its ties with the BJP, a senior state minister on Wednesday asked the saffron party to come out with the "exact timeline" of bringing to rest the vexed Naga political issue.
Various Naga organisations are in favour of holding the assembly election after a solution is found. Senior BJP leader
Ram Madhav, party in-charge of Nagaland, had said on Monday that conducting polls first would bring the solution closer.
"If Madhav wants to put this as a condition, it will be very good on his part to give us the exact timeline to bring
about a settlement," health and family welfare minister Imkong L Imchen said.
The Framework Agreement with the NSCN (IM) was signed almost three years ago and 20 years have passed since the ceasefire pact was inked with it, he said.
The NSCN (IM) has been engaged in peace talks with the central government since 1997 when they announced a ceasefire agreement after a bloody insurgency movement which started in Nagaland soon after the country's Independence.
"Madhav is well aware that four assembly elections have been held by the Naga people after the ceasefire agreement
with the NSCN (IM). Still he thinks that solution to the Naga political issue is not closer unless another assembly election is held," he said.
The NPF on Wednesday decided to reinstate its ties with the BJP and also go to the 27 February Assembly polls in Nagaland with TR Zeliang as its chief ministerial candidate, a party release said.
The NPF had severed ties with the BJP on 18 July last year but its central office-bearers had on 15 January referred
the matter to the party's Central Executive Council, which favoured resuming ties with the saffron party. The BJP had been in alliance of the NPF since 2003.
Election for the 60-member Nagaland assembly is slated for 27 February. The NPF leader praised prime minister Narendra Modi for the Framework Agreement and bringing peace talks with the NSCN (IM) under the PMO. Previously it was under the union home ministry.
"Naga people interpreted this as a sign of sincerity and commitment to bring about the long standing Naga political
issue to an amicable settlement," he said.
On the statement of Naga Hoho and other civil societies that elections would not be allowed before finding the
solution to the Naga issue, Imcheng said he does not know whether it is intending to boycott the elections.
The NPF wants elections to be deferred or postponed, the senior minister said. "We know we are winning the elections, but we are ready to forego the opportunity for the sake of Naga political settlement," he said.
India
A delegation of the Gurudwara visited the Prime Minister at his residence at 7 Lok Kalyan Marg today to offer prasad and blessings
India
While Sudarsan used sand to create the right profile of PM Modi, innumerable mud cups can be seen placed around his sculpture in a beautiful formation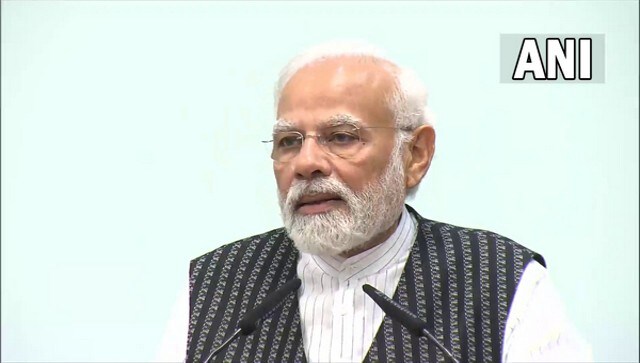 India
The National Logistics Policy is an endeavour to improve the competitiveness of Indian goods, enhancing economic growth and increasing employment opportunities