'Not worried over slow rate of GDP growth in country', says former president Pranab Mukherjee at Kolkata event
Former president Pranab Mukherjee also noted that dialogue is important in a democracy to solve problems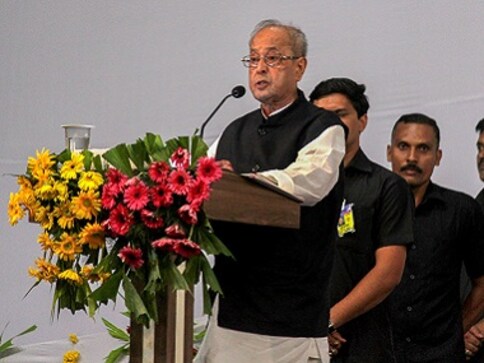 Pranab Mukherjee said that he was not worried over the economic slowdown as 'certain things' that are happening would have its impact

He said while addressing an event at the Indian Statistical Institute in Kolkata

Former president also noted that dialogue is important in a democracy to solve problems
Kolkata: Former president Pranab Mukherjee said on Wednesday that he was not worried over the economic slowdown as "certain things" that are happening would have its impact. Mukherjee, who also served as the finance minister in the UPA government, further said there is nothing wrong with public sector banks needing a capital infusion.
"I am not worried over the slow rate of GDP growth in the country. Certain things happening will have its impact," he said while addressing an event at the Indian Statistical Institute (ISI) in Kolkata. He said Indian banks showed resilience during the financial crisis in 2008.
"I was the finance minister then. Not a single public sector bank had approached me for money," he said. Now, the public sector banks need a massive infusion of capital and there is nothing wrong with it, Mukherjee added.
The former president also noted that dialogue is important in a democracy to solve problems. "Dialogue is inevitable," he said. He further said the sanctity of data is equally important in a democracy. "Sanctity of data should be kept intact. Else, it will have a disastrous impact," he said.
Stating that the erstwhile Planning Commission played an important role in the development of the country's economy, Mukherjee said, "I am happy that some functions are still being carried on by the Niti Aayog."
Find latest and upcoming tech gadgets online on Tech2 Gadgets. Get technology news, gadgets reviews & ratings. Popular gadgets including laptop, tablet and mobile specifications, features, prices, comparison.
India
Spokesperson Kunal Ghosh admitted that the controversial slogan should not have been raised and blamed it on 'excessive exuberance of young party workers'
India
There are 54 vacancies available, of which 16 are for the position of Junior Technician, 12 for Junior Office Assistant, 10 each for Junior Bullion Assistant and supervisor and there are 6 vacancies for the post of Engraver III.
Entertainment
The film made its Indian premiere at the 26th Kolkata International Film Festival this year, and is Japan's official nominee for the Oscars 2021.