Patna's Magadh Mahila College bans jeans, Patiala suits; principal says Hindu students' attire is 'embarrassing'
One of the oldest women's colleges in Patna, Magadh Mahila College introduced a new dress code on Wednesday banning girls from wearing jeans and patiala suits
One of the oldest women's colleges in Patna, Magadh Mahila College, introduced a new dress code on Wednesday, whereby it banned girls from wearing jeans and Patiala suits and using mobile phones in classrooms.
According to ANI, the dress code is set to be introduced from January 2018.
Bihar: #Patna's Magadh Mahila College administration bans jeans and Patiala suits on campus & mobile phones in classrooms. Dress code to be introduced from January 2018. pic.twitter.com/yrjAEEYQrJ

— ANI (@ANI) December 6, 2017
Speaking to the news agency, college principal Shashi Sharma justified the ban and said, "I was requested by the girls to bring in a dress code as there is social disparity here. Muslim girls don't wear jeans, so they never objected."
She added that dresses "worn by Hindu girls were embarrassing".
About the ban on mobile phones, Sharma said that theirs wasn't a "modern college", and that it would take 50 years to reach that point. "There's an area where phones can be used, but not in classrooms. Ours isn't a modern college that it can take such modernity. We think traditionally and are miles away from modernity. It'll take us 50 years to reach there," she said.
Furthermore, student union general secretary Laila Qazmi also said the ban on jeans wasn't new. "Ban on jeans is an old rule. Phones in classrooms were always prohibited. Girls never objected to the dress code. In fact, they requested for it in first place," she told ANI.
The Magadh Mahila College in Bihar is affiliated to the Patna University. Back in 2013, the college had banned students from wearing sleeveless tops and t-shirts in order to "maintain decorum", reported The Indian Express.
Instances of colleges imposing bizarre dress codes on students are quite commonplace in the country. In 2014, a circular issued by Nalanda College of Law in Borivali in Mumbai stated girls had to wear tops with sleeves no shorter than four inches and reaching at least seven inches below the waist. The college also banned students from sporting tattoos and piercings, according to NDTV.
Similarly, Mumbai's SNDT Women's University introduced a dress code for its students in January 2017 asking them to wear "decent and formal clothes to an educational institute", reported Hindustan Times.
Prior to that, the city's St Xavier's College had also placed a ban on students wearing ripped jeans.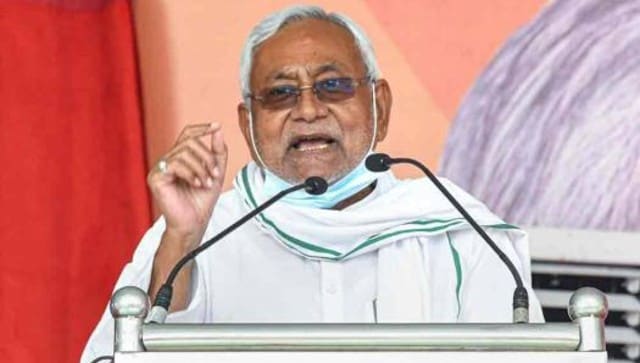 India
The Bihar chief minister said the state Assembly has passed unanimous resolutions twice in 2019 and 2020 in favour of a caste-based census.
India
People blocked roads, pelted stones in Jehanabad district, after a man arrested in liquor trade died in judicial custody in Aurangabad