New Delhi: While the Delhi government is keen on getting its odd-even formula back on roads and has sought a referendum for a repeat of the experiment from 1 February, a recently released impact assessment report of the Central Pollution Control Board (CPCB) could serve as dampener to its enthusiasm.
The national pollution watchdog has found little reduction in Delhi's air pollution because of the scheme.
According to its report, the pollution levels rose during the fortnight (1 to 15 January) the scheme was tried out because of the overcast conditions that prevented quick dispersal of pollutants.
"Overall, it can be stated that while some reduction in air pollution is likely to happen due to odd-even scheme, a single factor or action cannot substantially reduce air pollution levels in Delhi. Therefore, a comprehensive set of actions following an integrated approach is required to make substantial improvement in air quality," the impact assessment report mentioned.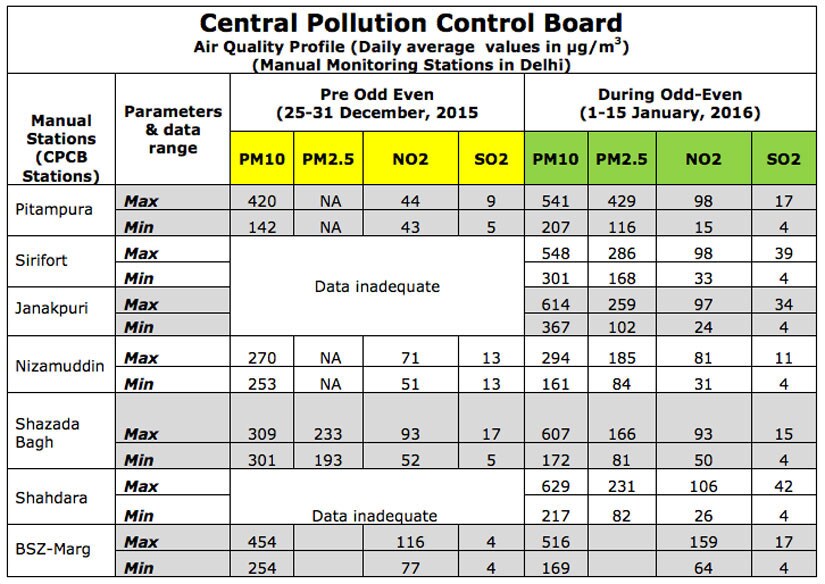 According to a CPCB source, whatever gains were achieved by implementing the formula in the city got wasted due to high pollution levels on the outskirts of Delhi and adjoining NCR areas, where air pollution was much higher than Delhi's congested areas. It nullified the positive effect.
However, in its report the Environment Pollution (Prevention and Control) Authority for NCR has mentioned that this winter out of all severe smog episodes so far (with several consecutive days in severe category) the peak pollution during the odd and even programme has been the lowest.
"This shows that despite the hostile weather conditions - no wind, temperature dip and western disturbance, the peak pollution during odd-even scheme has been much lower. The earlier smog episodes have seen much higher peaks and much more rapid build-up compared to the rise that happened during the first week of odd- even programme. This proves reduced traffic volume has arrested the peaking of pollution. This validates the importance of emergency action," the report mentioned.
Environmental experts feel that odd-even scheme should again be implemented during an emergency situation, but with more stringent measures and no exemptions.
"The odd-even formula must be implemented when emergency situation arises. Studies have shown that it brings pollution level down. Several assessment reports like Miami, Chicago-Harvard, including ours at CSE show that there had been reduction in pollution levels. The peak pollution level during 1-15 January was lower than that in December, despite harsh weather conditions. We have seen that during the first three working days of the odd-even fortnight, pollution level increased by 57 percent in comparison to the days when it was implemented as it was non-working period," said Anumita Roy Chowdhury, executive director, Centre for Science and Environment (CSE).
"However, to get effective results the ambit of implementation of the formula has to be increased and stringent measures need to be taken. There should be no exemption for two-wheelers, women, etc. Only emergency services should be allowed," she said.
The Delhi government has also been contemplating on the plan to do away with the exemption to two-wheelers and women.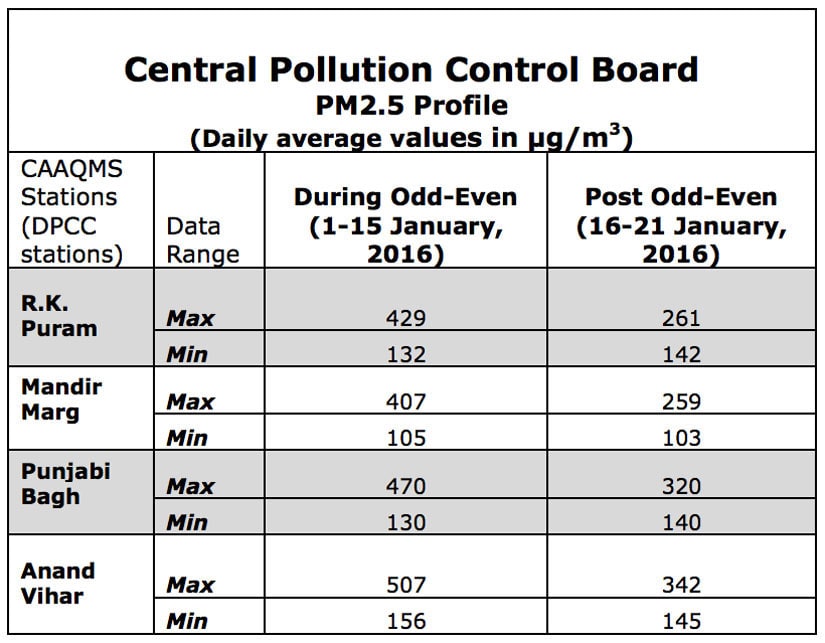 Firstpost is now on WhatsApp. For the latest analysis, commentary and news updates, sign up for our WhatsApp services. Just go to Firstpost.com/Whatsapp and hit the Subscribe button.
Updated Date: Jan 27, 2016 22:42:29 IST