No Aadhaar for NRIs: Fear of exclusion from benefits triggers rush for fake cards among Kerala emigrants
Thousands of NRIs in Kerala are obtaining fake Aadhaar cards, unaware of the fact that they may lose their NRI status as a result.
Sam Varghese (name changed on request), a Gulf-based non-resident Indian (NRI), came to Kerala with a long list of activities to be completed during the brief visit. The first task, of getting a SIM card for his mobile phone, itself proved to be difficult as the carrier insisted on a copy of the Aadhaar card. A relative came to his aid by getting a SIM issued in his name.
But he faced the same problem again when he went to the bank for updating his KYC details and to the Regional Transport Office for renewing his driver's licence. As Aadhaar continued to prop up everywhere he went, Sam finally decided to get one made.
But as Aadhaar is not issued to NRIs at present, Sam obtained one by falsely declaring himself a resident. He is not alone. Thousands of NRIs in Kerala are obtaining Aadhaar cards in this manner, unaware of the fact that they may lose their NRI status as a result, which brings them several benefits including tax exemptions.
Lawyers say filing false affidavits could also land them in legal trouble. According to the current laws, Aadhaar cards can be issued to NRIs only if they stay in the country continuously for more than 182 days. The number of emigrants from Kerala is 23.63 lakhs, according to the 2014 Migration Survey conducted by the Centre for Development Studies (CDS), Thiruvananthapuram.
More than 90 percent of the emigrants from the state live in countries under the Gulf Cooperation Council (GCC), where the law does not permit citizenship to expatriates. This means that NRIs in these countries will have to return to the country after retiring or losing their employment unlike in the Western countries, where the expats can settle after retirement if they wish.
NRIs from the state are keen to get Aadhaar card as they feel that many of the welfare programmes, including pension, being offered by the Non-Resident Keralites Affairs Department could be linked with Aadhaar in the future. Therefore, the NRIs are forced to take Aadhaar even through illegitimate means.
Unique Identification Authority of India (UIDAI) CEO Dr Ajay Bhushan Pandey has warned that taking Aadhaar through illegitimate means could be considered as a violation of the law and that it could land such NRIs in trouble.
Quoting from one of his recent interviews in the media, Gulte.com, a Telugu film news portal said that those possessing Aadhaar must have got the card through illegitimate means as the regulations restrain the authorities from legally issuing Aadhaar cards to them.
Pandey, however, said that it was the discretion of Indian government whether to take legal action against the NRIs obtaining Aadhaar illegally. As there is no regulation in the Act that makes Aadhaar mandatory for NRIs, the government must either exempt them or make alternative provisions for them to avail bank, railway and other services, the portal quoted Pandey as saying.
KV Shamsudheen, chairman of Sharjah-based Pravasi Bandhu Welfare Trust (PBWT), said the NRIs were confused as many agencies, including banks, gas companies, mobile firms and even government departments were insisting on Aadhaar for various services despite the law clearly stating that NRIs were not eligible for Aadhaar cards.
Curiously the agencies have been pushing for Aadhaar identification even after the Supreme Court directed that Aadhaar cards can be used only for providing welfare services and not as in ID tool or a requirement for general services.
Shamsudheen said that he himself had faced problems when he went to a village office in Kozhikode district for digitising his land records. The village officer refused to process his application without Aadhaar, stating that he had no intimation from authorities exempting NRIs from giving Aadhaar in revenue services.
He told Firstpost that several NRIs had approached him saying that banks were also insisting on Aadhaar number for updating their KYC. A branch of the State Bank of India in Kozhikode even threatened to block the account of an NRI if it was not linked with Aadhaar before 31 December, 2017. He produced the audio recording of the bank official as evidence.
"Though the finance ministry has exempted NRIs from quoting Aadhaar for obtaining PAN card and filing tax returns, several other departments are insisting on Aadhaar as they have not received any specific communication from the government. The government should either issue Aadhaar card to NRIs or direct agencies not to insist on Aadhaar for their services," Shamsudheen said.
The NRI said that many agencies were not even aware that NRIs were not eligible for Aadhaar card. They are applying the norm applicable to residents to NRIs as well. This is causing a lot of difficulty for the NRIs, who visit the country for brief holidays.
"NRIs were a worried lot when the Central Board of Secondary Education (CBSE) made Aadhaar mandatory for appearing for National Eligibility and Entrance Test (NEET) for MBBS and BDS courses this year. Parents of many students had to rush to the country for obtaining Aadhaar," Shamsudheen said.
Gulf News, a Dubai based daily, quoted Jossi John, 45, a finance manager in Abu Dhabi, as saying that he had to send his teenage son to India for two days in the midst of his 12th-grade exams to obtain Aadhaar because it was mandatory for him to attend the NEET.
The memoranda also urged the government to declare Aadhaar as the single identification card for election and voting purposes. This, he argued, will help the government allow online voting for NRIs. If government make Aadhaar compulsory, NRIs could vote with biometric identification sitting anywhere in the world, he said.
"The government has introduced Adhaar as single identification card in many sectors. If Election Commission can consider the Aadhaar as only identification card then there will not be any electoral malpractices, including bogus voting," Shamsudheen said.
He said that the NRIs were expecting positive changes to the Aadhaar law.
India
The highest pass percentage was of Ernakulam district with 91.11 percent, while as many as 136 schools have secured a 100 percent result
India
On Thursday, India reported 43,509 cases over the past 24 hours; over half of them (22,506) were from Kerala. The high number of cases in Kerala comes at a time when the country is preparing for a possible third wave of infections.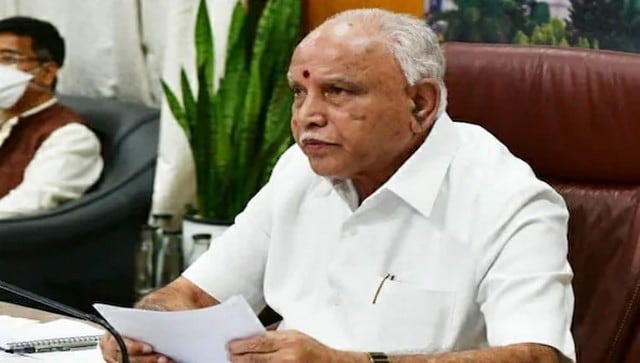 Politics
The 78-year-old Yediyurappa belongs to the older generation of politicians who started their service to the public as a teenager (in his case with the Rashtriya Swayamsevak Sangh) and did not hail from either a political or an affluent family