Nitish Kumar faces Opposition ire after massacre of Dalit family in Bihar's Bhagalpur district
The Nitish Kumar government in Bihar has come under attack following the brutal killing of three members of a Dalit family in Bhagalpur district, with the police still clueless about the perpetrators of the crime
The Nitish Kumar government in Bihar has come under attack following the brutal killing of three members of a Dalit family in Bhagalpur district, with the police still clueless about the perpetrators of the crime.
The Opposition Rashtriya Janata Dal (RJD) has alleged that violence against Dalits have risen in the state ever since Nitish Kumar's Janata Dal (United) joined hands with the Bhartiya Janata Party (BJP) to form an NDA government in the state in July.
Talking to CNN-News18, RJD spokesman Ramanauj Prasad had said, "Initially, Right wing activists affiliated to BJP assaulted Dalits in several places in the name of cow vigilantism. Then more than 80 houses of Dalits were burnt in Khagaria district. There is a clear pattern of targeted attacks against the marginalised section, and Chief Minister Nitish Kumar is squarely responsible for this."
"This NDA government is very different from what Nitishji was used to head earlier. Gone are the days when BJP used to say that Nitish Kumar is Bihar and Bihar is Nitish. Now the baton is in the hands of deputy chief minister Sushil Kumar Modi and BJP is calling the shots. And they never respected Dalits and minorities. The Bhagalpur incident is an example of this," he was quoted as saying.
Not only the Opposition but also Nitish Kumar's own associate, Uday Narayan Chaudhary, a prominent Dalit voice within the JD(U), has echoed fears over the heinous murders of the three Dalits. He also expressed concerns regarding the safety of the girl who survived the attack, but is battling for life in a Patna hospital.
Speaking to the media while on his way to Jhandapur, a Dalit hamlet in Naugachhia where the assailants had targeted the family, he told CNN-News18 that the failure of the police to nab the culprits was "startling" and did not augur well for the perceptions about the government.
"I demand protection for the girl who is under treatment; she might be attacked again in a bid to eliminate evidence. She must be also admitted to a private hospital for better treatment amid security," he said.
Chaudhary also said various cases of violence against Dalits might prove detrimental for the state government. He demanded Nitish Kumar take strict action against the culprits.
Meanwhile, Bhalapur range DIG Vikas Vaibhav has constituted a Special Investigation Team (SIT) headed by Naugachhia SP Pankaj Sinha to investigate the case.
On 25 November, Jhandapur locals found Kanki Ram, wife Meena Devi, son Chhotu (12) and daughter Bindi (18) lying in a pool of blood. Their throats were slit, eyes oozed out and private parts dismembered. Kanki, Meena and Chhotu had already died, but Bindi was still alive at the time. She was rushed to a hospital hospital where her condition is said to be critical.
Villagers said that Kanki used to sell fish in the local market and apparently had no rivalry with anyone.
India
Vinod Bamnia, who was a member of Bhim Army, was assaulted on 5 June near his home in Rajasthan's Hanumangarh district, and died in a hospital two days later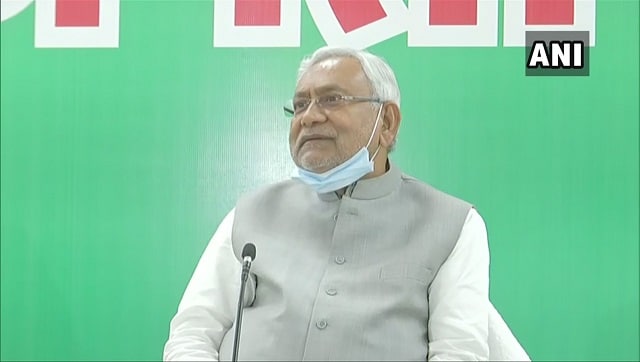 India
Chief Minister Nitish Kumar made the announcements on Tuesday, 15 June. He also said that the night curfew will be cut short by four hours in the state. Timings of night curfew will be 8 pm to 5 am.
Entertainment
Mishra's film pulled me into the lives that transpired within the four walls of the home – matter of fact, routine, mundane, lacking action in every way imaginable. Showing life in its ordinariness. Almost an anti-thesis to village life represented in Hindi cinema.