Nitish Kumar asks Rahul Gandhi to stop defending 'tainted' Lalu Prasad Yadav family, asks to clarify stand on RJD
While keeping the RJD guessing over the possible action if deputy chief minister Tejashwi Yadav does not resign, Bihar chief minister and JD(United) president Nitish Kumar on Saturday clarified to Rahul Gandhi that the Congress leadership must stop defending 'tainted' Lalu Prasad family, as per sources
While keeping the RJD guessing over the possible action if deputy chief minister Tejashwi Yadav does not resign, Bihar chief minister and JD(United) president Nitish Kumar on Saturday clarified to Rahul Gandhi that the Congress leadership must stop defending 'tainted' Lalu Prasad family, as per sources.
Nitish Kumar met Rahul Gandhi at New Delhi on Saturday, but JD(United) sought to downplay the meet, reasoning that it was a courtesy call as the Congress was also an alliance partner in the state's ruling mahagathbandhan.
A close aide of Kumar told CNN-News 18 that he, during the meeting, reminded Rahul Gandhi of the day when he tore apart an ordinance dubbed as 'save the convict' bill in 2013, only a month before the RJD chief Lalu Prasad was found guilty in a fodder scam related case.
"Congress added to confusion within mahagathbandhan by attacking Nitish, though clarification came later on. Now their leadership must clarify their stand on Tejashwi whom the CBI has booked in a land graft case. Nitishji has told Rahul Gandhi that his stand on the issue was clear and as an alliance partner, Congress should also clarify," the source said.
In Patna, JD(United) spokesman Ajay Alok said that the New Delhi meeting was a courtesy meeting. Alok further stated that their stand on corruption and Tejashwi would be the same.
However, senior Congress leader Premchand Mishra told CNN-News 18 that Gandhi was keen on saving the grand alliance at any cost. But Mishra asserted that filing of an FIR could not be the reason for demanding resignation from Tejashwi as Union minister Uma Bharti, Uttar Pradesh deputy chief minister Keshav Prasad Maurya and few other leaders are also facing similar cases.
Politics
Addressing Congress leaders at the brainstorming camp in Udaipur, Rahul Gandhi said that regional parties lack ideology and cannot fight the BJP-RSS team. He believes it is the Indian National Congress party which can do it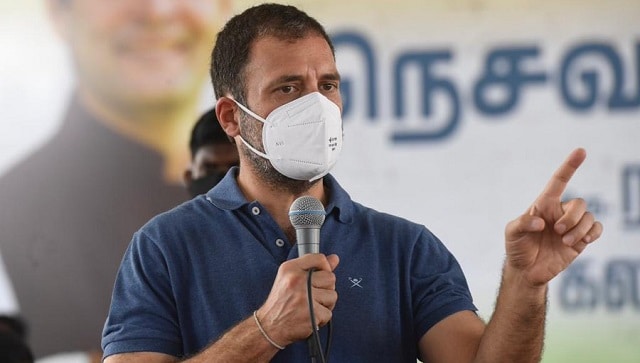 India
Congress leader Rahul Gandhi said there is a fight between two ideologies in the country
Politics
In his address at his party's 'Chintan Shivir' in Udaipur, Rahul Gandhi had claimed that regional parties cannot fight the BJP and the RSS as they lack ideology