Nirmal Singh condemns Farooq Abdullah's statement on third party mediation on Kashmir issue
Authorities on Friday imposed restrictions in parts of Srinagar to maintain law and order
Jammu and Kashmir deputy chief minister Nirmal Singh on Friday condemned former chief minister Farooq Abdullah's statement that a third party could be approached to resolve Kashmir issue, ANI reported.
Condemn his statement; want to tell him when he was CM he talked of attacking Pakistan. Why this 2-faced approach?: J&K Dy CM on F. Abdullah pic.twitter.com/Jo1EB7FV4f

— ANI (@ANI_news) July 21, 2017
Farooq Abdullah had, earlier in the day, said that India should approach third parties, such as the United States and China, to mediate in the Kashmir issue.
Trump himself said I want to settle Kashmir problem, we didn't ask them to. China too said they want to mediate in Kashmir: Farooq Abdullah pic.twitter.com/isy94FGOcl — ANI (@ANI_news) July 21, 2017
Nirmal Singh said that the prime minister was personally monitoring situation in Kashmir. Singh's assertion comes as the authorities on Friday imposed restrictions in parts of Srinagar to maintain law and order in view of separatists' call for a strike and march to the local office of the United Nations in Jammu.
PM personally monitoring situation in Kashmir, wants people to prosper & tread on path of development: J&K Dy CM Nirmal Singh on meeting PM pic.twitter.com/5TMvnZSJPF

— ANI (@ANI_news) July 21, 2017
Emphasising that the only way to solve Kashmir issue was through dialogue, Abdullah had said that both India and Pakistan have nuclear weapons.
Yuddh nahi kar sakte, unke paas bhi atom bomb hai aur aapke paas bhi hai. Ye rasta nahi hai, raasta baatcheet ka hai: Farooq Abdullah pic.twitter.com/lWPc2Z0olO

— ANI (@ANI_news) July 21, 2017
You have to catch the bull by the horns, sometimes you have do it: Former J&K CM Farooq Abdullah on India-Pakistan relations pic.twitter.com/puLX4AuYVA

— ANI (@ANI_news) July 21, 2017
Strict restrictions have been imposed in eight police station areas of Srinagar, officials said. They said the curbs have been imposed in the police station areas of Khanyar, Nowhatta, Rainawari, MR Gunj, Safa Kadal, Maisuma, Kral Khud and Ram Munshi Bagh.
The officials said the restrictions on the movement of people were imposed as a precautionary measure to maintain law and order in view of the separatists call for strike and a march to the office of United Nations Military Observer Group in India and Pakistan (UNMOGIP) at Sonwar here.
They said the roads leading to the UNMOGIP office have been sealed, while security forces have been deployed in strength at sensitive places across the Valley to avoid any untoward incident.
Normal life was disrupted in the rest of the Valley due to the strike called by separatists including chairmen of both factions of Hurriyat Conference Syed Ali Shah Geelani and Mirwaiz Umar Farooq and JKLF chief Yasin Malik.
Most of the shops, fuel stations and other business establishments were shut while public transport was off the roads, the officials said. They said private educational institutions were also closed.
The separatists had called for a shutdown today and asked people to participate in a sit-in which they would lead outside the UN office after congregational prayers
Photos
Kashmir is covered in a white blanket and is experiencing sub-zero temperatures; the Valley is currently under the grip of the 40-day harshest winter period known as 'Chilla-i-Kalan' that began on 21 December
India
The police have recovered incriminating materials, arms and ammunition from the site of the encounter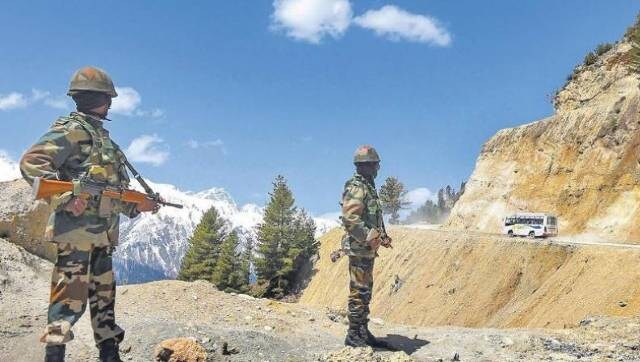 India
The ceremony was a solemn occasion to appreciate and recognise the professionalism in operational roles performed by the units during their tenure in northern Command, a defence spokesman said