NIA raids Srinagar central jail, seizes Pakistan flag, jihadi literature, phones and data hardware
The NIA on Monday raided the central jail in Srinagar and seized over two dozen mobile phones, jihadi literature and a Pakistani flag apart from data hardware, an official spokesman said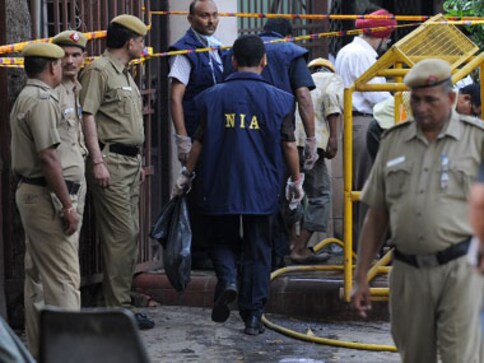 Srinagar: The NIA on Monday raided the central jail in Srinagar and seized over two dozen mobile phones, jihadi literature and a Pakistani flag apart from data hardware, an official spokesman said.
At least 20 teams of the central probe agency, with commandos of the NSG and drones in tow, searched the barracks and open ground of the high-security prison that houses some of the most wanted and dreaded terrorists, including those from Pakistan.
The searches, the spokesman said, were carried out in connection with an investigation over the arrest of two youths in Kupwara — Danish Ghulam Lone and Sohail Ahmed Bhat.
The two youths had claimed that the fresh recruits of Al-Badr, a proscribed terrorist organisation, were being sent across for arms training in furtherance of a conspiracy hatched from inside the Central Jail, Srinagar.
The searches started early morning and continued till late afternoon during which all the barracks and the open ground were thoroughly searched with the help of well-trained teams and deep search metal detectors.
A close watch was kept on the entire operation with the help of drones, the spokesman said.
During the search, 25 mobile phones, some SIM cards, five secure digital cards, five pen drives, one iPod and large number of documents and articles, including a poster of Hizbul Mujahideen, a Pakistani flag besides jihadi literature, were seized, he said.
The agency is also probing the escape of dreaded Lashkar-e-Taiba terrorist Mohammed Naveed Jhatt on 6 February from a busy hospital in Srinagar. It is believed that the conspiracy of his escape was hatched in the Srinagar central jail.
The spokesman said that the teams was accompanied by magistrates, witnesses and doctors.
also read
India
In the viral video Sahil is seen donning a blue T-shirt and talking to a man dressed in black at the same spot where he later killed the minor Hindu girl
India
The Chief Minister had warned occupiers of illegally built mazars (tombs) last month to remove those on their own and reiterated that his government would not allow "land jihad" in the state.
India
NIA raids were conducted at the premises of suspects linked to the conspiracy which pertains to involvement of PFI and its leaders, cadres in violent and unlawful activities