NIA cracks down on terror funding in Kashmir, seven Hurriyat leaders arrested
The National Investigation Agency (NIA) arrested seven Kashmiri separatist leaders from Hurriyat in relation to the terror funding case
The National Investigation Agency (NIA) arrested seven Kashmiri separatist leaders from Hurriyat Conference on Monday in relation to the terror funding case.
According to CNN-News18, while six Hurriyat members were arrested from Srinagar and one was nabbed from Delhi. Among those arrested, six of them including Hurriyat leader Syed Ali Shah Geelani's son-in-law Altaf Ahmed Shah (also known as Altaf Fantoosh), Geelani's close aides Naeem Khan, Merazuddin Kalwal and Pir Saifulla, Tehreek-e-Hurriyat spokesman Ayaz Akbar, and Mirwaiz Umer Farooq's close aide and spokesperson Shahid-ul-Islam were arrested in Srinagar. They will be brought to New Delhi on Monday, IANS said.
Farooq Ahmed Dar alias 'Bitta Karate' was  arrested in Delhi. The report added that further arrests can be made as these are part of an ongoing investigation, PTI said.
Bitta Karate arrested in Del;Naeem Khan,Altaf Funtus,Ayaz
Akbar,Pir Saifulla,Merazuddin Kalwal&SU Islam being brought to Delhi frm Srinagar

— ANI (@ANI_news) July 24, 2017
According to Times Now, NIA has held several raids in the residences of Hurriyat leaders over the past few months.
NIA sleuths had raided Shah's Srinagar house in June along with the premises of Shahid-ul-Islam and businessman Zahoor Watali, PTI had reported. Son-in-law of Geelani, Shah is perceived to be influential in the policies of the Tehrek-e- Hurriyat. The Jammu and Kashmir Police had put him in preventive detention immediately after the festival of Eid earlier this month.
PTI also added that Hafeez Saeed, Pakistan-based chief of Jamaat-ul Dawah, the front of the banned Lashker-e-Taiba (LeT), has also been named in the FIR as an accused besides organisations such as the Hurriyat Conference (factions led by Geelani and Mirwaiz Umer Farooq), Hizbul Mujahideen (HM) and Dukhtaran-e-Milat.
The NIA crackdown in Srinagar on Hurriyat leaders aims to reveal how funds were being sourced by Pakistan-based terror outfits including the Lashkar-e-Taiba (LeT) to disruptors in the Valley. The state witnessed a seven-month-long unrest after the killing of Hizbul Mujahideen militant commander Burhan Muzafar Wani, in July last year.
CNN-News18 says that sources in the NIA believe that local hawala operators from Delhi and Haryana were being used by terrorist organisations and other non-state actors to operate in Kashmir. Media sources say that the NIA FIR named Geelani as well. He has been summoned but hasn't appeared before the enforcement directorate. A show cause notice has been sent to the leader. Other Hurriyat leaders Mirwaiz Umar Farooq and Yasin Malik are also reportedly involved in the terror funding case.
The NIA has also linked the seizure of 25 kg of contraband in the Uri sector to the anti-India activities in the Valley. The drug money would allegedly be used to fund stone pelters and other agitators to foster unrest in regions in Kashmir.
According to IANS, the main charge by NIA in the FIR is that the violence in Kashmir is not spontaneous, but it was part of a 'grand scheme' hatched in association with terror outfits in Pakistan to destabilise Jammu and Kashmir. The hawala traders would pass on currency to Hurriyat leaders, who would send it to protesters to hold 'violent agitations.'
The IANS reports that all the arrested individuals will be brought to Delhi for further investigations. The NIA Inspector General, Alok Mittal says that the six arrested in Srinagar were brought to Delhi and all the seven accused will be produced in the court in Delhi on Tuesday. "Evidence collected so far clearly proves financial trail as well as direct link between terror activities and funding of terror activities," he added.
Evidence collected so far clearly proves financial trail as well as direct link b/w terror activities & funding of terror activities: NIA IG pic.twitter.com/d3pD0FLaqF

— ANI (@ANI_news) July 24, 2017
"Evidence collected so far clearly proves financial trail as well as direct link between terror activities and funding of terror activities," he added.
The Hurriyat leadership has called the NIA crackdown "revengeful and arbitrary." They have called for a 'Kashmir Bandh' in the Valley on Tuesday in reaction to these arrests.
With inputs from agencies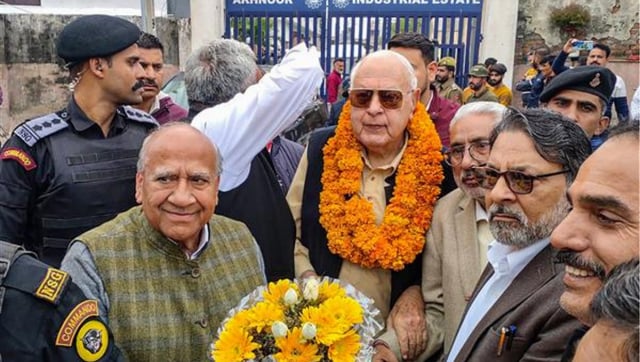 Politics
Former National Conference (NC) President Farooq Abdullah made the statement about Lord Ram while targeting the BJP during the inauguration program of a factory in the Akhnoor district of Jammu and Kashmir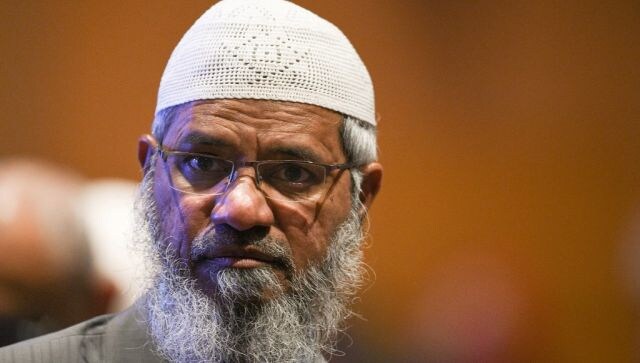 India
India was asked to explain Nupur Sharma's remarks by the Gulf countries led by Qatar. But now Qatar is itself platforming a hate-monger like Zakir Naik. Qatar must be politely told to deplatform and reject elements like Naik strongly
First Cricket News
Kaverappa (3/20) and More (3/31) started it all with a perfect bowling display inside the Powerplay overs before Venaktesh (3/51) seized control in the middle overs to wrap up Jharkhand innings for 187 in 47.1 overs.