NHRC issues notices to top Karnataka prison officials over alleged torture, transfer of 32 inmates
NHRC has issued notices to two top Karnataka prison officials taking cognisance of a complaint about alleged torture and transfer of 32 convicts
Bengaluru: The National Human Rights Commission (NHRC) has issued notices to two top Karnataka prison officials taking cognisance of a complaint about alleged torture and transfer of 32 convicts serving terms in the Central Prison in Bengaluru.
An NHRC release said the complaint alleged the prisoners were beaten black-and-blue and shifted overnight on 16 July in an injured condition to various other prisons at Mysore, Ballari, Belagavi and Davanagere.
According to the complaint, which was lodged on Tuesday by Bharatiya Janata Party MP Shobha Karandlaje, the family members of these prisoners were not being allowed to meet them.
The complaint was filed a day after the prisoners, in a sudden move, were shifted at around 1 am to jails in Ballari and Belagavi for allegedly trying to voice their grievances.
The commission observed that the allegations of physical torture of the prisoners and their overnight transfer to other jails in an injured condition, if true, raised a serious issue of violation of their right to life and dignity.
It issued notices to Karnataka Director General of Police (DGP) and Inspector General (IG), Prisons, asking them to file a detailed report on the allegations within four weeks, along with a note on the current location and health condition of the "injured and shifted" prisoners.
"It need not be restated that a prisoner is not a slave of the State and is not denude of his fundamental rights while in judicial custody," the release said.
Allegedly, the prisoners were meted out this "inhuman" treatment because of their bid to stage a dharna inside the jail premises as they were not allowed to speak to (then) DIG D Roopa, who had visited the jail, it added.
Roopa had recently flagged certain "grave irregularities" inside the Central Jail, including providing a sophisticated kitchen to one of the prisoners, (AIADMK Amma chief) V Sasikala, and VIP treatment to another prisoner, Abdul Karim Lala Telgi, the release said.
The issue of alleged preferential treatment to Sasikala, serving a four-year term in a disproportionate assets case, came to the fore after Roopa submitted a report to her superior, DGP (Prisons) HN Sathyanarayana Rao.
Both Roopa and Rao were transferred after they sparred over the report in public.
The government has also ordered a probe by a retired official into the allegations.
The release said that according to the complaint, the 32 prisoners were allegedly shifted in a hasty manner in order to avoid any disclosure to the inquiry officer.
Education
The results can also be checked at the websites- pue.karnataka.gov.in, karnataka.gov.in, sslc.karnataka.gov.in and kseeb.nic.in.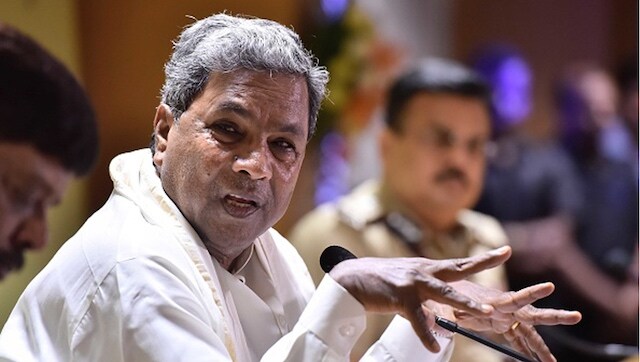 India
Siddaramaiah charged that the BJP government at the Centre betrayed the people by not fulfilling its election promises
India
The earthquake was also felt in many villages near Somwarpet in Kodagu district. People ran out of their houses following the tremor