Newslaundry exposes The Times of India's Jagan fabrication
The issue should not be dismissed as being the result of the overenthusiasm of a young staffer, given the speculations about Jagan Reddy's assets.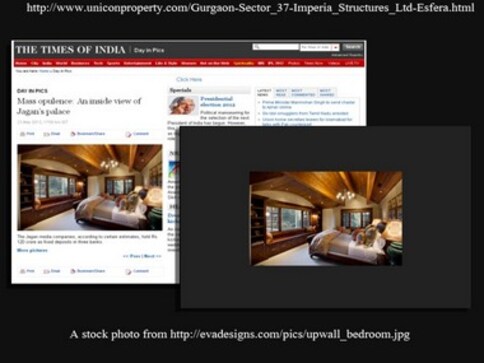 On Thursday, The Times of India's exclusive slide show of Jaganmohan Reddy's house was a rage, trending on Google.
The pictures, according to the introduction to the slide show, "were made exclusively to The Times of India", reports Newslaundry.
Not all were happy with the exclusive – and not all believed the images were actual images of Jaganmohan Reddy's house. Twitter users @rajudasonline, @shikha_srivas and @barbarindian, in particular were non-believers. They did their own checking, prompted by their skepticism, and discovered that the entire slide show was a figment of the imagination of someone at the newspaper and abetted by images on various websites. You can read the newslaundry report on the fiasco here.
The issue can be dismissed as being the result of the overenthusiasm of a young staffer – but it shouldn't. Considering the reports of the extravagant lifestyle that Jaganmohan Reddy is alleged to lead, as reported in various media reports, a slide show like this could do considerable damage to Jaganmohan Reddy, lending credence to the rumoured excesses.
It cannot be the case that a young staffer could publish this story without his or her seniors being in the know. Getting exclusive images of Jaganmohan Reddy's house would have been a coup at a time when there was intense speculation about Reddy's imminent arrest and heightened interest in any story relating to him. Did no one in The Times of India want to know how these images were accessed? Did no one want to know who took these photographs?
The Times of India later issued an apology for what they called a lapse. Read it here. But, one still wonders, how on earth did this happen?
We might never know the answer to the question, but the Newslaundry expose proves that it's not going to be easy to get away such stuff in the internet age. Try it and you're likely to get caught.
India
The need to sensationalise is a fundamental need of a tabloid, but not one for a 'quality' paper. Mumbai Mirror's treatment of a suicide makes it more a tabloid than a serious, respected paper.
Entertainment
Rajesh Khanna was Bollywood's first superstar. And Anand was his iconic film. But there's something morbid about endlessly spooling that famous death scene on television, milking its filmi tragedy for all its worth.
Ideas
Why has outright plagiarism and shoddy sourcing become standard practice among our nation's leading publications?