New anti-trafficking bill awaits Rajya Sabha nod; activists laud focus on rehabilitation, preventive measures
Over 12,000 survivors of human trafficking have written to Prime Minister Narendra Modi for the passing of the new anti-trafficking bill — Persons in Trafficking Bill (Prevention, Protection and Rehabilitation) Bill — by the Rajya Sabha in the Winter Session of the Parliament
To support the enactment of a strong anti-trafficking law, over 12,000 survivors of human trafficking have written to Prime Minister Narendra Modi requesting the passing of the Persons in Trafficking Bill (Prevention, Protection and Rehabilitation) Bill by the Rajya Sabha in the Winter Session of Parliament.
These survivors who were in New Delhi to take part in the national consultation on bonded labour and human trafficking involving multiple stakeholders and organised by National Coalition to Eradicate Bonded Labour and Human Trafficking (NCEBLHT) came from 14 states including, Uttar Pradesh, Bihar, Odisha, Punjab, Madhya Pradesh, Rajasthan, Tamil Nadu, Karnataka, Maharashtra and West Bengal.
Up until now, activities pertaining to trafficking have been addressed by sections 370 and 370(A) of the Indian Penal Code (IPC), which define and penalise persons in trafficking; IPC Section 371 that criminalises the habitual dealing in slaves; IPC sections 372 and 373 criminalising buying and selling of underage girls for prostitution; the Immoral Traffic (Prevention) Act, 1956, that criminalises activities related to prostitution; the Bonded Labour System (Abolition) Act, 1976 (BLSAA), imposed on the practice of trafficking of human beings and of forced labour; the Contract Labour (Regulation and Abolition) Act, 1970, to prevent exploitation of contract labour; and the Inter-state Migrant Workmen (Regulation of Employment and Conditions of Service) Act, 1979, to provide for their conditions of service and for matters connected therewith.
Apart from these, other acts that address dimensions of trafficking have been the Juvenile Justice (Care and Protection of Children) Act, 2015, that provides a framework for protection of missing or trafficked children and the Children (Pledging of Labour) Act, 1933, and the Child Labour (Prohibition and Regulation) Act, 1986, that deal with child labour.
But these constitutional measures are scattered. For instance, the Child Labour Act and the Juvenile Justice Act prohibit various forms of forced labour but provisions are unevenly enforced and offenders are let go after fines or short prison sentences.
As per the National Crime Records Bureau (NCRB) data, there were 8,132 human trafficking cases last year against 6,877 in 2015. The law enforcement data in the NCRB'S Crime in India report of 2015, mentions that the police investigated 4,203 trafficking cases including 3,363 cases of sex trafficking, 77 cases of bonded labour and 763 trafficking cases under article 370. Interestingly, during 2015, the government completed the persecution of 2,387 alleged traffickers and the courts convicted 815 and acquitted 1,556. The convictions under the BLSAA was only four that year.
Another example of the failure of existing laws is the Immoral Traffic (Prevention) Act, 1956, in whose Section 7 makes 'soliciting for the act of prostitution' an offence but soliciting has not been defined anywhere in the act. Section 7 makes punishable the practice of prostitution in or in the vicinity of certain public places. This provision, therefore, inhibits the woman herself from the practice of her profession in contravention of its terms and renders prostitution a penal offence. The new bill is aimed at being comprehensive in its understanding of the problem of trafficking and preventive and proactive in its solutions.
Lenin Raghuvanshi, who co-founded the People's Vigilance Committee on Human Rights in 1996 and launched the Jan Mitra Gaon project under which three villages and an urban slum were adopted with the aim of eradicating forced labour, was one of the signatories. He pointed out two chapters of the bill which, in his opinion, are definitive.
Chapter VI states that the State and the District Anti-Trafficking Committees shall undertake measures and recommend strategies and plans to protect and prevent vulnerable persons from being trafficked by facilitating the implementation of livelihood and educational programmes for vulnerable communities to ensuring accountability of concerned agencies and organising interface between law enforcement agencies.
Chapter 10 states that the property belonging to somebody convicted under the act shall be fortified to the appropriate government. Breaking the economic chain and keeping a supplementing machinery from the district to the national level alert can help prevent trafficking.
Dr K Krishnan, whose organisation is currently operating in six states by networking through the National Adivasi Solidarity Council (NASC) explained that individual acts pertaining to small segments of trafficking aren't enough, for instance, the Child Labour Act won't cover adult victims and the BLSAA focuses on the social compulsions of debt bondages and IPC sections 370 and beyond focus only on persecutions and perpetrator accountability.
"There are many merits to the new act. One of them is the sustained focus on rehabilitation right through the act. A Rehabilitation fund has been recommended for the first time to build the capacity of victims by providing capital, infrastructure, education and skill development to empower them to access justice and to prevent further trafficking," he says.
The other critical solution that the act offers, in his opinion, is the alignment of the nodal officers and anti-trafficking police officers on the district, state and the national level.
Chapter 11 mentions facilitating inter-state and international transfer of evidence in an investigation as well as video conferencing in judicial proceedings and trans-border transfer of persons rescued, witnesses, evidence and offenders. The act also emphasises the need for a central agency to address migration and trafficking across states because the cost of the interstate investigation is given as reimbursement over two-three years which has acted as a disincentive for these forces. The central investigative agency interferes only in cases that interlink three or more states but 90 percent of the trafficking cases are connected with just two states.
Sanjay Jha of Chetna, a registered NGO that rescues and rehabilitates street children, pointed out that certain clauses of the new bill add depth to a society's reading of a social problem it has failed to curb. Firstly, it talks of voluntary rehabilitation that allows adult victims to choose to opt out of institutional rehabilitation, ie, shelter homes and de-links rehabilitation from criminal proceedings and allows collection of witness statements through video conferencing and web cameras, and it separates trafficking from voluntary sex workers.
Critics of the bill, however, say it refers to IPC Section 370 to define sex trafficking but does not explicitly mention sexual exploitation in the definition, thereby leaving an ambiguity, and by placing the blame for trafficking solely on 'poverty, illiteracy and lack of livelihood options', the bill erases gender and caste inequalities from the understanding of trafficking. For now, survivors and activists are hoping the bill comes to fruition this winter.
Women and Child Development Minister Maneka Gandhi has also expressed that she hopes that the bill, which emphasises on the confidentiality of the victims and on time-bound trials, turns into an act this winter and ends the long winter of suffering that countless women and children in India have endured.
World
Identified as Prem Prasad Acharya, the businessman from Illam District had poured diesel on himself and set himself on fire as the country's newly elected Prime Minister Pushpa Kamal Dahal's cavalcade was coming out of the parliament
Explainers
The Economic Survey 2022-23 said India's economy is pegged to slow to 6.5 per cent in the fiscal year beginning in April, but will remain the world's fastest-growing major economy. Meanwhile, inflation and the current account deficit are things to keep an eye on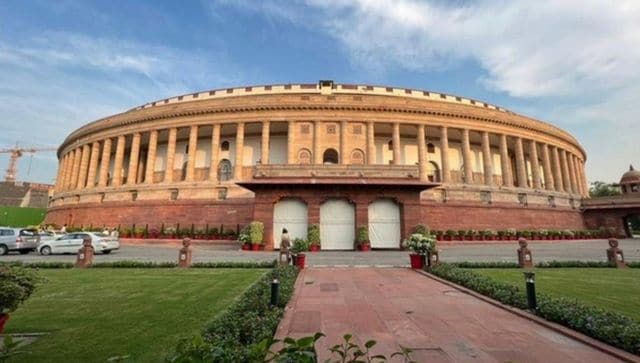 India
During the meeting, the government is expected to seek cooperation from all parties for the smooth running of Parliament.Opposition parties are expected to raise matters of concern during the meeting and also highlight issues they plan to raise during the session