Neither India nor Pakistan can have Kashmir in its entirety: Farooq Abdullah
Farooq Abdullah said that neither India could take back PoK nor Pakistan has the power to take this part of Kashmir, so dialogue is the only solution
Jammu: Former Jammu and Kashmir Chief Minister Farooq Abdullah on Sunday said neither India could take back Pak-occupied-Kashmir nor Pakistan has the power to take this part of Kashmir by going to war, so the solution to the problem lies in dialogue between the two countries.
"We cannot take what is with them with war...what is with them neither can we take it nor they have the power to take this Kashmir from us, so what other way is left?" Abdullah told reporters on the sidelines of a function in Jammu on Sunday.
He said people who call him "anti-national" and making "hue and cry" over his recent statement on PoK are those who once appreciated him for "defending the nation in the United Nations" and if they have guts, (they should) go and fight on the borders.
"They will keep on saying Farooq Abdullah as anti-national, it is upto them what they call, when I defended my nation in the United Nations that time was I not anti-national, even (Atal Bihari) Vajpayee lauded me," he said.
Stressing for resumption of dialogue between India and Pakistan, the National Conference chief said resident of Jammu and Kashmir on both sides of the divided line (Line of Control) were suffering due to the cross-borderfiring.
"They should come and see the problems of the people living on the borders. The people of Jammu and Kashmir are dying. On both sides, it is our people who are dying. What is the solution? There is no solution except dialogue," he said.
Senior Abdullah also took a swipe on India's failure to bring back Masoor Azhar or Dawood Ibrahim, saying we could not bring Masood Azhar or the Don who lives in Karachi what resolutions are you talking of.
Earlier, Abdullah paid tributes to veteran leader Girdhari Lal Dogra and described him as a legendary politician who worked tirelessly for uplift of poor and progress of Jammu and Kashmir.
"Dogra Sahib has left an indelible mark of public service and he continues to be remembered as a towering leader for his tremendous connect with the masses," he said while offering tributes to Dogra on his 29th death anniversary.
He said Dogra was among the few leaders of the state whose contribution towards its development is remembered even now. "As a true democrat, he had earned a niche for himself and endeared so much among the people that he never lost any election," the former Chief Minister said.
"Such people are rare, who keep aside politics and treat everyone equal, irrespective of caste, creed, colour or regional affiliation," the NC President said, adding that he will always remain an inspiration for younger generation of political activists, who really want to serve the people and the state by giving their best.
He said Dogra had unflinching faith in secularism and all his life he worked for strengthening the bonds of amity and brotherhood between various segments of society.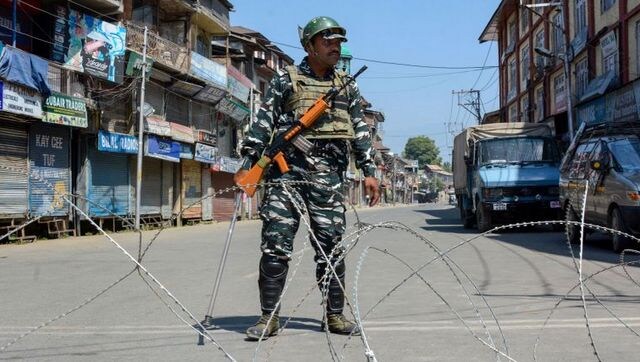 India
The de jure Islamic state created on the soil of India through Article 370 got dismantled, but the de facto Islamic state continues to hold fort.
India
His remarks come at a time when dozens of panic-stricken migrant labourers reached Jammu from the Valley to head to their native places in Bihar, Chhattisgarh and other parts of the country
India
Introduction of domicile certificates, amendments to land ownership rights, and online portal for property-related grievances, specifically for Kashmiri Pandits, have engendered resentment among many sections in Kashmir.