Nearly a year after Kamala Mills fire, BMC finds gross illegalities, violations in compound premises
The Brihanmumbai Municipal Corporation (BMC), in its ongoing inspection of the Kamala Mills Compound premises, has found gross illegalities, including rampant floor space index (FSI) misuse, and amalgamation and alterations of balconies without permission in many units.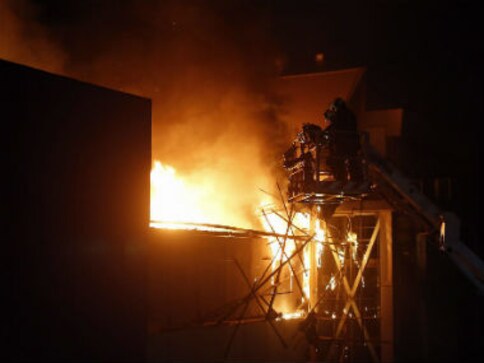 Nearly a year after the Kamala Mills fire that killed 14, the Brihanmumbai Municipal Corporation (BMC) in its ongoing inspection of the Compound premises has found gross violations, including misuse of floor space index (FSI), and alterations of space without permission in many units.
The inspection was carried out jointly with the State Industries Department and the report will be ready in a month, reported The Hindu. The BMC is looking at FSI and construction violations, while the Industries Department is looking at the change of use (IT to non-IT).
On 29 December last year, a massive fire broke out at the two pubs in the Kamala Mills compound in central Mumbai claiming lives of 14 people. Earlier, the BMC, in its reports, had confirmed that the blaze emerged from Mojo Bistro and spread rapidly to 1 Above.
"The Kamala Mills fire was due to the sin committed by the previous government. Instead of 50,000 square metres, the development was done in 51,000 square metres (in the Kamala Mills Compound)," Devendra Fadnavis had alleged. He said 95,000 square metres of FSI was given for IT-related establishments.
In the inspection conducted recently, it was found that many structures on the premises are not IT-related industries.  "While permissions were given to develop IT-related industry in the premises, many structures are operating for another purpose,'' an official who is associated with the drive told Times of India. "Apart from FSI violations, one of the most recurrent violations we came across was common areas in many of the wings being merged into habitable areas. Also, balconies, fire escapes and passages had been covered up as well," a civic official said.
In a report tabled in January, BMC commissioner Ajoy Mehta stated that Kamala Mills Ltd may have used more than 20 percent of the FSI allocated to them for commercial use.
Ahead of the anniversary of the fire, the BMC is carrying out inspections and removed illegal structures. Mehta asked BMC officials last week to carry out fresh inspections of restaurants and bars from 25 to 31 December to ensure that they comply with fire safety norms or face action, reported Mumbai Mirror.
The Kamala Mills area has quite possibly the largest concentration of eateries in Mumbai. A perfunctory search yielded 36 names of restaurants, bars, cafes, clubs and pubs located inside Kamala Mills. Such a large concentration, in addition to the many shopping destinations and corporate offices which also exist in the area, means that a calamity in one establishment leaves several others in the vicinity equally at risk.
With inputs from agencies