NCRB chief Ish Kumar suggests giving police limited access to Aadhaar data; Hansraj Ahir says home ministry will discuss it
Suggestions for allowing Aadhaar information sharing and amendments to the Identification of Prisoners Act would be discussed in the home ministry, Hansraj Ahir said.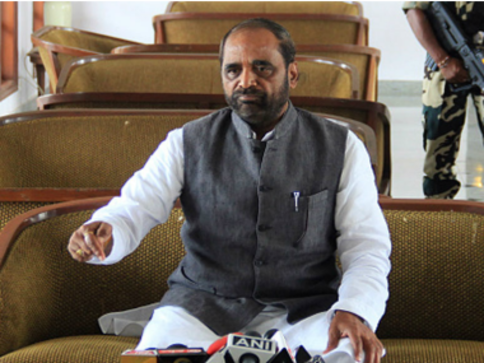 Hyderabad: The Centre would look into a request for sharing of Aadhaar data with police for the purpose of cracking cases involving first time offenders and for identification of unidentified bodies, Minister of State for Home Hansraj Ahir on Thursday said.
Suggestions for allowing Aadhaar information sharing and amendments to the Identification of Prisoners Act would be discussed in the ministry, he said in his address 19th All India Conference of Directors of Finger Prints Bureau.
The minister was responding to a specific suggestion made by National Crime Records Bureau (NCRB) Director Ish Kumar at the event that limited access to Aadhaar data was needed to be
given to police for the purposes.
Ahir also said data storage capacity of the Finger Prints Bureau should be enhanced along with modernisation which will be considered as a priority by the government.
Fingerprints are the scientific evidence which are considered reliable by investigators and jurists as it is fool-proof and an effective forensic tool, which decreases crime rate and increases conviction rate, he said.
Later, when reporters asked him about the NCRB chief's suggestion on Aadhaar data sharing, the minister said, "We will try it... It appears to be very important."
Kumar, in his speech, said at present around 50 lakh cases were registered every year in the country and most of them committed by first time offenders who leave their fingerprints, which would not be available in police records.
"There is need for access to Aadhaar data to police for the purpose of investigation. This is essential because 80 to 85 percent of the criminals every year are first time offenders with no records (of them available) with the police.
"But they also leave their fingerprints while committing crime. There is need for limited access to Aadhaar, so that we can catch them," he said.
Similarly, more than 40,000 unidentified bodies were recovered every year. With access to Aadhaar, these could be identified and handed over to their relatives, he said.
"We will have to make some limited access for these two purposes. It will be good for investigation," he said.
Another issue which requires an early intervention by the home ministry was amendment to Identification of Prisoners Act so that other modern biometrics such as the iris, veins, signature and voice could also be captured, the official said.
He also stressed the urgent need for modernisation of all state Finger Print Bureaus, saying fingerprint experts were now able to visit only around 55,000 crime scenes, which was just one per cent of the 50 lakh cases filed annually and "grossly inadequate".
"This is because, many states neither have adequate fingerprint cadre strength nor proper equipment and labs," he said adding fingerprint experts should also be sent abroad for advance training with Interpol or FBI.
Kumar also expressed confidence that the national automation of fingerprint identification system (NAFIS) would become operational this financial year.
He pressed for adequate budget allotment for the fingerprint identification system. Kumar said NCRB developed the first fingerprint identification system in 1992 by which fingerprints were digitised and computerised search for chance prints enabled.
"At present, this system has 11.5 lakh fingerprint database (of convicted and accused), including slips received from Interpol (around 15,000)," he said adding that the data with the FBI was more than 50 million.
In India, there are over 50 lakh fingerprints lying in various states which have to be merged with national repository but this had not been possible because the present system was outdated with limited capacity, he said.
Hence, the crime records bureau has proposed NAFIS which seeks to link all headquarters of states and union territories and 850 police districts and commissionerates so that a search query could be sent to the national database, he said.
The new system would comply with the national institute of standards and technology and the integration of state records with the central ones would provide efficiency in tracking the offender details, Kumar said.
In the second phase, it was proposed to connect all the 15,600 police stations in the country and in future the system would also be linked both with the crime and criminal tracking network and systems and the inter-operable criminal justice system, he said.
The NCRB chief also said the bureau had signed a pact with Hyderabad-based advanced data research institute for artificial intelligence and data analytic tools to go through the database and see paterns of the crime across the states.
The institute was developing models for five states for a pilot test, he added.