Navjot Singh Sindhu says Sushma Swaraj will write to Pakistan govt on opening Kartarpur corridor
Navjot Singh Sidhu said it is the responsibility of the Indian government to send a formal request for the opening of Kartarpur corridor keeping in mind the sentiments of over 10 crore Sikhs, Punjabi and Sindhi community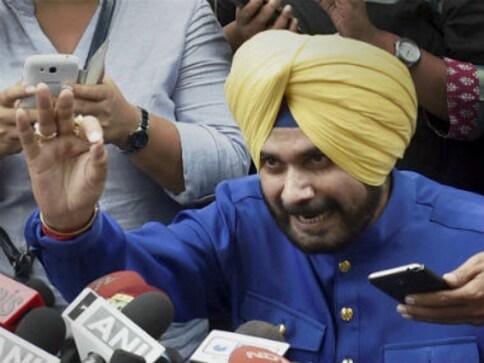 Chandigarh: Punjab minister Navjot Singh Sidhu Tuesday claimed that External Affairs Minister Sushma Swaraj has assured him of writing to the Pakistan government on the opening up of the Kartarpur Sahib corridor.
When asked about Union minister Harsimrat Kaur Badal's claim that he was reprimanded by Swaraj during the meeting in Delhi on Monday, Sidhu refused to comment on the matter. "I have nothing to say. It is not a personal matter. They can abuse me as much as they want. Politics and religion should be separate," he said.
Describing the Kartarpur Sahib Gurdwara as Sikhs' "own Mecca", Sidhu said it is the responsibility of the Indian government to make a formal request for opening of the Kartarpur corridor. He also said that the Pakistan had already shown "positive intent" in this regard.
"During the 15-minute meeting with the Union minister, I explained about the necessity of opening of the corridor," said Sidhu while talking to reporters in Chandigarh.
"It is the responsibility of the Indian government to send a formal request for the opening of the corridor keeping in mind the sentiments of over 10 crore Sikhs, Punjabi and Sindhi community," he said.
Sidhu claimed that Pakistan Prime Minister Imran Khan had already held a meeting with all stakeholders on this issue and his minister Fawad Chaudhary had also stated that Pakistan was willing to open the corridor and was waiting for India's formal affirmation in this regard.
"She (Swaraj) heard me and said that a draft is being prepared and she will write a letter to Pakistan government," claimed Sidhu.
"The Kartarpur Sahib Gurdwara is located in Pakistan and we want to go there (to pay obeisance). So we need to initiate talks and a formal request (for opening of passage) should go from our side," said Sidhu.
Significantly, Union minister VK Singh said on Monday that India has "not received any proposal" from Pakistan to open the Kartarpur route.
He claimed that the Indian government spends Rs 1,200 crore on facilitating the visit of Muslim pilgrims to Mecca in Saudi Arabia. However, the Centre has stopped subsidising Haj yatra from 2018. On 2017, the government had spent only about Rs 250 crore on the annual pilgrimage.
"For the Muslim community, Mecca is the most holy place and the Indian government sends 1.25 lakh Muslim brothers with the cost of Rs 1,200 crore out of the budget. I appreciate it and it is a very good work," he said.
"Muslims go to mosque, Christians go to church, Jews pray at wailing wall. We go to Kailash Mansarovar, Tirupati. But since 1947, Sikhs could not go to their own Mecca. We are forbidden... please allow us to go to Kartarpur Sahib," Sidhu said.
World
Sherry Rehman, Federal Minister for Climate Change of Pakistan People's Party (PPP) while addressing the National Assembly slammed Khan's Tehreek-e-Insaf (PTI) for holding a meeting with President Alvi over key military appointments
Explainers
Navjot Singh Sidhu's aide and former MLA Navtej Singh Cheema said the Congress leader is 'feeling really good'. After spending six months in jail, Sidhu has lost weight because of meditating, practising yoga and doing exercise every day
World
Khan ,70, is in the crosshairs for buying gifts, including an expensive Graff wristwatch he had received as the premier at a discounted price from the state depository called Toshakhana and selling them for profit