Navjot Singh Sidhu responds to flak over hug with Pakistan army chief, says he will give a 'strong reply' when needed
After drawing flak from Punjab Chief Minister Amarinder Singh and the Opposition for embracing the Pakistan Army chief, Navjot Singh Sidhu said he was prepared to give a strong reply to all when needed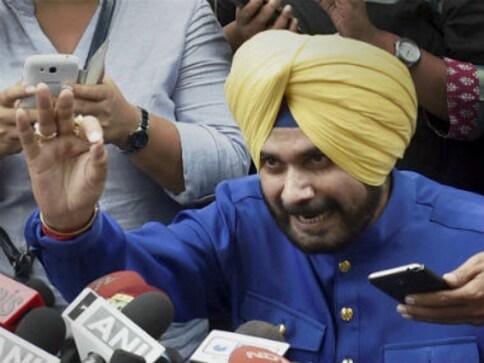 Chandigarh: After drawing flak from Punjab Chief Minister Amarinder Singh and the Opposition for embracing the Pakistan Army chief, cricketer-turned-politician Navjot Singh Sidhu said Monday that he was prepared to give a strong reply to all when needed.
"Whenever the reply has to be given, I will give and I will give it to all... It will be a strong reply," Sidhu, the only Indian to attend Imran Khan's swearing-in ceremony as Pakistan's prime minister, said.
His comments come after Amarinder had Sunday ticked off his cabinet colleague for hugging Pakistan Army Chief General Qamar Javed Bajwa. "I think it was wrong for him (Sidhu) to have shown the affection he did for the Pakistan Army chief, I am not in its favour... The fact is that the man (Sidhu) should understand that our soldiers are being killed everyday. My own regiment lost one major and two jawans a few months ago," Amarinder had said.
On his return from Pakistan Sunday, Sidhu had defended his action, asking what was he supposed to do when someone tells him that "we belong to the same culture" and talks of opening the route to the historic Gurdwara Kartarpur Sahib.
Meanwhile, Aam Aadmi Party (AAP) MLA and ousted Leader of Opposition Sukhpal Singh Khaira Monday defended Sidhu, saying the minister had done nothing wrong. "@sherryontopp has done nothing wrong by hugging Pak army chief, its d way Pbi's meet! I demand opening of corridor to Gurudwara Kartarpur Sahib. I also demand of opening of Indo-Pak border that'll immensely boost Pb's economy. There's no ill will between ppl its fight between govt's, (sic)" Khaira tweeted.
Sidhu was among the special guests present at the oath-taking ceremony at the Aiwan-e-Sadr (the President House) in Islamabad on the invitation of Imran.
India
Channi said the violence in Lakhimpur Kheri reminds him of the 1919 Jallianwala Bagh tragedy.
India
Election to the 40-member Goa Assembly is due in February next year. The state is currently being ruled by the BJP, while the Congress sits in the opposition.
Politics
The Centre has increased the powers of the BSF by increasing its jurisdiction in poll-bound Punjab by up to 50 km from the international border