Navjot Sidhu all smiles as he arrives in Pakistan for Kartarpur corridor ceremony; Amarinder, Swaraj give event a miss
Congress leader and Punjab Tourism and Culture minister Navjot Singh Sidhu arrived in Pakistan Tuesday for the ground breaking ceremony of the much awaited Kartarpur corridor, which will link the Nankana Sahib Sikh shrine in Pakistan to the Indian state of Punjab.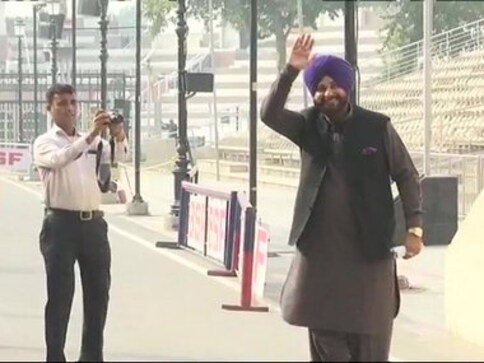 Congress leader and Punjab tourism and culture minister Navjot Singh Sidhu arrived in Pakistan Tuesday for the ground breaking ceremony of the much awaited Kartarpur corridor, which will link the Nankana Sahib Sikh shrine in Pakistan to the Indian state of Punjab.
Sidhu will be the only state minister to make an appearance at the programme at Pakistan prime minister Imran Khan's invitation, while Chief Minister Captain Amarinder Singh gave it a miss. Sidhu, who was in the midst of a controversy over his last Pakistan visit, has welcomed the opening of the corridor, which he said will deepen the people-to-people ties. "I feel that this corridor will be a bridge and erase enmity. It will increase people to people contact and bring peace. It is my belief that there are possibilities in it. This is a corridor of infinite possibilities, of peace, of prosperity, of opening up of trade relations," Sidhu told reporters in Lahore.
Sidhu said that tough problems and discord in relations is never solved by the use of brute force, but on a table through dialogue.
"This day will indeed break ground. As our two nations take this first step, the Kartarpur spirit can make pilgrims of us all, venturing out on a journey that breaks the barriers of history and opens the borders of the heart and the mind. A journey that our people can walk together towards, a future of shared peace and prosperity for India and Pakistan," Sidhu said.
Sidhu was criticised heavily by the BJP for hugging Pakistani Army chief general Qamar Bajwa, and claiming that he did so after the latter told him they were opening the Kartarpur corridor. Union Minister for Food Processing Harsimrat Kaur Badal had at the time hit out at Sidhu by calling him gaddar (traitor). However, ironically, Badal is one of the Central ministers representing the Government of India at the Pakistani event.
Accompanying her is MoS Housing and Urban Affairs Hardeep Singh Puri. The two ministers were sent to Pakistan after External Affairs Minister Sushma Swaraj said she was unable to attend the even citing prior commitments.
In a letter to Qureshi, Swaraj thanked him for the invite and said she was unable to travel to Kartarpur Sahib due to prior commitments including election campaign in Telangana and that India will be represented at the ceremony by Union ministers Harsimrat Kaur Badal and Hardeep Singh Puri.
Swaraj also hoped that the government of Pakistan will expedite the construction of the corridor in order to ensure that "our citizens can pay their respects at the Gurudwara Kartarpur Sahib using the corridor as soon as possible".
Meanwhile, Amarinder turned down the invite citing continued terrorist attacks in the state and the various killings of Indian soldiers by Pakistani armed forces in Jammu and Kashmir.
"Firstly, not a day passes when Indian soldiers are not killed or wounded on the Line of Control in Jammu and Kashmir. Rather than moving towards normalcy, these incidents are escalating," Singh said. Secondly, the chief minister claimed, Pakistan's Inter-Services Intelligence (ISI) has started its nefarious activities in Punjab.
"Since March 2017, the state has neutralised 19 ISI-armed and controlled modules, apprehended 81 terrorists and seized 79 weapons, numerous grenades of the HG-84 type made in Pakistan's Ordnance factories with Austrian know how, and some IEDs," the chief minister claimed.
"I hope that the prime minister (of Pakistan) will understand these circumstances... It will not be possible for me to be present in Pakistan on this historic occasion, despite the fact that paying my respects at Gurdwara Sri Kartarpur Sahib has always been my cherished dream which will hopefully be fulfilled once these hostilities and killings are stopped," he said.
Amarinder, refused to react on Sidhu's decision to go to Pakistan. "I only know my responsibility as a chief minister and a Sikh so that is why we wanted this to happen but also my responsibility is to maintain law and order and that prevents me from going," Amarinder said when asked about Sidhu.
Pakistan's foreign office on Friday said the "Kartarpur spirit can be a step forward in the right direction from conflict to cooperation, animosity to peace and enmity to friendship."
With inputs from agencies 
India
Immediate alert was sounded and more than 4,000 pilgrims were taken out of the area safely till now
India
In 2017, terrorists targeted a CRPF camp housing the Pre-Induction Training Centre at Lethpora in the Pulwama district of South Kashmir and the 185 battalion headquarters, killing five troops
India
Yasin Malik, who was kept in solitary confinement in a high-risk cell in Tihar's jail number 7, has been shifted to the prison's Medical Investigation room where doctors are constantly monitoring his health status and updating officials about the same