Naveen Soorinje arrest: a shocking case of intimidation
Even as the writers and directors grab headlines for being targeted by right wing groups, a journalist who dared to expose Karnataka's culture police continues to languish in jail.
Author Salman Rushdie, a favourite target of the religious fringe, who is currently in New Delhi in connection with the launch of the film adaptation of Midnight's Children, in an interview to the media on Thursday said: "There is a cultural emergency in India."
Almost instantly proving his point, the Tamil Nadu government hit headlines for delaying the release of Kamal Hassan's film Vishwaroopam after some organisations representing the Muslim community protested against the alleged portrayal of the community in a poor light.
Even as the writers and directors grab headlines for being targeted by right wing groups, a journalist who dared to expose Karnataka's culture police continues to languish in jail.
Naveen Soorinje, 28, a Mangalore-based television journalist, was arrested for exposing an attack by an extremist cultural outfit called the Hindu Jagarana Vedike in July. As per local media reports, a mob from the Hindu Jagarana Vedike attacked a group of boys and girls who were celebrating a birthday party at a home-stay in Mangalore.
Soorinje was arrested in November and has been charged with multiple sections of Indian Penal Code (IPC) including criminal conspiracy, using criminal force on a woman with the intention of outraging her modesty as well as sections of Indecent Representation of Women (Prohibition) Act. His application for bail was denied by the Bangalore High Court.
The home-stay attack is a chilling reminder of Mangalore's continuing clash with a violent brand of cultural extremism, first exposed in 2009 after the infamous pub attack in 2009 engineered by the Pramod Muthalik-led Sri Ram Sene.
"Soorinje's report, titled 'The Talibanisation of Mangalore', was actually vital evidence of the brutality of the attack and the molestation and assault on the youth. Instead, he was charged with the same offences as that of the attackers," writes Sudipto Mondal, a reporter with The Hindu, in a petition addressed to the Karnataka Home Minister R Ashok titled 'Release Naveen Soorinje and drop all charges against him!', on change.org. (Read full petition here)
Now based in Bangalore, Mondal says that during his four-year reporting stint in Mangalore he watched and admired Soorinje's courage and commitment in exposing the unchecked attacks on innocent youth by religious groups in the name of 'culture'.
In 2009, the year Sri Ram Sene goons attacked women in a pub in Mangalore, Soorinje who had extensively covered the attack, started getting death threats, says Mondal.
But Soorinje remained undeterred.
"While people are looking at this home-stay attack in isolation, it is important to see Naveen's arrest within a context. A context where a senior editor of a newspaper is arrested for writing against religious extremism, a context where a senior reporter from a national daily has to walk around with a pistol to protect himself. "
"I had been attacked thrice while I was in Mangalore. I was forced to walk around with an air pistol. That is how bad the situation was and continues to be in Mangalore," says Mondal, revealing the shocking transformation of Mangalore.
Subhash Padil of the Hindu Jagarana Vedike who led the latest attack on the home-stay, not surprisingly, was also an active participant in the 2009 pub attack.
A chilling profile of Subhash Padil in The Hindu observes:  Padil was just 18 when, inspired by the Bajrang Dal's role in the Gujarat riots, he joined the outfit in 2002, say his friends.
"He used to worship a photograph of (Chief Minister) Narendra Modi that he had put up in his house," remembers Sudatta Jain, who joined the Bajrang Dal one year before Padil did." ( Read full article here)
Almost a month after the Home Minister promised journalists demanding Soorinje's release that charges against him will be dropped, there is no sign of a breakthrough.
"In the first week of January, journalists organized a hunger strike. The Home Minister came and promised us that a decision to drop the charges will be taken at the cabinet level. But nothing has moved," says Mondal.
The Mumbai Press Club is the latest to join the long list of media organization such as the Karnataka Union of Working Journalists, Press Club of Bangalore, The Editor's Guild of India and the New York-based Committee to Protect Journalists, to demand the immediate release of Soorinje.
With chances of a political solution looking bleak, journalists are now preparing to move the Supreme Court for Soorinje's release.
"We don't know if we should wait for a political solution to emerge, given the political crisis in Karnataka where continuance of this government uncertain, or whether we should go ahead and appeal against the denial of bail," says Mondal.
Arrested on 7 November, Soorinje has now spent nearly three months in prison. Described as a fighter by his friends and colleagues, Soorinje, however, seems to be shaking things up in the prison too. Last heard, he led a protest in jail for better healthcare, food and rights of undertrials, where 125 inmates supported him and went on a dharna.
Find latest and upcoming tech gadgets online on Tech2 Gadgets. Get technology news, gadgets reviews & ratings. Popular gadgets including laptop, tablet and mobile specifications, features, prices, comparison.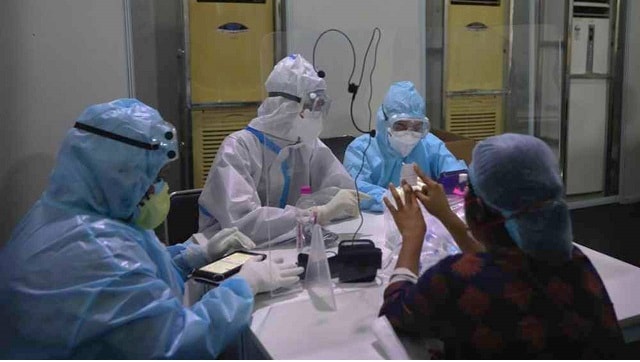 India
Meanwhile, world leaders, including the top leadership of the UN and vaccine developers, will address a two-day, special session of the UN General Assembly on COVID-19 this week
First Cricket News
Children from underprivileged families, suffering from critical ailments and those who cannot afford to follow up on their elective medical costs, got support from Tendulkar's foundation.
India
Those who have been allotted a seat will have to reserve it by paying a fee and download admission order between 4 and 6 December up to 5 pm