Narendra Modi's Ramallah visit shows India's foreign policy is little more than virtue-signalling impulses
Narendra Modi's "landmark" visit to Ramallah, the first-ever by an Indian prime minister, is reflective of the muddle that is Indian foreign policy.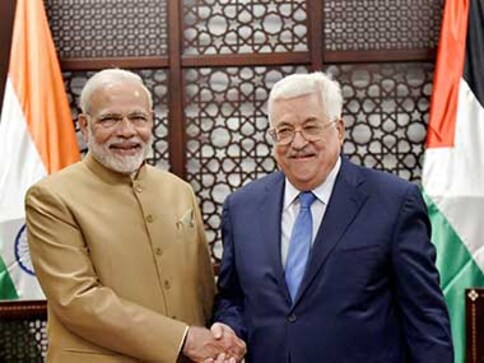 Narendra Modi's "landmark" visit to Ramallah, the first-ever by an Indian prime minister, is reflective of the muddle that is Indian foreign policy.
It is tempting to contextualise the visit as an attempt to "de-hyphenate" and "delink" India's relationship with Israel and Palestine. It is tempting also to speculate that a pro-Arab outreach will help India in booking a United Nations Security Council (UNSC) seat. But that is little more than fanciful thinking. In reality, these symbolisms never work, and carry little meaning without an overarching foreign policy framework.
For reasons proximate and divorced, Modi's Ramallah visit and laying of a wreath on Yasser Arafat's grave are gestures pregnant with intended and unintended consequences. While Modi may feel that the outcomes could be controlled and harnessed for regional peace and stability and rise of India's stature as a global power, such assumptions are misleading when it comes to a continuous, corrosive and complex dispute that has resisted all global attempts at reconciliation.
It is unclear whether this so-called de-hyphenation will deliver tangible benefits for India, or as some optimists have argued, "go a long way in establishing peace between Israel and Palestine."  What it will doubtlessly do, however, is send a series of confusing signals about the direction of our foreign policy which under Modi appears directionless: A set of disconnected virtue-signalling impulses.
The prime minister is hard at work to elevate India's status as a regional heavyweight and an aspiring superpower with an increasing say in global comity of nations, but these objectives will never be met as long as our policy-making is based on 'morality' instead of realpolitik. The fulcrum of a successful foreign policy is self-interest, not grandstanding.
There was simply no need for Modi to include Ramallah as a stop in his West Asia trip. There is very little economic, geopolitical or strategic logic. This isn't to argue against Modi's larger West Asia outreach, however. Since assuming office in 2014, the prime minister has visited UAE, Saudi Arabia Qatar and Israel. Coinciding with Modi's ongoing trip, External Affairs Minister Sushma Swaraj was in Saudia Arabia where India was the 'guest of honour' at the annual Janadriyah festival.
As professor Harsh V Pant writes in DNA, "Iranian president Hassan Rouhani is also expected to be in India this month and Saudi king Salman bin Abdulaziz Al Saud later this year. Israeli prime minister Benjamin Netanyahu had a high profile visit to India last month. Clearly, the region is engaging New Delhi with a degree of seriousness not evident in the past."
India's engagement with the Arab world is independent of its stance on the Palestinian conflict: Driven by historical ties, well-manicured positions, enduring people-to-people connect and commercial realities. India's stand on the two-nation theory is consistent and clear. We voted against the US and Israel at the UN on Jerusalem. Therefore, it is not as if keeping Palestine out of the itinerary would have jeopardised India's interests in West Asia.
It does seem as if through his trip to West Bank, Modi felt the need to 'balance' India's growing proximity with Israel. The question is, why this need for a 'balance'? Was it an assurance? If so, whom was it aimed at?
It has been speculated that Modi's Palestine trip is to reassure the Muslim population back home that India's recent bonhomie with the US and Israel isn't an 'anti-Muslim alliance'. Scholar Shairee Malhotra writes in Israeli newspaper Haaretz  that if India and Israel's proximity is aimed at boosting "a shared narrative of extreme nationalism, exclusion and defining Muslims as the enemy, we, in India, must discredit it."
Such a reactionary approach is the bane of policy-making. Just as Indian Muslims are unlikely to feel threatened by India and Israel's convergence in a number of areas including but not limited to terrorism, they are similarly unlikely to be impressed by Modi's trip to Ramallah. Domestic politics is not driven by foreign policy choices, though the former frequently shapes the latter. If Muslims in India have their reasons in not voting for the BJP, those reasons won't go away just because Modi flew to West Bank in a chopper from Jordan.
It is also improbable to find strategic logic in Ramallah trip. It won't get us a seat on the UN high table. As Institute of Peace and Conflict Studies senior fellow Abhijit Iyer-Mitra writes in The Quint, "The only thing that will ensure India's UNSC seat is a powerful economy: Not support for a lost cause that even Arabs have no time for, while treating their own Palestinian émigrés poorly and forming 'secret alliances with Israel against Iran'."
While the upsides of the trip are not clear, the downsides are many and specific. In laying a wreath on Arafat's grave and visiting a mausoleum "in honour of the departed leader", Modi showered fulsome praise on Arafat.
Abu Ammar was one of the greatest world leaders. His contribution to Palestine is historical. He was a good friend of India. I paid tributes to him in Ramallah. pic.twitter.com/3E0bxCCSj5

— Narendra Modi (@narendramodi) February 10, 2018
The encomiums to describe a leader who remains at best controversial and whose legacy is questionable do little to enhance India's position as a key player in the international arena with a clear set of strategic and geopolitical objectives. The comments were widely covered by Israeli media and perhaps raised more than a few eyebrows (Indian PM lays wreath on arch-terrorist Yasser Arafat's grave); (In Historic Palestine Visit, India's Modi Hails Arafat as 'One of World's Greatest Leaders') but it is not about India-Israel relationship alone.
For a country plagued with the menace of cross-border terrorism, Modi's praise of Arafat considerably dilutes India's non-negotiable stance on terrorism. Despite being a Nobel Laureate, which according to some commentators was bestowed on him to propagate a "western myth" to justify the so-called peace process, the PLO founder's rule has been adjudged to be "a disaster for Palestinians, for Israel, and for US policy in West Asia."
As James Phillips, senior research fellow for West Asia at The Heritage Foundation writes, "Arafat leaves Palestinians much worse off than when he returned to Gaza in July 1994. Under Arafat's leadership the Palestinian Authority became corrupt, unaccountable, and dedicated to protecting Arafat's interests, rather than those of the Palestinian people. His refusal to end terrorism has poisoned the peace negotiations, led Israel to re-occupy Palestinian areas and close its borders to Palestinian workers, and crippled the Palestinian economy. Palestinian parents have been horrified to find their children brainwashed into becoming suicide bombers and cannon fodder for Arafat's revolutionary pipe-dreams."
Arafat's obituary in the London-based The Telegraph described him as "the instantly recognisable face of Palestinian nationalism but failed in both war and peace to achieve his dream of an independent Palestinian state".
To shower praise on such a troublesome figure (ironically coinciding with a spate of attacks on Indian army from Pakistan-sponsored terror assets) is to jeopardise India's stance on the intersectionality of global terrorism. After all, one cannot justifiably argue against differentiating between "good and bad terrorists" and then praise to the high skies a figure described as the Father of Modern Terrorism".
As Hudson Institute senior fellow Lee Smith pointed out, Arafat's "1974 UN speech promising either an olive branch or a freedom fighter's gun was clear: If I don't have peace on my terms, there will be death. This was two years after the massacre of Israeli athletes at the Munich Olympics and only months after he'd personally ordered the assassination of American diplomats in Sudan. What was Arafat's peace? He was always clear about this—it meant Israel's destruction."
The problem with virtue-signalling in foreign policy is that it is essentially a cop-out, the easiest of all options undertaken by leaders in democracies who shy away from bearing the consequences of their actions.
To quote from Nikolas Gvosdev in The Perils of Virtue Signaling in Foreign Policy, "Virtue signaling assumes that there is always an easily-accessible best course of action and ignores the prudential realist observation, as summed up by Amitai Etzioni, that real-world policymakers rarely are choosing between great options and instead are trying to choose the least worst approach from what is otherwise an undesirable menu of policies."
This is important: India's foreign policy choices in striking a strategic partnership with the US and highlighting convergence of interests with Israel — in areas of terrorism, defence, cyber security, big data, water, food security, etc — are aimed at achieving a set of objectives. To achieve these objectives, it is imperative that Indian foreign policy doesn't get lost in the maze of virtue-signalling or remains tied to the bootstraps of 'non-alignment'.
It is easy to ignore that Jawaharlal Nehru's moves were as much driven by ideology as by strategic logic arising out of the Cold War-era and India's still fresh memory of colonialism. That world has ceased to exist. Modi must chart his own path. He must be bolder to create own legacy.
India
The ties between India and the Maldives have been on an upswing since Solih took charge of the top office in November 2018. Prime Minister Modi attended the inauguration ceremony of president Solih
World
Prime Minister Modi also expressed hope that Sri Lanka will witness quick economic recovery, ensuring the prosperity and well-being of its people
World
The police suspect this a Palestinian attack that came a week after violence flared up between Israel and militants in Gaza, where 49 Palestinians, including 17 children and 14 militants, were killed, and several hundred were injured