Narendra Modi's 'industrialists' remark: Decoding PM's reference to Mahatma Gandhi-GD Birla and its implications
Modi's statement on importance of industry in nation building evoked many reactions, but it is his reference to Mahatma Gandhi that calls for a closer look.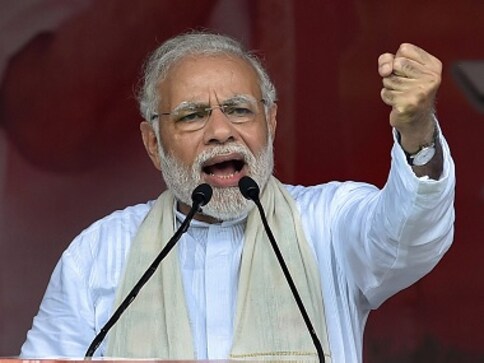 Prime Minister Narendra Modi's statement on the important role of business and industry in nation building has naturally evoked a flurry of counter claims about the actual performance of the private sector. At the same time, Modi's passing reference to Mahatma Gandhi calls for closer attention.
Modi said that a man as pure as Gandhi did not hesitate to openly associate with GD Birla. Just as the hard work of the farmer, the artisan and the government employee is vital to nation building, Modi added, so is the work of the industrialist and businessman. He went on to challenge the Opposition parties for referring to industrialists as 'chor-lootere'.
It is indeed true that Gandhi referred to businessmen as the 'inseparable limbs of India'. At a famous speech at an association of merchants in Karachi in 1934, Gandhi had reiterated his commitment to bettering the life of the last person, 'daridranarayan'. Having studied trends in other countries, Gandhi was convinced that liquidating the business class would not necessarily benefit 'daridranarayana'.
The poor could benefit, Gandhi said, if the Indian business community, "… would not resort to dubious trade practices, would not exploit daridranarayana, and would see that their rights are not violated at your hands. I expect that you would not indulge in trade which may harm daridranarayana."
But how does contemporary Indian business perform on these criteria? This is the crucial and urgent question of our times. Political rhetoric about whether business persons are 'good' or 'bad' only distracts attention from this life-or-death question.
If one were to take a Gandhian approach to this key question, then an honest and critical self-assessment of the business sector would be the most important. Such a review is not as daunting as it might seem at first glance. Here are just a few of the questions that require urgent consideration by any business – be it of big, small or medium scale.
One, how many of its tasks are perpetually being performed by contract labour because making them 'permanent' would increase cost-to-company and create scope for trade unions to grow?
Two, whether contract or permanent – are the workers being paid more than a bare-minimum wage with an eight hour work day and paid leave? Random interviews with unskilled or low-skill labour indicate that they are working 12 hour shifts, often with no paid off-days and getting less than the stipulated minimum wage. As one industrialist lamented privately – if he pays his workers the same wage for an eight hour work day, his shareholders will haul him up for causing losses to the company.
Three, to what extent is the business model creating a ripple effect that increases participation and empowerment of businesses at the lower levels of the economy – or is it instead squeezing them out of the picture by eating into their turf or otherwise undermining them. It has been suggested that the profitability of the small and medium scale sector would improve by 15 percent if their clients in big business just paid their dues on time.
Four, are new projects launched with full care to avoid displacement of habitats and livelihoods? Or are social and environmental externalities treated as side-effects that just need to be 'managed' through 'corporate social responsibility' programs that are more cosmetic than substantial?
Five, are claims about ecological sustainability backed by visionary shifts in the actual business model or is the short-term money bottom line always paramount? For example, the shift to renewable energy can be expensive in the short to medium term when the investments are made and would thus be impossible if a company is governed by the need to always increase its annual profit statement.
All of the above is a mere fragment of what needs to be reviewed in order for each business to conform to what Gandhi called the principle of 'sadhan shudhi', namely purity of means.
Such a review can only be undertaken by those businesses which see profit as the means and not the ends of doing business. Over the last 30-odd years, many global trends have grown the space for this line of thinking – often known as the 'triple bottom line' approach of 'planet, people, profit'.
However, with the unprecedented acceleration of concentration of power and assets in the hands of less than one percent of the world's population – the advocates of triple bottom line thinking are looking less convincing that they did 20 years ago, when this concept first appeared on the world stage.
In this context, many tend to dismiss Gandhi for being unreal. But Gandhi's understanding of both the importance of wealth creation and the dire challenges of doing so responsibly are now even more relevant.
Above all, this is so because of Gandhi's ability to build relationships regardless of differences in perspective and ideology. The extent to which Gandhi and Birla disagreed on the future of industry in India is well documented. What matters today, in a time of increasingly bitter polarisation, is that those differences did not impinge on their friendship nor on their ability to continue a dialogue about their opposing views.
So if Gandhi's proximity to Birla is being brought into the contemporary discourse, it is this ability to live with, possibly even celebrate, differences that is all important.
Bakshi is the author of 'Bazaars, Conversations and Freedom: for a market culture beyond greed and fear'.
Explainers
Purnesh Modi is a BJP MLA and ex-Gujarat minister. The 57-year-old, who, joined the BJP in 1984, has held several positions within the party including its Surat city chief. Purnesh was in December 2022 among a slew of big names dropped from the Bhupendra Patel cabinet
Explainers
Democratic lawmaker Aisha Wahab introduced the bill just a month after Seattle voted to outlaw caste discrimination. This issue has come to the fore in California since 2020 when the employment regulator sued Cisco Systems on behalf of a low-caste engineer. But some claim it will further fuel instan
World
The adjustments reflect a movement that is currently underway at museums all over the world, spurred by Russia's invasion of Ukraine