Narendra Modi's 'India first' policy is mere talk, Centre overlooking West Bengal in flood relief is proof
By denying any flood relief assistance to West Bengal, the Narendra Modi government at the Centre showed that its 'India-first' policy is mere talks and uses it only to serve its political interests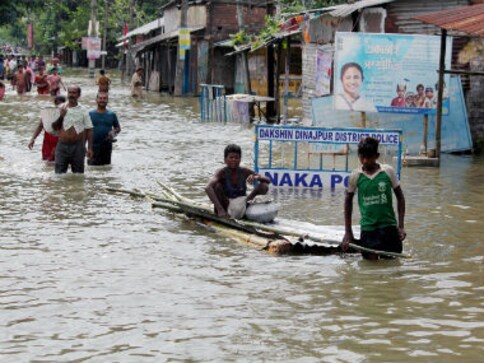 Large swathes of South Asia, especially the middle and lower Gangetic basin as well as the Brahmaputra basin, were affected by devastating floods this year. The flood continues to affect lives in many areas.
The worst thing that any government can do while battling a human tragedy that cuts across language, caste, creed and class, is be partial on the basis of political loyalty of the affected state to the ruling dispensation at the Centre. The Narendra Modi government at the Centre did just that during the 2017 floods.
It's also tragic when one has to bring attention towards a tragedy by comparing the depth of a tragedy that went ignored to a tragedy that received attention.
West Bengal witnessed devastating floods in 2017 which killed at least 152 people and affected 27 lakh people in 14 districts. According to Chief Minister Mamata Banerjee, the state suffered loss to the tune of Rs 14,000 crore as of 30 August, but is yet to receive any financial aid from the Modi government. The 152 lives lost in the West Bengal floods are West Bengal's alone and the loss of Rs 14,000 crore is of West Bengal's alone.
West Bengal pays direct and indirect taxes to New Delhi, and thus into the magical "central funds", so, one would assume that the fact that West Bengal didn't receive any relief aid from the Centre does not reflect a special vindictiveness against West Bengal. But that would have been the case only if no other Indian state had received any relief — an equal denial of relief, one can say — but that is not the case.
Could it then be a case where West Bengal didn't ask for relief and hence didn't get it? That isn't the case either:  Banerjee demanded from New Delhi a flood relief and compensation package multiple times this year.
Did the Union government send some flood damage assessment team to West Bengal who assessed the ground situation and then decided — on the basis of first hand data and observations — that West Bengal did not deserve any such assistance? Nope. In fact, New Delhi has not send any official observer as yet.
What's really the matter then, one wonders. West Bengal's citizens have never even defaulted in sending money to New Delhi's "central funds" in the form of taxes, or, opposed New Delhi's control over West Bengal's mines, ports, jute and tea industries and other such lucrative assets. Why is it then that West Bengal didn't get any flood compensation grants from New Delhi when it needed them the most? After all, isn't mutual cooperation of paying taxes and then receiving them in the form of benefits, the precise reason why states are part of the Indian Union?
New Delhi seems to hold a very different view about whom to offer grants and aid after receiving tax money from the states for the "central funds".
While West Bengal has not even been given a single paisa as flood relief, Bihar has received Rs 500 crore. Modi announced that "all assistance" would be given to Nitish Kumar, who did an ideological somersault to align with BJP in July. This announcement came right after that. Modi also did an aerial survey of Bihar's flood-affected areas. Banerjee on the other hand did the same, but on foot, going into flood-affected areas in knee-deep water.
In Bihar, Modi announced an ex-gratia of Rs 2 lakh per flood-related death and Rs 50,000 per person for flood-related injuries from the "central funds". Mamata Banerjee announced a similar Rs 2 lakh compensation per flood-related death, except that in West Bengal's case, it was the West Bengal treasury that would provide the money.
There would be no "central funds" for West Bengal. Unlike with West Bengal, Modi sent a team to assess losses, which hints at the possibility of further flood relief funds for Bihar from New Delhi.
Bihar was not the only state that received central money for flood relief. Gujarat, the prime minister's native state, also received Rs 500 crore for flood relief and a Bihar-style ex-gratia of Rs 2 lakh to the next of kin of the deceased, and Rs 50,000 per person to those seriously injured in the floods.
Modi also announced an Rs 2,350 crore flood relief package for the "North East", the major chunk of which will go to Assam. And if this was not starkly partisan enough, the Union government even announced a flood relief package for Nepal, a foreign nation, to the tune of 400 million Nepali Rupees. So, from the flood-affected geographical stretch that includes Bihar, lower Nepal, West Bengal and then further on to Assam, only the state of West Bengal was left out of this central flood relief funds distribution.
If we rank the entities that got Centre's funds for flood relief, at the top are 'new converts' like Assam and other states who have recently switched to BJP. Then comes Gujarat, which is Modi's home state.
While propagating "India first", Modi chose to play "Gujarat first" and gave Rs 500 crore to his home state from a fund created from the contributions of every Indian state. Then comes Bihar, whose death toll is many times more than Gujarat but whose compensation package is the same as that Gujarat's.
Thus, in Modi's book, India first means Gujarat first and Bihar second. And then comes Nepal, but no West Bengal. The rule changes during elections. Still, then, it's "India first" only for those states which voted BJP to power, else it's Nepal first and non-BJP states are placed last. In the case of West Bengal, it's not even on the list.
When the people of a state elect a state government, they have in their minds what is best for the state and vote for the political party that best serves those interests.
But when finances are allocated by the central government to a state based on how the ruling party of a state is politically aligned with the ruling party at the Centre, then it becomes a case of clear subversion of the basic democratic rights of the people to choose a government of their choice without the threat of external consequences: In this case withholding of central funds.
This is a dangerous assault on the federal structure of the Indian Union as it impinges on the autonomy sharing model between states and the Union government in a diverse, multi-national, federal polity.
The implementation of Goods and Services Tax (GST) doesn't help either. With GST, this discrimination has become more sinister as states no longer have the power to change the individual tax rates of goods and services, and raise funds when they are confronted with unforeseen disasters like floods. The states no longer have much of the elastic sources of revenue.
The Centre, on the other hand, has retained the power to impose a cess on goods and services according to its own wish or when it wants to raise extra funds like it does under several dubious heads like the Swachh Bharat mission. Thus, after the introduction of GST, the states have become much more dependent on the Centre than earlier when it comes to disaster relief. In this scenario, a partisan attitude of the Centre translates into life for the loyal states and death for the opposition states, based on their political leanings.
West Bengal is not the first victim of such a biased central policy. Unfortunately, it won't be the last.
When the Union government talks about "cooperative federalism", what it actually practices is coercive federalism.
The distribution of flood relief funds is only the latest instance of that 'criminal' policy. It is criminal because it means that though in theory all the flood-affected people are equal, in the eyes of the Centre, some victims are more equal than others.
World
The vice-presidential election in Nepal is scheduled for 17 March
World
Speaking about the new president-elect Ram Chandra Paudel on Thursday, the envoy said that during his tenure, the relations between Nepal and India will be further strengthened
World
The joint meeting of the eight political parties, including Nepali Congress, CPN-Maoist Centre, Janata Samajwadi Party and CPN-Unified Socialist will decide on its official candidate on Sunday when the Election Commission will publish the final candidate's list