Narendra Modi's Gujarat model of development is to take farmers' land, electricity, water and give it to industrialists: Rahul Gandhi
Rahul Gandhi took the attack to Prime Minister Narendra Modi and the BJP as he attacked the government's economic policy at a public rally in Bharuch, Gujarat.
As the election fever heats up in Gujarat, Congress vice-president Rahul Gandhi tore the Rupani-government in the state and the Narendra Modi-led government at Centre apart over the BJP's faulty economic policies.
Addressing an election rally in Bharuch, Rahul said that this was the first time when he travelled across Gujarat and he felt that the people were not happy."Wherever you look, there is sadness and everyone has problems. Different communities are agitating for their rights. Complaints come from everywhere but 5-10 industrialists are very happy and are supporting the government wholeheartedly."
Training guns on ongoing Tata Nano project, Gandhi said that Modi had given Tata a Rs 33,000-crore bank loan almost for free but "have you seen a single Nano car on the streets?"
Tata Nano ke liye Narendra Modi ji ne Rs 33,000 crore bank loan diya, takreeban free mein, kam se kam rate mein: Rahul Gandhi in Gujarat pic.twitter.com/tqegYmKGlo

— ANI (@ANI) November 1, 2017
Petrol price is going down in the whole world, why is it increasing in India? Who is benefiting from it?: Rahul Gandhi in Gujarat's Dayadra pic.twitter.com/O0gadBW2jq — ANI (@ANI) November 1, 2017
He then said that the Gujarat model is to take land, electricity and water and give to industrialists without getting anything in return.
The Congress vice-president slammed the BJP for taking the people of Gujarat for granted and ignoring their demands."Parents want education and employment for their children. Youth want employment. Everyone wants good medical facilities. However in Gujarat, 90 percent of this is in private hands. People must pay Rs 10-15 lakhs just to study in colleges. As the poor can't pay this much, they don't get to go to college."
Rahul said that hospitals are in a similar position as they are owned by private people. If there is no money, then people are not treated, Rahul added. He called this the Gujarat model: "Paisa nahi hai, kaam nahi chalega (No money, no work done)."
On employment, he said that if you take any manufactured good, it will be not be made in India but will be made in China. "When you take a selfie, you give employment to Chinese youth and not Indian youth." He then trotted out a statistic he has talked of before, that every 24 hours, China gives employment to 50,000 youth compared to 450 in India. He pegged the number of unemployed people at 30 lakh in India. He singled out Gujarat and said that the state has no employment and all work was focussed on "5-10 industrialists."
Rahul then pivoted his attack on demonetisation and said even while small business-owner were suffering, they could still manage. "However, then Modi brought in demonetisation with a smile on his face. This killed the Indian economy and the GDP fell by 2 percent. Further, it also had little effect on the majority of black money which is in real estate, gold and Swiss banks," he added.
Talking about GST, Rahul said that the Congress had tried to convince Finance Minister Arun Jaitley to take it slow and not complicate the matter. However, the BJP said that the decision has been taken and they would will apply GST instantly.

The comment by the Congress vice-president assumes importance because his statement is in complete contrast with what the prime minister claimed on 16 October in Gujarat's Gandhinagar. Addressing a campaign rally, Modi had said, all "political parties, including the Congress, took the decision to bring in GST. You are all partners in this decision. The central government is only a 30th part in the entire GST Council."
Calling it the "Gabbar Singh Tax", Rahul said that poor people work hard but their money is taken from them. He highlighted the complications of GST and said that a small-time traders must fill three forms every month. "They are not accountants and find it very hard to do."
He said that all of India knows that Modi made a mistake with demonetisation but the government will not admit this. "The government had also promised that not all black money will come back and the difference will be given back to the people. What happened to that," Rahul asked.
Taking up the ease of doing business, Rahul said that Jaitley looked at an international study to see the ease of doing business in India. He asked Jaitley to instead go to a small shopkeeper and ask them about ease of doing business. "Everyone will say that ease has been destroyed. For Jaitley, foreigners are right but poor Indians are wrong." Rahul also tweeted saying that everyone knows about the ease of doing business and the rank only makes Jaitley feel happy.
सबको मालूम है "ease of doing business" की हकीकत, लेकिन
ख़ुद को खुश रखने के लिए "Dr Jaitley" ये ख्याल अच्छा है

— Office of RG (@OfficeOfRG) November 1, 2017
Concluding the address, he said that Gujarat has suffered as all good is being done for the 5-10 industrialists. "If Congress comes to power, it will be of the people and will work with them, not with 5-10 industrialists."
Senior Congress leader Ahmed Patel had spoken before Rahul and said that the Congress leaders have suffered most because of terrorism and don't need lessons in nationalism from the BJP. He also said that Modi had promised many things but had not delivered on them.
Subscribe to Moneycontrol Pro at ₹499 for the first year. Use code PRO499. Limited period offer. *T&C apply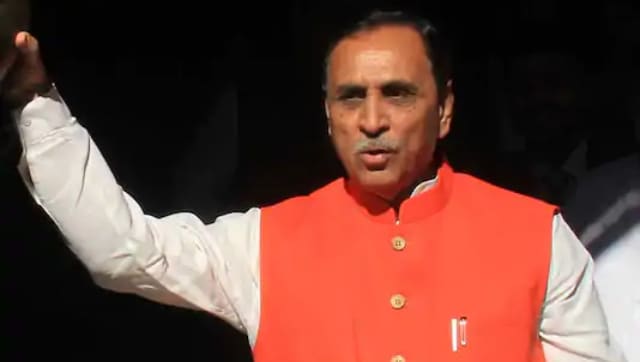 Politics
In the recent past, Uttar Pradesh and Madhya Pradesh, both ruled by the BJP, have brought in laws to stop conversion through marriage or by any other fraudulent means
Politics
Gujarat civic polls 2021: The main contest is between the BJP, which has ruled the six corporations for last several terms, and the Opposition Congress. The AAP is pitching itself as an alternative, while AIMIM is making its debut in the polls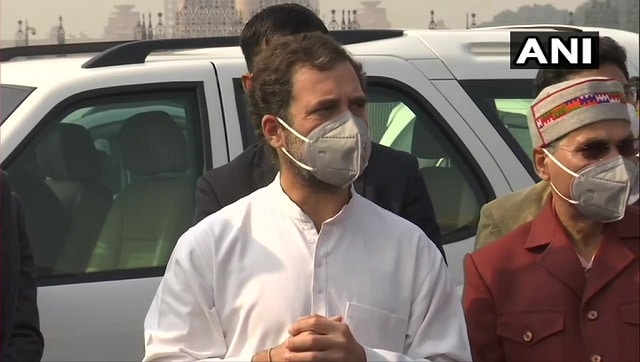 Politics
Expressing shock over Gandhi's statement last week that there was no 'dedicated' fisheries ministry, Narendra Modi had said that the NDA had made such a ministry in 2019