Narendra Modi's chemistry with Benjamin Netanyahu raises the question - why did India snub Israel for so long?
Narendra Modi would have been aware, for he is a man with a keen sense of history, that in becoming the first Indian prime minister to visit Israel he was merely correcting a historical wrong.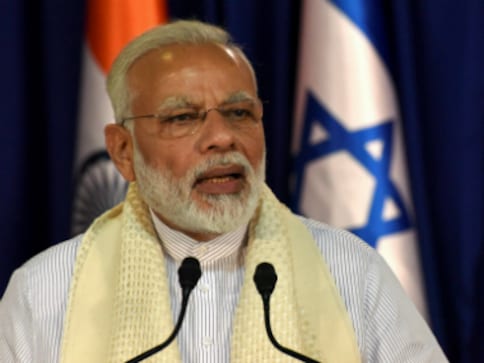 Narendra Modi is a man of symbolism. As the Air India One arrived in Tel Aviv on Tuesday and landed on the tarmac, the prime minister would have been aware that the Ben Gurion airport is named after a man who symbolises Israel's unrequited love towards India and the shameful imbalance in bilateral ties.
David Ben Gurion, the founder of modern Israel, held a deep, resilient respect for India. He was fascinated by the ancient civilisation, its inclusive culture, sought its friendship, recognition and never failed to extend his hand when needed despite being repeatedly snubbed by its politicians. Modi would have been aware, for he is a man with a keen sense of history, that in becoming the first Indian prime minister to visit Israel he was merely correcting a historical wrong.
The importance of Israel-India partnership cannot be overstated, more so in the post Cold War era. This bilateral tie is underwritten by an ancient civilisational connect, remarkable similarity in cultures, pregnant correlation between its dominant religions, shared democratic values and a close strategic partnership. The commonality and dovetailing of interests should have made Israel India's most natural ally. Both countries emerged within a few months of each other as modern nation-states, faced similar challenges in nation-building process (with varying degrees of success), coped with similar existential dilemmas on two-nation theory and has been confronted equally by the scourge of radical Islamist terrorism.
Given these factors, if their relationship has remained largely restricted within the parameters of a strategic partnership in defence and counter-terrorism, it is due to India's myopic foreign policy which was driven by a moralistic tradition that frequently degenerated into rank hypocrisy and a lack of realpolitik vision. Tied to Arab apron-strings owing to a perverted interpretation of secularism in domestic politics, India kept flaunting its Palestinian wedding ring while visiting Israel under the darkness of night. It was left to Modi to amend the moral perversion on 4 July, 2017.
It was difficult to miss the warmth and camaraderie between Modi and Israel Prime Minister Benjamin Netanyahu. Indian and Israeli officials have been working behind the scenes for months to make this tour a success but one cannot rehearse the spontaneity that the world was witness to. As soon as he emerged from the airplane, Netanyahu and Modi caught each other in a warm embrace — a gesture that would be repeated no less than three times within 15 minutes of his arrival.
Modi is known for embracing world leaders during bilateral tours and visits but accounting for the commonality of his gesture, a rare outpouring of affection was evident. It signified not only personal friendship between the two leaders but a shared understanding that they were mere pawns in a moment of history as representatives of two civilisations that have known and respected each other for a few millennia.
"My friend, Prime Minister Narendra Modi welcome to Israel," said Netanyahu to Modi. "Aapka swagat hai mere dost," he said in Hindi, adding, "We love India, we admire your culture, your democracy.... We've been waiting for you for a long time.. almost 70 years."
Modi was accorded a guard of honour and Netanyahu, who had broken protocol in receiving Modi at the airport, introduced to each member of Netanyahu's cabinet who had assembled to greet him on the tarmac along with members of various religious orders.
The reception should shame us more into introspecting about the massive loss that we have suffered as a nation not willing to listen to pragmatism. Israel has so much to offer us in fields as diverse as water conservation, irrigation, innovations in agriculture, space technology, cyber-security, research and development in the fields of science, informational technology, startups, trade, commerce and obviously defence collaboration. And it is willing to walk the extra mile in order to make it possible. But the fact that Modi had to complete an extensive outreach programme to the Arab world before arriving in Israel points to the unfortunate slant Indian foreign policy had been subjected to.
And for what? Did India's long and unstinting backing of Palestine bring any strategic benefits? It is held that Jawaharlal Nehru's commitment to the cause of an undivided Palestine — even as Indian National Congress accepted the British decision to divide the nation on the basis of religion — forced him to reject Albert Einstein's four-page letter as India voted against the Mandate Partition plan at the UN in 1947. It eventually recognised Israel in 1950 but without diplomatic relations.
Ben Gurion, who convinced a reluctant Einstein to write the letter to Nehru, was forced to carry the burden of the unrequited relationship. He was a man, as Khinvraj Jangid writes in Israeli newspaper Haaretz, deeply fascinated by Indian civilisation. He was "enchanted by the Vedanta" and had studied "the schools of Sankhya and Yoga" and in his "bedroom in the Negev kibbutz of Sde Boker carried only only one leader's portrait: Gandhi's."
In rejecting his hand of friendship and cooperation, Nehru felt he couldn't afford to antagonise the Arabs given India's large Muslim population who had chosen to remain instead of migrating to Pakistan. And yet for all of India's efforts the Arab nations did not come to India's aid even once during its wars and conflicts. Israel did.
As former Indian Army chief VP Malik writes in The Indian Express, "I wonder how many of them (political parties protesting against Modi's visit) are aware that in the wake of the India-China war in 1962, when Jawaharlal Nehru was prime minister, Israel had helped us with 81 mm and 120 mm mortars and pack howitzer artillery guns with ammunition desperately required by us."
Leave alone support, India has been betrayed by the Arab nations on Pakistan and Kashmir repeatedly. Whereas be it the 1962 conflict with China, wars against Pakistan in 1965, 1971 and 1999 as well as during sanctions against India after nuclear tests, Israel has been the only nation to stand by us.
As Jaideep A Prabhu writes in Swarajya magazine, "Israel provided artillery, ammunition, and instructors to India in 1965 during the Second India-Pakistan War, and during the War of Bangladeshi Liberation in 1971, Israel even helped India train the Mukti Bahini. Of course, Delhi did not acknowledge any of this, thanking Tel Aviv only for its medical aid. In 1968, when India established its intelligence service, Research & Analysis Wing, then prime minister Indira Gandhi reached out to Israel's HaMossad leModiʿin uleTafkidim Meyuḥadim – Mossad – to help train the fledgling service."
Now contrast this with Saudi Arabia's move to join Pakistan in backing Kashmir's "movement for self-determination" during a meeting of Organisation of Islamic Cooperation (OIC) just days after Modi had returned from Riyadh in April last year.
The moral sanction of Israel, that still forms part of Leftist discourse, is equally hypocritical. If Israel is accused of oppressing Muslims, what explains India's bilateral ties with Saudis who are guilty of oppressing the Shias and Ahmadiyyas or the Chinese who have been accused of brutally suppressing the rights of Uighur Muslims?
India's Israel policy has so far been unfair, myopic, perverted and hypocritical. This was a much-needed course-correction.
World
The protocol approved for use in the United States includes two medications. The first one, mifepristone, blocks a hormone called progesterone that is necessary for a pregnancy to continue. The second, misoprostol, brings on uterine contractions
World
Israel has publicly called for a joint probe and stressed the need for Palestinian authorities to hand over the fatal bullet for forensic examination. However, according to Palestinian president Mahmud Abbas, the proposal has been rejected
World
Abu Akleh became a household name synonymous with Al Jazeera's coverage of life under occupation during her more than two decades reporting in the Palestinian territories