Cow-related violence: 'Not In My Name' protests need to go beyond caste, religion to be effective
Narendra Modi has conveyed to India that he is on her side. But for any protest to be successful, it needs to ensure it does not bind itself in boundaries of caste and religion.
Just hours before Prime Minister Narendra Modi asked cow vigilantes not to kill people, 1,600 kilometres away, Asgar Ali was lynched in Ramgarh, 60 kilometres from Ranchi in Jharkhand, by a mob of 30 men. His Maruti van, carrying raw meat which was suspected to be beef, was waylaid at a crowded marketplace.
The Telegraph reports that the police had reason to believe they had prior information and that the murder has the hallmarks of premeditation.
HMV television channels celebrated Modi's warning as an indication that the whip had been cracked. They forgot Modi had said the same and in fact, in a more strong language in Delhi and Hyderabad in August 2016, after the flogging of Dalits for skinning dead cattle in Una, Gujarat. Nothing has changed. No state government has prepared a dossier on the cow vigilante groups, hardly any police force cracked the whip which is why in broad daylight, a group could dare to kill Ali and burnt his van.
If anyone is a holy cow in India today, it is the gau rakshak.
The law indeed bans cow slaughter in most states in India but the militant version of the cattle class has taken it upon itself to dispense instant justice in its kangaroo courts. With branches of support available in good measure online, Indians have begun to wear their 'Hinduism' on their sleeve resorting to "whataboutery" to defend the bloody acts. It is as if India at 70 has opted to run with the cows and hunt with the gau rakshaks.
In what is the gaumata of all ironies, Modi came under attack for taking on criminals masquerading as cow vigilantes. A Twitter handle @Shankhnaad put out a table of events on which Modi was silent and questioned his outburst only on "violence labelled as cow vigilantism''. He tweeted: "Our Secular PM @Narendramodi ji has never spoken on real issues we are facing. But he is quick to please the leftist gang. Has he surrendered?''
Our Secular PM @narendramodi ji has never spoken on real issues we are facing. But he is quick to please d leftist gang. Has he surrendered? pic.twitter.com/uZ7HcBoktW

— ShankhNaad (@ShankhNaad) June 29, 2017
Surrender or a political masterstroke? The way I see it, Modi clearly wants to be seen doing his 'rajdharma'. To him, the 'Not In My Name' protests in cities across India — that some lampooned as a lesser crowd than outside a public toilet — is like Atal Bihari Vajpayee in 2002 all over again. Publicly, at no less a sacred platform than Sabarmati Ashram, Modi has conveyed to India that he is on her side.
But is it too little, too late? Reports now suggest that the initial argument that broke out on a Mathura-bound train with 15-year-old Hafiz Junaid and his brothers involved a Delhi Jal board staffer, someone you would not think is a typical gau rakshak. The verbal clash over a seat or perhaps the fact that a game of Ludo was occupying more space on the seat than necessary, swiftly moved into the realm of religion, attire and food habits. The air became thick with hatred, vitriol and rancour. A knife, it would seem, was the only way to slice through it and find closure.
Ab Tak Athaees (28 so far). Junaid.
If this is what Pakistan meant by its policy of inflicting a thousand cuts on India, it is succeeding. Over a period of time, the ability of Pakistan-backed terror groups to use misguided Indian Muslim youth to plant bombs and kill innocent Indians, has succeeded in creating a Hindu-Muslim divide. The notion that while all Muslims are not terrorists, all terrorists are Muslims. Therefore, their patriotism is suspect. So if a Muslim is killed, even if it is a teenager like Junaid or a 42-year-old like Asgar, it deserves no apology or mourning. This is the claustrophobic and depraved India we have become now, no longer the land of Ganga-Jamuna culture.
It does not mean all Hindus have succumbed to the bloodlust. But what should worry is that a significant number does not feel the burden on his conscience if a non-Hindu is killed. It is almost as if "he deserved it''. The Hindustani has a "so what?'' reaction when the blood of a Muslim or a Dalit is spilled. "Where were you in 1984?'' "Where were you when Muzaffarnagar happened?'' "Where were you when Kashmiri Pundits were thrown out?'' are by now, familiar tactics to shift the focus from the lynchings of today. It is as if 1984 is used to justify 2017. Failure to make enough noise in 2013 is used to put the label of an anti-BJP activist on you. It is not Asgar alone who was lynched, anyone who makes a point that suggests harmony, is lynched online. A bit like "tumhare smartphone me ghus kar marenge''. (We will smash you inside your smartphone).
The counter to such a narrative is necessary but it cannot be a 'Not in My Name' that talks only about the Muslims because that is being narrow in its outlook. Already, there is criticism that most of those who assembled were the elite intelligentsia, in whose presence a journalist wrote "you could smell hand sanitiser in the air". That they did not come out when Una happened because that concerned Dalits but are in protest mode now, because Muslim is a better stick to indulge in BJP-bashing.
What the Left liberals do not realise is every time they use the Muslim card to beat the BJP with, it only helps the ruling party because Muslims aren't its constituency in any case. In today's India, it only leads to reverse consolidation of Hindus, cutting across caste lines, in the BJP's favour.
Does it mean there should be no protests? No. But for any protest to be successful, it needs to ensure it does not bind itself in boundaries of caste and religion. 'Not in My Name' erred by talking only of lynch mobs targeting Muslims. The moment it did so, it provoked a "who cares'' reaction. The protest should have ideally spoken about Indians without getting caught in the labels of Muslim, Christian, Dalit or Hindu. Any attempt to make India a more sane and less violent nation can only happen if those who raise a banner of protest carry a large umbrella. In a divided nation, unity of purpose is the only insurance.
Find latest and upcoming tech gadgets online on Tech2 Gadgets. Get technology news, gadgets reviews & ratings. Popular gadgets including laptop, tablet and mobile specifications, features, prices, comparison.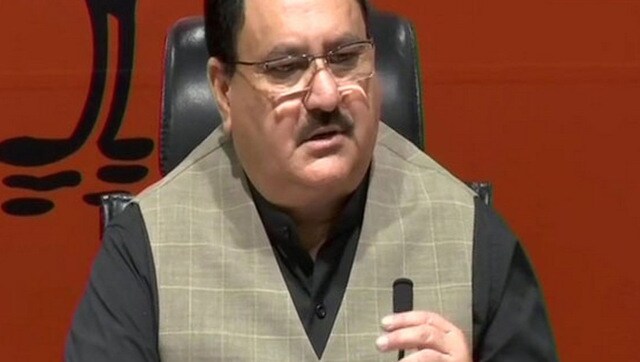 Politics
This is not the first time Nadda has gone after Rahul, or indeed the Gandhi family, but things seem to have escalated in the past few weeks.
Politics
His demand came as Rahul has sharpened his attack on the Narendra Modi government for its handling of the border row with China and over increasing fuel prices.
India
Modi had 115 posts on Weibo, and it was decided to manually delete them and after much effort, all the posts have now been removed, sources told PTI.