Symbolism, hype and photo-ops. Few can match the champion here and there is none other than Narendra Modi, be it as the chief minister or the prime minister, who has long mastered the art to deploy them to optimum utility.
There is nothing new otherwise in his two-day sojourn to his home state Gujarat with his Japanese counterpart Shinzo Abe and his wife Akie Abe beginning Wednesday afternoon. Modi has already had 10 meetings with Abe during the last three years and the bilateral India-Japan Annual Summit they are holding on Thursday in Gujarat capital Gandhinagar will b   e the fourth one between them.
At another level, the two countries have already had 11 such summits earlier. Nor is it that Japan's industry will enter India — or even Gujarat — for the first time. Japan ranks the third highest in cumulative Foreign Direct Investments (FDIs) to India.
Little gainsaying that Suzuki entered India in the eighties and made Maruti Suzuki a household name, and that Sony, Toyota and Honda have manufacturing facilities in the country. Suzuki is already there in Gujarat, and so are Honda and Mitsubishi. According to the Japanese Embassy, in all there were 29 Japanese companies in Gujarat as on October 2016 and this is seventh highest among all states with Haryana being the leader.
Officials say 15 more Japanese companies have committed to invest in Gujarat this time and will sign Memorandum of Understanding during the Modi-Abe summit, as has been happening earlier by various countries during the Vibrant Gujarat biennial investors summit, started by Modi in 2003. Official figures say nearly 52,000 MoUs worth a whopping Rs 84.55 lakh crore were signed between the first edition of the Vibrant Gujarat summit in 2003 and 2017, while insiders claim just about 25 percent had materialised.
But there is a hype this time. There will be an eight-kilometre road show featuring Modi and Abe — the BJP in Gujarat has stated it as an achievement that the Japanese prime minister will participate in a road-show along with Modi, who has himself done three of them in Gujarat during last six months.
The biggest display will be the ground-breaking ceremony of the Rs 1.10 lakh crore Mumbai-Ahmedabad bullet train project planned to be completed by 2022. The MoU for this was signed in December 2015, in continuation of the process which began in 2013 when the then prime minister Manmohan Singh and his Japanese counterpart Shinzo Abe signed an MoU for a joint feasibility study. Subsequent processes continued, resulting in new Prime Minister Narendra Modi approving the project soon after taking over in 2014. Even the Gujarat part of signing on the dotted line concluded in January this year.
However, when one needs a new spin to an old story, Narendra Modi enters with his share of symbolism, hype and photo-ops. After 22 years of relentless power in Gujarat, the BJP seems to have exhausted all its rhetoric, nor does it have the much-needed Modi as the chief minister to present his creatives year after year. This, when it needs Modi — and his art — the most with the first crucial assembly election in his absence less than three months away.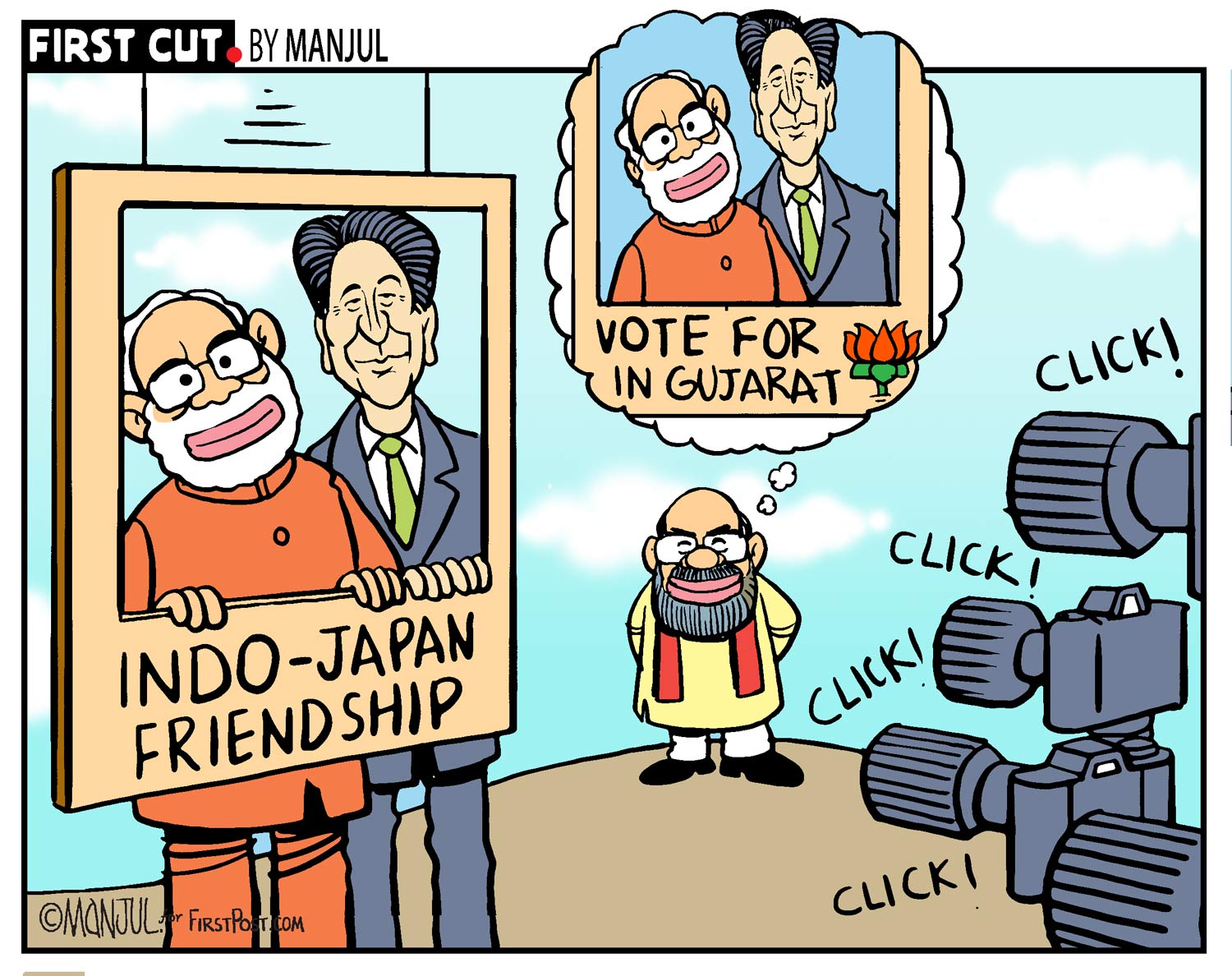 Just three days ago, at a youth interactive town-hall BJP chief Amit Shah experienced it first-hand when he faced probably the toughest question so far. "Sir, Narendra Modi has been missing for the last three years on Gujarat's political horizon. His absence is missed, what do you propose to do?"
Well, Modi will be in Gujarat for two days with his Japanese counterpart providing all the elements that make for the launch of a state election campaign of sorts with the symbolism of international diplomacy. The hype and the hoopla are already there, and the accompanying photo-ops. And the rhetoric that will follow will make it complete for Gujarat.
Following closely, three days later on the Prime Minister's 67th birthday on 17 September, is the conclusion of the state-wide Maa Narmada Mahotsav (mother Narmada festival) which began on 6 September. Modi will address a large public gathering on the day.
As many as 84 Narmada chariots (rath) are part of the Maa Narmada yatra through 10,000 villages in 24 districts. The festival is to celebrate the Prime Minister's "initiative to increase the Sardar Sarovar Narmada Dam to its full height of 138 metres and allowing erection of radial gates on the dam", which, according to the State Government, has ended the water woes of the parched regions of Gujarat.
In three days of Modi's presence — and the soundbytes that will continue later — the BJP hopes to cover a three-month long campaign.
If the Congress cites the state government's own figures to point out that work on as much as 42,000 square km of an estimated 90,000 km canal network of the Narmada dam is yet incomplete and that only around 2 lakh hectares out of the designed nearly 18 lakh hectares gets irrigation water, it may get buried in the hype.
Remove the gloss and the Ahmedabad's potholed roads will show again, says a senior Congress leader, little realising that by then Modi might well have run away in a bullet train of the fourth successive Gujarat victory.
Click here for LIVE updates on Shinzo Abe's India visit
Updated Date: Sep 13, 2017 14:53 PM