Narendra Modi to visit Japan on 28 Oct: India's incoherent approach on Indo-Pacific, Quad may sour 'friendly' ties with Shinzo Abe
India-Japan relationship is on the upswing as demonstrated by Prime Minister Narendra Modi's upcoming official visit to Japan 28-29 October for annual India-Japan summit with his Japanese counterpart Shinzo Abe.
India-Japan relationship is on the upswing as demonstrated by Prime Minister Narendra Modi's upcoming official visit to Japan 28-29 October for annual India-Japan summit with his Japanese counterpart Shinzo Abe.
India has the institutional mechanism of an annual bilateral summit with only two countries – Japan and Russia. And Modi has always accorded great importance on strengthening India's ties with Japan: the first country he visited after being elected as prime minister was Japan.
Modi and Abe are said to share special friendship. Abe has been re-elected as the president of the Liberal Democratic Party (LDP) for the third time, effectively extending his time in power by another three years. It also means that he could be Japan's longest-serving post-war prime minister. This augurs well for Modi as Abe has always been a great champion of stronger ties between India and Japan. For Abe, a strong India is in Japan's interest, just like a strong Japan is good for India.
Ties between India and Japan have been building up across all fields, particularly defence and security. This is clearly reflected in the landmark decision to hold the first ever joint military exercise 'Dharma Guardian-2018' between the Indian Army and Japan Ground Self Defence Force at Counter Insurgency Warfare School in Vairengte, Mizoram, during 1-14 November. During the two week exercise, emphasis will be given on increasing inter-operability between forces from both countries. Talks have already begun on a bilateral 'Acquisition and Cross-Servicing Agreement (ACSA) which will allow them to share defense capabilities and supplies including fuel and ammunition.
While cooperation between the armies of both counties is still at a nascent stage, the Indian Navy and Japan's Maritime Self Defense Force have been forging closer ties for a number of years. JIMEX-18 — a bilateral maritime exercise between India and Japan — was held in Visakhapatnam between 7-15 October. It needs to be mentioned that the last edition of JIMEX was held in December 2013 off the Chennai coast. The conduct of JIMEX-18 after a gap of five years is clearly symptomatic of an upward graph in their bilateral defence ties as informed by an identical strategic vision shared by Modi and Abe. Moreover, the navies of the two have been working in close coordination in anti-piracy operations in the Gulf of Aden for the past few years. The navies of India, Japan and the US held the Malabar naval exercise in June this year. In 2015, Japan was admitted as a permanent member of the annually held Malabar naval exercise, which was originally a bilateral naval exercise between India and the US since 1992.
The defence industries of both the countries have also shown keen interest in deepening cooperation. Although Japan's ShinMaywa group and India's Mahindra group have entered into an agreement to manufacture and assemble US-2i amphibious search-and-rescue aircraft for the Indian Navy, however the issues of price and technology transfer have hindered progress on the project. The biggest challenge has been Japan's reported unwillingness to allow India license produce the aircraft. Modi's forthcoming visit is expected to remove all irritants in the project.
For Modi, it is imperative to strengthen the bonds of friendship with Japan since the success of his government's ambitious "Act-East Policy" largely depends on Japanese participation. Japan also happens to be one of the biggest investors in India and Tokyo's financial and technological backing holds the key to building infrastructure in India's northeast. Strategic connectivity is an important area of cooperation: road and port connectivity is on the agenda in countries such as Bangladesh, Sri Lanka and Myanmar. Traditionally, Japan has been the major economic development partner for most South Asian countries, but Beijing's expanding influence beyond the South China Sea and across the Indian Ocean region has left Tokyo feeling vulnerable.
The transactional approach of the Donald Trump administration may be seen an important factor contributing to growing rapport between India and Japan. Trump's unusual manners of conducting America's foreign policy have led to several changes in regional geopolitics. With an aim to cut a deal with Pyongyang, Washington has been opening up to North Korean regime in recent months.
However, this is unlikely to please Japan, which has long-standing concerns about the reckless behaviour of the North Korean dictator. Given the traditionally sound ties between the two countries coupled with growing strategic convergence between them, Abe finds it useful to elevate India's position in Japan's Indo-Pacific strategy.
There is a growing realisation of the significance of the Indo-Pacific region in fast-changing geopolitical landscape of Asia, which has challenged the existing security architecture. The US, Japan and Australia are faced with Chinese assertiveness in the Western Pacific. And in the Indian Ocean, India and the US are faced with an increasing Chinese presence. Japan seeks to bolster cooperation with many Asian and African countries based on Abe's 'Free and Open Indo-Pacific Strategy' aimed at keeping in check the growing maritime assertiveness of China.
One should not forget that Abe, during his first short-lived tenure as prime minister, had unveiled the term 'Indo-Pacific' in a speech he delivered at the Indian Parliament in August 2007. His speech, which was titled as "Confluence of the Two Seas," introduced Tokyo's vision for the Indo-Pacific as a region based upon common values, such as democracy and freedom. Abe argued that if India and Japan came together, the "broader Asia will evolve into an immense network spanning the entirety of the Pacific Ocean, incorporating the United States of America and Australia. Open and transparent, this network will allow people, goods, capital, and knowledge to flow freely." It is therefore not surprising that upholding principles such as freedom of navigation and countering threats to Japanese shipping remains fundamental to Japanese foreign policy.
Without any doubt, China is the elephant in the room when it comes to defining close partnership between India and Japan. China's growing military strength and rising economic power have prompted other democracies, including India and Japan, to sit up and take notice. Amid growing concerns about China's Belt and Road Initiative (BRI), New Delhi and Tokyo have stepped up their cooperation for creating a viable alternative for infrastructure development and connectivity among countries.
Since bilateral cooperation between India and Japan is closely intertwined with trilateral cooperation with the US, it is but natural for Japan to expect India to play an increasingly active role in the Quadrilateral Security Initiative (referred to as the Quad) while affirming the importance of freedom of navigation and rule of law. In the light of bilateral and trilateral linkages involving India, Japan and the US, the next step is straightforward. But India remains hesitant on the Quad, which is likely to cause confusion among other three partners – the US, Japan and Australia. It was this confusion which prevented New Delhi from allowing Australia to become a part of the Malabar naval exercises.
India's stance towards China has already softened following the 'informal summit' at Wuhan between Modi and the Chinese president Xi Jinping. Modi's keynote speech at the Shangri-La Dialogue in June also reflected a lack of resolve to actively counter China. Keeping alive this strategic ambivalence, New Delhi has also decided to stay away from a joint initiative launched by the US, Japan and Australia to fund infrastructure projects to counterbalance the BRI in the Indo-Pacific region. India's participation in this important infrastructure initiative would have reassured the other members of India's commitment to the grouping.
The 'Indo' part of the 'Indo-Pacific' is not merely a geographical pointer to the Indian Ocean, but also indicates geopolitical linkages to India. The significant shift from 'Asia-Pacific' to 'Indo-Pacific' security arrangements being created by the Trump administration are primarily focussed around India. At a time when India has been identified as a key player across the Indo-Pacific that Abe's Japan seeks to actively work with, it is imperative for Modi's India to develop a coherent approach on the Indo-Pacific and the Quad.
World
The surge in bird-raising interest underscores how America's first experience of rapid inflation and shortages since the 1980s is leaving marks on society that may last after cost increases have faded
World
Until 1971, Radio Free Europe was a covert US intelligence operation seeking to penetrate the Iron Curtain and foment anti-communist dissent. The Russia-Ukraine war has shaken up its operations and highlighted its importance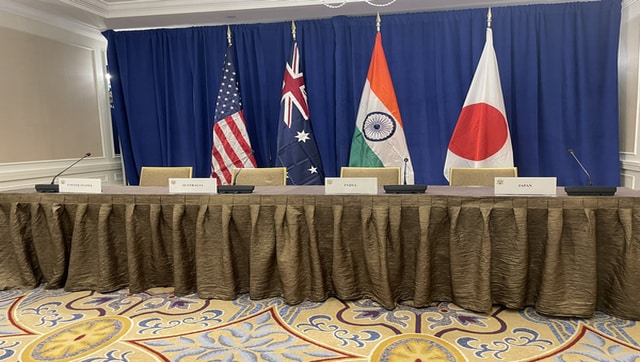 World
In the longer term, the Group committed to leverage machine learning and related advanced technologies to enhance cybersecurity and establish secure channels for Computer Emergency Response Teams and private sector threat information sharing